'Tis the season to be jolly, and Retail Week is celebrating by unwrapping the most light-hearted and affirming retail moments of 2018.
Trading conditions have been some of the toughest on record this year, but many moments have brought smiles to the faces of retailers.
Here are some of the best moments of the year, which range from the whimsical to the worthy.
Gareth Southgate's waistcoat
The usual crushing disappointment of England underperforming in a major football tournament failed to emerge this summer, and in the process manager Gareth Southgate kicked off a major fashion trend.
Waistcoats became de rigueur as English football fans scrambled to emulate the effortless touchline style of Southgate.
M&S' menswear design team created the sharp suits worn by Southgate and the England squad, and was subsequently swamped with orders.
"M&S made further hay while the sun shined by running press and outdoor adverts featuring Southgate in his waistcoat"
Demand peaked on 'Waistcoat Wednesday', when office workers across England wore the garment to support the Three Lions on the day of their semi-final clash against Croatia.
M&S did not miss the open goal of a bit of free PR and a cheesy pun.
An M&S spokesperson said: "Gareth's sideline style has meant our waistcoats are really scoring with our customers with sales doubling since the World Cup began.
"We've got enough different styles in stock for everyone to show their support for the boys on #waistcoatwednesday."
M&S made further hay while the sun shined by running press and outdoor adverts featuring Southgate in his waistcoat, which drew attention to the fact it was the official tailor to the England team.
Purple Tuesday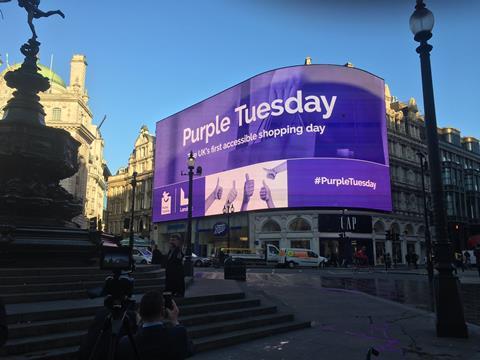 The UK's first accessible shopping day, which aims to make shopping more inclusive for disabled people, launched on November 13 with many major retail companies throwing their support behind it.
More than 700 businesses took part in Purple Tuesday including Sainsbury's Argos, Asda, M&S, Bullring shopping centre owner Hammerson, and Regent Street landlord The Crown Estate.
A number of inclusivity initiatives have been undertaken by the founding supporters of Purple Tuesday. Asda is experimenting with "inclusive hours" in shops in Kent and Manchester, which are designed to cater for people with autism and dementia who can become stressed by noise and disturbance.
Asda has trained more than 1,000 staff as part of the initiative.
Rival grocer Sainsbury's is in the process of updating all its toilets to make facilities more inclusive. Sainsbury's says it is the first supermarket to implement stoma-friendly toilets in stores across the UK.
Meanwhile, Hammerson-owned shopping centre The Oracle has introduced a Safe Space Scheme to help people feel more confident and calm when visiting the Reading-based centre.
Services provided by the scheme include special assistance when shopping in-store, a guide to help shoppers and carers around the centre, and a quiet location that acts as a safe haven.
Nearly one in five people in the UK has a disability or impairment, and their collective spending power – dubbed the Purple Pound – is worth £249bn, according to the disability charity Purple.
Mike Coupe's musical turn
If the Sainsbury's Asda merger goes belly up, Sainsbury's boss Mike Coupe always has the back-up option of becoming a musical theatre star.
He unwittingly gave a beautiful rendition of 'We're in the Money' when preparing for an ITV interview about the mega-merger.
The 'hot mic' moment of him singing the song from the 42nd Street musical went viral and caused many a chuckle in the retail industry and beyond.
Sainsbury's failed to see the funny side at the time as the lyrics jarred with the potential implications the merger has regarding store closures and job losses.
A Sainsbury's spokesman said it was "preposterous" to attach wider meaning to the "innocent, personal moment".
Coupe defended himself by saying the song was stuck in his head because he saw the musical last year.
He added: "This was an unguarded moment trying to compose myself before a TV interview.
"I was relaxing at the time – this is an incredibly stressful day and maybe it was an unfortunate choice of song."
War on single-use plastics
The war against single-use plastics gathered pace this year as major retailers pledged to ban the use of them in their packaging.
The UK Plastics Pact was launched in April and has signed up all the big four grocers as well as Aldi, Boots, the BRC, Lidl, Lakeland, Ocado and Waitrose.
Those who have signed up have pledged to make all plastic packaging reusable, recyclable or compostable by 2025.
"Momentum has gathered throughout the year as retailers scramble to improve their environmental credentials amid consumer pressure"
Retailers have also promised to take action to eliminate unnecessary single-use plastics through redesign and innovation, which is bolstering government intervention around environmental issues.
Since the introduction in 2015 of the 5p plastic bag levy, the number of single-use plastic bags given out by major retailers has decreased by 85%.
Momentum has gathered throughout the year as retailers including Iceland scramble to improve their environmental credentials amid consumer pressure.
Only last week Waitrose said it would become the first major retailer to ban glitter from all of its single-use products by Christmas 2020.
Mike Ashley holds court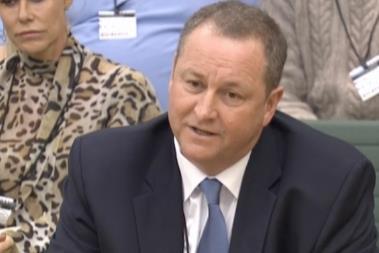 Love him or loathe him, Mike Ashley's plain speaking certainly provides top-quality entertainment.
Usually business leaders quiver at the prospect of having to make an appearance before MPs, but Ashley clearly no longer has such qualms.
Emboldened by his 2016 appearance in front of a select committee, Ashley managed to persuade MPs to give him an hour to hold court earlier this month on the future of the high street.
He did not disappoint. In a characteristically larger-than-life performance, Ashley revealed he was not a crazy capitalist, Father Christmas, sitting in his office stroking a white cat, a pantomime villain or… God.
Other colourful turns of phrase included him claiming the majority of the high street is dead at "the bottom of the swimming pool".
Ashley did not hold back in making bold proposals to save the high street. These even included a suggestion for a 20% online sales tax for businesses that make over 20% of their sales online.
This is unlikely to go down well with Sports Direct shareholders, considering Ashley admitted if this were introduced then Sports Direct would be forced to pay the tax.
Iceland's TV ad that never was
This year John Lewis' annual Christmas TV ad extravaganza was put in the shade by an Iceland festive ad that never aired.
Iceland boss Malcolm Walker says the furore caused by its anti-palm-oil advert resulted in an "avalanche of positive publicity the like of which I have not seen in all of Iceland's 48-year history".
Walker denies Iceland deliberately sought headlines by seeking to get the advert 'banned' from television by advertising clearance body Clearcast.
The advert, an animated short film featuring an endangered orangutan, was unable to win approval from Clearcast because it was initially created by Greenpeace.
No matter the ins and outs, what is undeniable is the huge levels of awareness Iceland has raised concerning the environmental damage caused by palm oil.
Iceland is also reinforcing these positive environmental messages with further concrete actions.
It has successfully removed palm oil from nearly all its own-label Christmas range and will have completely eradicated the use of palm oil in products by the end of the year.
Poundland's open letter
Poundland has proved the art of letter-writing is not dead. It has done so to devastatingly good effect by piercing the snobbery expressed about its brand.
It penned an open letter to hit back against a teacher who described the equivalent of a C grade at GCSE as a "Poundland pass" in an article for the Times Educational Supplement.
#Proudland. Click to read the article online: https://t.co/t5PjxUN9Rt pic.twitter.com/nvsTIflWIG

— Poundland (@Poundland) February 13, 2018
Poundland PR and charity manager Andrea Ross, in the letter published on Twitter, said: "Let me tell you that I know my 19,000 colleagues at Poundland will find your use of our company name as a pejorative adjective belittling to them and how hard they work."
Ross' response went viral as people jumped to the defence of Poundland.
Unfortunately, this was not the last time Poundland was forced to come out fighting. It published a further open letter in April to hit back at ThamesLink for pejoratively using the Poundland name in response to a complaint about poor service.
One thing is for certain, Poundland will not take any criticism of itself lying down, and shows the type of fighting spirit required in retail right now.