Retail parks are the natural home for pick-up points, but just how far could the fulfilment model develop? Ben Cooper explores the potential of having click-and-collect points for multiple retail brands under one roof.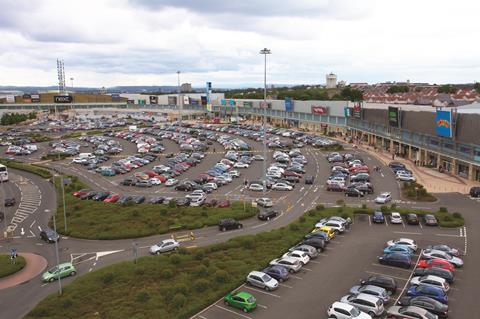 There was a time when the phenomenal rise of online retailers such as Asos and Amazon seemed to spell the end for the traditional store.
Freed from the costly property portfolios and operational challenges that bricks-and-mortar businesses have to contend with, the sky appeared to be the limit.
So why then did Supergroup founder Julian Dunkerton recently publicly proclaim that it has become almost unthinkable that a fashion brand could exist purely online? "If you're launching a brand now, you would need a retail presence to launch it with. It would be virtually impossible to do without one," he said.
One of the reasons might be the old problem of logistics. Home delivery is a costly and often inefficient way of getting millions of small orders to shoppers, and will become even more problematic with the inevitable rise in the volumes of transactions made online. Retailers have already started looking for alternatives.
With their easy access and hybrid store/logistics design, retail warehouses are emerging as a possible solution, providing the perfect spaces for click-and-collect 'centres' in which multiple retail brands all take small branded units.
So is the retail park the natural home for click-and-collect, and could the shared collection warehouse be the model of the future?
Cushman & Wakefield head of out-of-town retail Martin Supples says that whereas retailers were once primarily interested in keeping up with the ecommerce revolution, now they are searching for ways to drive operational costs down and make the model sustainable.
"Everybody's trying to find the right economic model at the moment. I think people are starting to take a more hard-nosed approach," he says.
Turning sales into profit
After the gold rush to take an early share of the ecommerce pound, the dust has now settled. Sales don't always equate to profit, or at least the levels of profit that could be tumbling in. The next phase will be about turning sales into profit, and the way in which goods reach customers will be key.
LCP Consulting partner Phil Streatfield says it's not just the need to make the economic model work that is driving the evolution, and thinks home delivery is often a false convenience: "Customers are sick of getting the card through the post saying that a package couldn't be delivered. There are definitely signs that people prefer to have a reliable collection point on top of home delivery."
The next big opportunity, according to Streatfield, is to make a business out of the way goods are collected. "There's been a growth in collection points because of the convenience aspect," he says. "And there will be more branding on collection points. There's more confidence for people if there is some sort of branding involved rather than just [that of] a family-run corner shop."
Already the self-service click-and-collect point is becoming a feature of shopping. Retail property giant British Land says it is considering a range of tie-ups to satisfy the demand for collecting goods, including ByBox, which provides collection lockers and delivers about 20 million packages a year. Amazon Lockers has also been adopted by the Co-opand Spar for use in their stores.
But picking up goods in city centres can be problematic for both retailers and shoppers, and logistically it is complicated and costly. Which is where, many argue, retail parks come in.
Born out of the need for convenience and a desire to avoid congested town centres, retail parks provide a quick and easy way to access goods. And now, it seems, they might just be the perfect home for a modern, hybrid clicks-and-mortar model.
Neil Varnham, managing director of retail asset management firm Pradera, says: "Retail parks have evolved - this is where warehouses could really come into their own. People will want to pick up shopping at convenient locations at a convenient time. Retailers could see dramatic benefits if they can get it right - they will reduce substantially their existing costs."
For landlords too there are benefits. While the sharp upswing in retail park vacancy rates in 2012 is now levelling out and predicted to fall back to below 10% at the end of 2013, there remains a need to fill empty units.
CBRE head of retail consultancy Jonathan De Mello says it has become crucial that retailers look at out of town in a different way, especially the pure-play brands. He says: "A lot of online retailers really miss out at the moment. They can lose out to physical retailers. And for landlords as well, they have vacant space, and lots of parks with empty units. They could enter into partnerships with retailers - they're well set up for it."
Sharing opportunity
One solution might be for retailers to share space. Retail park units could effectively become logistics centres with click-and-collect points for multiple retail brands under one roof. With each only needing a relatively small space for stock, small enough to sit side-by-side with other companies, this might well prove a solution, especially for the smaller online fashion brands looking for a physical foothold.
Streatfield says this could work well in many cases for retailers, landlords and customers.
He says: "People are willing to drive to retail parks. Online retailers are moving into bricks and mortar, and retailers might consider co-operating with each other as they look to put down smaller footprints. The economic pressures on retailers will drive people to consider all the options."
The long-term implications of this evolution on the logistics sector are difficult to predict. But it is clear that retailers don't think ecommerce has reached its potential.
In 2009/10 ecommerce accounted for 13% of sales at John Lewis - today they make up 26.6%. But in the department store's interim statement in September - in which it recorded an increase of 17.1% in online sales, compared with a 3.4% increase in store - it revealed a plan to see 40% of sales being made online by 2020.
For retailers and their logistics providers, the challenge is to decide how to adapt the networks to cope with the inevitable progress ahead.
Varnham says this could mean more consolidation in warehousing, with a smarter approach required. He explains: "Retailers will still need warehousing, but it might make sense to have fewer centres. I don't think it will be a negative thing for logistics but I see it as being more a targeted approach. Retailers will have key logistical distribution centres around the country, but then maybe 10 smaller centres for click-and-collect."
It's been a long time since out-of-town centres were viewed purely as convenient hubs for white goods or electricals.
Even before the growth of ecommerce, fashion brands and catering were finding the out-of-town formula worked for them. The next phase in this rapidly evolving story will answer the question of whether ecommerce can find a home there as well.