Following last week's collapse of camera specialist Jessops into administration and the closure of stores, Tiffany Holland focuses on the reasons for the retailer's decline.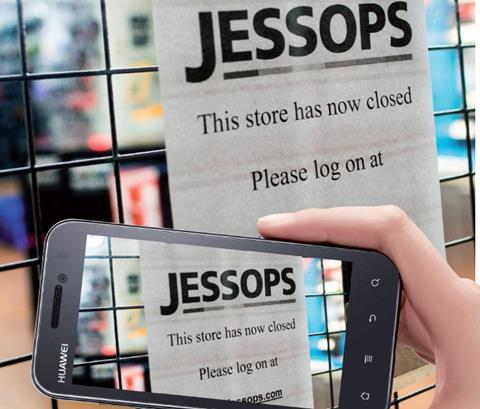 Jessops' abrupt collapse into administration and the immediate closure of stores last week was a stark reminder of the tough times many retailers face in 2013.
The first retail casualty of the new year, swiftly followed by HMV, Jessops has disappeared from the high street following a flashbulb-speed shutdown of its 187 shops, resulting in the loss of 1,370 jobs and the end - other than the online business for which a buyer is being sought - of a 78-year-old business. It followed Comet onto
the list of casualties in the difficult economic environment.
Core to Jessops' failure was its relevance in a diminishing market as technology evolved and many consumers shunned dedicated cameras in favour of multipurpose devices such as smartphones.
"The main problem was demand - basically being a retailer with a purpose," says Conlumino managing director Neil Saunders. "Five years ago people bought digital cameras but now the general public has no need for them.
They can simply use other devices."
On top of that change, among Jessops' following of professional photographers, many preferred independent retailers - including online players - for advice and products.
Initiatives not solutions
Jessops tried to respond to the shift in technology and consumer behaviour. It ploughed efforts into refreshing
its stores to give customers a more interactive experience, trained staff to provide advice and information and offered products other than cameras, such as a personalised printing service, own-brand accessories and photography courses.
A big effort was made following Jessops' near collapse in 2009, when HSBC threw the retailer a lifeline in a debt for equity deal - the bank and retailer established the special-purpose vehicle Snap Equity. At the time of Jessops' collapse last week, HSBC owned a 47% stake in Jessops.
The retailer has been loss-making at a pre-tax level since 2007 but had been making headway. Pre-tax losses narrowed from £69.7m six years ago to a £5.2m loss in the year to January 2012.
But Jessops' efforts in the end proved insufficient and PwC - called in as administrator last week - revealed the retailer had missed its financial targets for the year to January following a difficult Christmas. PwC disclosed that sales remained flat at £236m last year, despite its new ideas.
"It had good initiatives, but they weren't solutions," observes Saunders. "They were trying to bring people back to cameras but Jessops should have gone with the grain rather than against it and accepted that people don't need cameras any more."
Jessops had a large property portfolio after rolling out new stores during the digital camera boom, which also became a problem.
PwC partner Rob Hunt, administrator to Jessops, said the product market decline was compounded by a consumer shift online, leading to a need for fewer stores - a problem that could not be easily fixed. "Jessops would've had 25-year leases and up, and that would have been difficult to exit," he says.
Saunders concurs: "Jessops would have had to slim the store count and become more of an online business.
In order to concentrate on the core market you don't need to be on every high street."
Supplier support
Caught in difficult circumstances, Jessops' relationships with suppliers were therefore crucial. But Saunders believes that ultimately the brands did not need Jessops as much as Jessops needed them.
One source close to the situation said it was for this reason that former Jessops chairman David Adams ensured he built strong relationships with suppliers.
The source says: "He asked the question, how important are we to the brands? He got on well with them
and managed to get them to fund the refurbishment programme."
But when Adams left Jessops in February last year, replaced by Martyn Everett, the supplier relationship
suffered the source claims.
It is understood that a change in supplier credit terms was the last straw for Jessops.
The source says: "Martyn Everett tried to squeeze too much out of the brands." He points out that if shoppers cannot buy Canon and Nikon at Jessops, then "Jessops doesn't have a business".
Just five months after Adams' departure, Jessops chief executive Trevor Moore left after three years in the role.
Moore, along with Adams, had been credited with keeping the retailer on a steady footing.
"I suspect the [new] management alienated suppliers a bit," the source says. "As a consequence, suppliers would have reviewed the credit terms.
"It's a difficult balance. It needed the brands because that's what gives you product differentiation.
"Every time Canon and Nikon bring out a new camera, everyone gets it.
What they did for Jessops was take it from a scruffy business and helped with store refurbishment, they
gave it decent credit conditions. You have to handle the relationship very carefully."
Hunt believes suppliers might also have been spooked following the collapse of Comet, another of their retail distribution channels, last year.
Hopes for a buyer
When crisis struck last week, because suppliers owned Jessops' stock, PwC opted to close the stores with immediate effect.
Hunt said: "We weren't able to come to a satisfactory agreement with suppliers. Suppliers to retail have
retention of titles and the right to recuperate stock that cannot be used without their permission."
Questions have been asked of the role played by HSBC in Jessops' collapse. Last week, Adams maintained that he approached HSBC last summer with a view to buying Jessops, but his overtures were ignored.
However, HSBC maintained it had not received any "creditable approach to purchase its debt and/or equity positions in Jessops".
Following Jessops' collapse, Adams told Retail-week.com: "After I left, I put together an approach to buy the business, which would have left the banks at par, backed by private equity. They were not interested in any discussions as they felt there was equity value to be realised in the future. Now six months on, the business is in administration."
PwC remains in talks with interested parties for Jessops' online business and brand. Other retailers are understood to be in the mix to try to leverage any power remaining in the brand, although Jessops' traditional core market continues to decline.
"Some things might have acted as a catalyst, but over the long-term I think the conclusion for Jessops would have been the same," says Saunders.
But the source adds: "I think Jessops could have survived for longer.
"A buyer might try to do something with the stores. It might work better with 60 stores, and it's got to have the support of the suppliers."
However, it looks at present that, like an old photograph, Jessops' glory days are part of a sepia-tinted past.
Picture the future - What now for Jessops?
The Jessops brand and online operation is up for grabs but any buyer would need to find a business model that works, and observers believe a bias towards online would be best.
Conlumino managing director Neil Saunders says: "Someone could buy the brand and operate from a handful of stores.
"The brand name is respected and it's not tarnished or seen as a bad service provider or an unreliable retailer.
"A buyer might find it's possible to trade from around 50 to 75 stores in the UK with the rest online."
A variety of retailers are expected to benefit from Jessops' demise. Amazon; Dixons, owner of Currys and PC World; John Lewis; and the supermarkets are likely to capture Jessops' sales as amateur photographers switch their preferred camera retailer. But if camera sales continue to decline, the benefit might be small.
One source familiar with the market says: "A big challenge for Canon and Nikon will be where do they show off their brand? Having a specialist retailer is not a bad thing. But if a buyer for Jessops comes forward they've got to have the support of the suppliers."
Saunders says that new technology developments will continue to disrupt traditional markets.
"Sales of tablets have gone up but of course this is pushing sales of PCs down, and such trends will make certain devices obsolete in future," he maintains.
Life through a lens - Jessops' history
1935 Frank Jessop opened the first store in Leicester.
1970s Jessops moved to a 20,000 sq ft store in Leicester, which was recognised as the largest photography store in the world by Guinness World Records. This store was closed in 2008.
Early 1990s Store network built up to about 50.
1996 A £30m management buyout of the then retailer was led by chief executive Tim Brookes, backed
by Bridgepoint Capital and PPM Ventures. The retailer acquired Crew Cameras and City Camera Exchange, adding 25 shops to its portfolio.
2000 The store network approached 200 but an IPO was postponed over fears Jessops was being undervalued.
2002 Dutch bank ABN Amro's venture capital arm bought Jessops for £116m.
2004 Jessops floated, valued at £160m, with Deutsche Bank, Investec and Barclays emerging as stakeholders in the business.
2007 Jessops closed 81 of its 315 stores after increased competition pushed its market share down and it fell into loss. Shares plunged 70% after the retailer issued its third profit warning in a year.
2009 Jessops avoided administration in a debt for equity deal with HSBC, transferring it to special-purpose vehicle Snap Equity. HSBC became the largest shareholder with a 47% stake in the business.
2012 Jessops chairman David Adams and chief executive Trevor Moore left the business. Martyn Everett was appointed chairman, while Neil Old was promoted to chief operating officer and was responsible for leading the business.
2013 PwC is appointed administrator as the retailer collapses.