Why has convenience become such a growth market and how are the grocers taking advantage? Rebecca Thomson reports.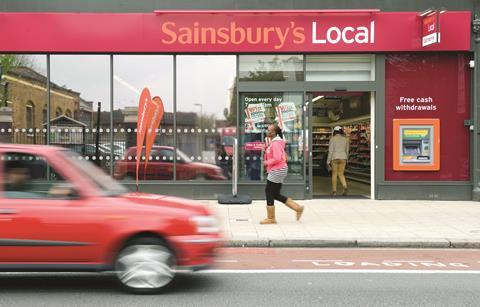 UK retail hasn't been overwhelmed by good news recently - from administrations to profit warnings, plenty of bad news has taken up column inches.
That helps explain why parts of the industry with clear growth potential are attracting attention, and the convenience market is one.
In the last several years, the grocery multiples have turned their gaze resolutely to convenience, which until relatively recently was almost completely in the hands of independents.
Industry body IGD predicts the market will grow 29% between 2012 and 2017, from £33.9bn to £43.6bn, and retailers are responding as fast as they can.
Tesco and Sainsbury's have ramped up their efforts, both accelerating their growth plans for the formats they first introduced in the 1990s.
Waitrose and Morrisons, meanwhile, have joined the party more recently, with convenience store launches in 2008 and 2011 respectively. Aldi is the latest to muscle in, opening its first convenience store in the UK two weeks ago, while The Co-op continues to grow, and has more than 2,000 stores.
Sainsbury's director of convenience Simon Twigger says: "Convenience retailing is growing at nearly 20% and contributes over £1bn of sales so it is very important." The Co-op director of trading property David Roberts adds: "Grocery retailers have identified the consumer demand for convenience stores and the opportunity for growth in that market."
Convenient growth
After decades of superstore openings and non-food growth, convenience retailing is now playing a central role.
The grocers are racing into the sector, opening more stores - Aldi plans 50 c-stores this year - and grabbing market share where they can, and the expectation is that this will continue for the next few years.
"The convenience market is expected to grow," Twigger says. "The trends that are driving this aren't showing any signs of abating so there is no reason why this growth shouldn't happen."
The IGD five-year growth forecast is significant, and retailers' own expectations support this. Waitrose director of convenience Jackie Wharton says: "We believe there are still around 6 million people who want to be able to shop at Waitrose but don't currently have access to one.
"There are still many parts of the country where customers cannot access the Waitrose brand easily and convenience is key to unlocking much of that opportunity."
The trends supporting the shift to convenience shopping are myriad. "Weak non-food demand, plus the rise of petrol prices, means the attraction of hypermarkets has declined," says Bryan Roberts, director of insight at Kantar Retail. "It means other retail channels are perhaps more lucrative at the moment."
Large supermarkets can take 15 years from planning permission to opening day, he points out, but the
flexibility of the convenience format makes the process far easier.
Wharton agrees: "The smaller format ensures we have far more flexibility in allowing us to bring our brand to even more shoppers."
Permission to launch
While the bureaucracy is less onerous for smaller stores, finding the right type of store isn't always easy - especially as demand for the best locations increases. IGD research manager David Shukri says: "Competition is intense for the best locations. You can open a 3,000 sq ft store anywhere, but will it have the right traffic and the right mix of shoppers? The key locations are harder to come by." Converting old pubs has become a popular strategy, and there is a new emphasis on petrol forecourt retailing, Shukri adds.
Although finding the right sites can be hard, overall the process tends to be shorter and easier than for larger stores. But it's not the only pertinent trend - it also dovetails into the way shopper behaviour is changing.
"The big weekly shop is declining for all manner of reasons," says Bryan Roberts. "There are lots of factors driving the fragmentation of shopping behaviour." The average number of shopping trips is now nine per week, he says, as shoppers visit stores for breakfast, lunch and dinner, and for top-up trips throughout the week.
David Roberts adds: "One of the reasons for the growth in convenience is consumers' top-up visits are significantly on the increase. The growth in online grocery shopping is adding to consumers' need to make more frequent top-up visits or call in for last-minute essentials, while food-to-go is also on the increase." He says the growth in single-occupancy households, and in the number of families with two parents working, is strengthening the trend.
Retailers' growth plans reflect this, with The Co-op alone opening 100 new stores a year. Waitrose is opening 10 this year, while Sainsbury's plans to open 50 Local stores in London and the Southeast by 2014 - more plans for growth are likely to be revealed at its preliminary results in May. Tesco is also likely to pursue continued growth.
Morrisons has big plans too, having snapped up Blockbuster, HMV and Jessops stores following their administrations. It aims to open 100 stores by the end of January next year.
As Twigger shows with Sainsbury's plans, convenience is now playing a crucial role in driving the grocers' expansion. "Convenience stores give us the opportunity to let communities who don't currently benefit from having a Sainsbury's nearby try our offer. This is invaluable, particularly in areas where we might not yet be able to build a bigger store," he says.
The convenience sector has plenty of opportunity and if anyone knows how to take advantage of that, it's the grocers. But there are pitfalls too. Tesco, especially, has borne the brunt of local opposition in some areas where it wants to open Express stores - the grocers can be accused of everything from leeching the local character from an area to aggressively muscling independents out of the market.
Bryan Roberts says local ties are an enduring advantage of independent retailers. "On a personal level, the supermarkets have probably not built a rapport with shoppers. The multiples have a high staff turnover and are a bit corporate about things," he says.
At your service
Sainsbury's is clearly aware of the risks of putting a supermarket brand into local high streets, and Twigger says fostering community links has become a priority. He says: "We are investing a huge amount of effort into ensuring the customer service enjoyed by our shoppers is second to none.
"We also want our stores to play a role in the local community so all our convenience stores now support local charities. This is really important to our store colleagues and has been well received by the communities they serve."
David Roberts says The Co-op works to make each store reflect the neighbourhood it is based in. "What each food store offers depends on the local area and community they serve, and we don't operate model store layouts, meaning that each is individually designed to be right for its location.
"Car parking can be key in some locations, while stores in city centres and at transport hubs are also becoming far more relevant to today's consumers - and these stores need to meet different customer needs."
So while the convenience sector is more important than ever to grocers, it's not without its challenges. Bryan Roberts points out that even the sophisticated data-driven retailing at Tesco and Sainsbury's hasn't quite taken
their stores to where they need to be yet, and that convenience store retailers in other parts of the world would be worth emulating.
"The kings of convenience are the Japanese operators, such as 7-11 and Family Mart," he says. "They have perfected the art of switching round products, brands and merchandising according to different times of day.
They've honed the right assortment in terms of range and food-to-go."
The grocers say they do change their ranges according to the area they're in, but Bryan Roberts says there's more work to do. "You get the sense Tesco is looking at Express and seeing how it can improve, and it perhaps doesn't need to be as nuanced as 7-11. But in the UK convenience stores are essentially small supermarkets - there's too much choice and not enough thought going into it."
As UK convenience retail develops, supermarkets will continue to hone their offers while expanding, and there will also continue to be a high representation of independent stores - symbol groups including Spar, Nisa and Premier are all going strong.
Changes in shopper lifestyle mean convenience is one of the last opportunities for growth in UK food retailing, and it is likely to be the scene of some hard-fought battles in years to come.
Store numbers
Co-op More than 2,040
Tesco 1,487
Sainsbury's 529
Waitrose 37
Morrisons Aiming for 100 by end of January 2014
What makes a good convenience store?
Jackie Wharton, director of convenience, Waitrose
"We believe you shouldn't have to compromise on the standard of your shopping experience just because a store is smaller and designed for convenience. The Little Waitrose format is designed to build on our reputation for quality and service so we continue to deliver a comprehensive range from our latest offer within a fresh, contemporary environment while meeting the needs of customers seeking a more convenient way to shop."
David Roberts, director of trading property, The Co-op Group
"A great convenience store needs to deliver against at least one of three types of shopper mission. Customers are generally looking for either great food for 'right now', for example snacks and food to go, shopping for an evening meal that night or topping up their main shop. Good convenience stores understand their shoppers' different needs and provide for them."
Simon Twigger, director of convenience, Sainsbury's
"Location is of course very important. We like busy locations with lots of footfall - sites near stations or in the centre of communities are always very popular. Sites also need to have good transport links. We make deliveries of fresh food to stores every day and we need to be able to get our vehicles quickly and easily to stores causing the minimum amount of disruption to the communities that we serve."