The growth of ereaders and etail means bricks-and-mortar books retailing has been hit hard. Rebecca Thomson looks at how booksellers can survive and how the market is likely to evolve.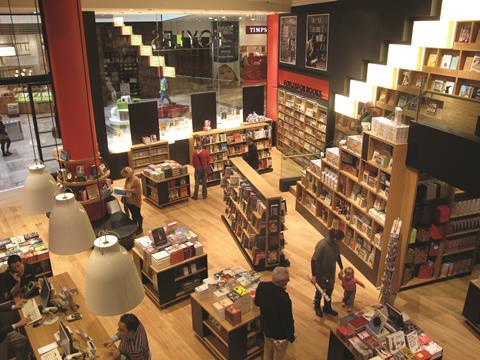 On November 12, Foyles hosted a London Jazz Festival show at its Charing Cross Road store. On the 3rd, there was a short story competition and on the 30th there will be an exhibition on the history of second-hand books.
These are just snippets from the retailer's events calendar for the month, and paint a vivid picture of what books retailing has become.
The relatively simple process of buying books in bulk and selling them on at a price the rest of the market will stick to is long gone. If retailers are to compete with the Amazon juggernaut, they must become far more than a bookseller.
"Bookshops are going to have to redefine themselves as leisure destinations," says Philip Downer, former UK Borders chief executive and director of retail consultancy Front of Store. "The bookshop of the future will promote itself as a place to spend time that also sells books and lifestyle products."
Foyles' chief executive Sam Husain agrees. "Over the years bricks-and-mortar shops have had to smarten up their act to be able to differentiate themselves and add value to a book," he says. "They became complacent."
Online book sales now make up around half of the market. This year, 46.5% of books are expected to be sold online and research firm Verdict forecasts the proportion is to rise to 52.9% of the UK total spend on books in 2013. "This will certainly continue to grow," says Verdict analyst Mike Perry.
The only note of hope for bricks-and-mortar booksellers is that it might not grow as much or as fast as the music and DVD market has, with sales in this category expected to be 97.1% online by 2016. "People still like going to bookshops," Perry says.
It's true that many shoppers still love the look and feel of books, and remain convinced of their superiority to ereaders. Others will buy some books on devices such as Kindle but keep physical copies of their favourites, and books will always have an edge when it comes to gift buying. "The book trade is heavily dependent on the Christmas gift market," says Downer. "It's difficult for people to move from giving someone an attractive product to saying 'I've bought you a download'."
Which means the books market is unlikely, at least in the medium term, to become as absorbed into the digital world as music and video has because books are less of a commodity.
While shoppers do respond well to Amazon's convenience, bookshop customers often want more than convenience and data-generated recommendations. Husain says: "People will still enjoy touching a book and discovering new things in a bookshop. I don't think that will change."
Different customers
So physical books are not going to disappear, but Husain admits online shopping has certainly been a challenge. "If you have an online channel you have to make it competitive with purely online retailers such as Amazon, and that's given us a little bit of a headache. You get people who come into our shop saying 'why can't I buy the same book here at online prices?' It's difficult to deal with." So how does a bricks-and-mortar books retailer solve this problem?
By differentiating, Husain says. Good service, a café and events are all a core part of book retailing today. Foyles' events calendar is a busy one, and its smaller stores also focus on fostering a sense of community through book clubs and signings. And, Husain adds, it's important to emphasise the difference between the on and offline customer.
"Online customers are quite different to bookshop customers. There's nothing like browsing and discovering a book when it's your choice. Online, it's pushed down your throat. In store it's quite different." Creating an environment that encourages browsing, and facilitating the discovery of new titles and authors, will be key to success.
Downer points out that the new model of bookselling will require an entirely different approach to the products stocked. He says: "The old bookshop model is based offering a range of books. It assumes the customer will come in and look for a representative range of fiction such as classics and romance.
"The ebook model is taking a high proportion of certain categories, particularly in fiction. It makes it economically more difficult to justify carrying that full range. More of your stock will be wallpaper." As a result, retailers might have to stock more best-sellers and books they know will sell well.
All of this strengthens the imperative on book retailers to develop other aspects of the model – food, drink and non-book product lines, for instance. Husain says Foyles is looking at developing its non-book lines further, and adds it's important to have a strong brand.
He says: "There will probably be fewer bookshops on high streets, because it's commercially unviable. But retailers should respond by making book shops a destination. Someone needs to want to spend a whole day there. It might be that we have to extend ourselves further and look at the essential needs people have – eating, drinking, and there might be other areas to address as well, such as bigger non-book ranges."
Shrinking stores
But while it's possible to come up with reams of creative ideas to make sure bookstores evolve in the way they need to, it's an unavoidable fact that the market for print books has shrunk. The large property estates of retailers such as Waterstones and WHSmith – both of whom declined to be interviewed for this feature – have become a bit of a ball and chain, although WHSmith's travel stores have been performing well.
"Outside the larger cities and university towns, it's difficult to see that the market for a large, general bookseller is likely to be sustained," says Downer. Store estates will invariably be smaller, and stores themselves will need to shrink.
Verdict's Perry says there will still be a presence on the high street, but it's difficult to know how small it will be compared with today's store footprint. Husain, meanwhile, has bucked the recent trend for contraction and opened four in recent years, including stores at Westfield Stratford City and Westfield London.
He says much of the problem with retailing on the high street is how difficult it is to negotiate with landlords.
"Landlords are far more difficult to negotiate with on the high street. A shopping mall is a different kettle of fish. They tend to be more holistic when looking at the mix of tenants and they see bookshops as important, but a high street landlord looks at his own property only," Husain says.
But however carefully you negotiate the terms, the fact remains fewer physical stores are needed. Ebooks have helped to lead this charge away from large property estates, changing everything from how people read to the way books are promoted.
Integrating print and digital
Scott Pack, former head of buying at Waterstones and now publisher of The Friday Project at HarperCollins, says ebooks require new ways of thinking.
"Ebooks change what we make," he says. "It's very different to selling on the high street. The fundamental process is still taking content and selling it, but there are now different ways of selling it."
While publishers work out the way forward, retailers' next challenge will be to figure out how ebooks and bricks and mortar might co-exist.
WHSmith and Waterstones sell the Kobo and Kindle devices in store respectively, and Foyles sells Barnes and Noble's Nook. It says it is looking at somehow bundling together physical books with their electronic counterparts. Husain says he'd like to consider bundling together five or six ebooks on a memory card, for instance, which would be inserted into a hardback book.
He says digital books will have a higher profile in Foyles' new flagship store, which is being developed on the site next to its current Charing Cross Road store and is due to open in 2014.
He says: "One of the things we'd love to do in the new shop is have a digital zone, with kiosks or similar that would allow people to interrogate our stock. We would like to have a bit more of an open area where people can download online, although keeping prices the same is a challenge." Retailers aren't the only ones keen to foster partnership – Rakuten, which owns the Kobo, said in a recent interview on Planet Retail's website that it shares revenues with retailers and that it is "not seeking to control or dominate in the same way as some of our competitors".
As Pack points out, ebooks are good for the publishing industry – they get people reading more, and ultimately he believes a healthy books market will emerge from this period of flux. The conundrum is making them work for retailers, and there are likely to be a few more difficult years ahead as the answers emerge.
Ereader expansion
The ereader market has exploded over the past two years, and retailers across the board are buying into the devices.
Amazon's range of Kindle devices has an estimated 90% of the ereader market, Planet Retail analyst Lisa Byfield-Green says. Waterstones sells the devices in its stores.
The Kobo is owned by Rakuten, which also owns entertainment etailer Play.com. It is sold in WHSmith stores and Rakuten said recently that it is interested in revenue sharing and working in partnership with retailers.
Tesco acquired online bookstore Mobcast in September, and Sainsbury's purchased the Anobii platform from HMV in June this year.
US bookseller Barnes & Noble launched its Nook device in the UK this autumn, selling through Argos, Blackwell's, Foyles and John Lewis.
Books market timeline
1995 The UK's Net Book Agreement, which sets prices, is revoked in the UK. The agreement meant publishers and booksellers set the prices at which books were to be sold, and the aim was to foster non-price competition. The aim of fixed-price book rules is to make it profitable to produce a wide variety of quality books, which develops culture and learning.
1995 Amazon is founded
2007 The first generation Kindle is launched
2009 Borders' 45 UK stores go into administration
2010 Amazon reveals its ebook sales surpassed those of its print books in the US
2011 HMV sells Waterstones to tycoon Alexander Mamut for £53m
2011 James Daunt is appointed managing director at Waterstones
2012 Daunt reveals Waterstones' plans to sell Kindles in its stores