With a tough year ahead, grocers are sticking to low-price strategies but it will take more than that to keep hold of shoppers' loyalty.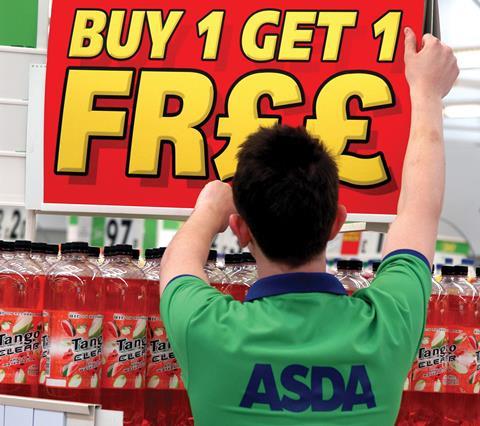 Horse meat isn't the only issue that has made the start of 2013 difficult for the grocers. Even before the news hit, supermarkets were facing rising food prices and a tight spending environment, and the year was panning out to be a close fought battle.
Consumers tightened their grocery belts over Christmas, carefully buying only what they needed, and discounters such as Aldi and Lidl continued to edge market share away from the big four.
With no obvious economic boost on the horizon, what's the solution for the beleaguered grocery sector? For many, it appears to be 'pile it high and sell it cheap'. One only needs to look as far as Tesco's six-point plan to return its UK business to growth - investment in pricing and promotions was high on the agenda.
The grocery giant felt it had lost the price crown to rivals and aimed to change that. Post-Christmas figures showed the strategy is already paying off, and analysts noted that promotions and discounts, particularly couponing, helped the market leader to gain much needed impetus.
Turnaround plans are working so far for Tesco, and its grocery counterparts aren't holding back either. But is a high reliance on promotional activity a good idea in the long-term?
Long-term implications
Promotions are often viewed as a tactic for short-term gain for retailers, but shoppers are becoming increasingly accustomed to bagging deals from a market awash with low-price competition.
There's Sainsbury's Brand Match and Asda's Price Guarantee, a vast number of buy-one-get-one-free offers, multi-buy offers and seasonal deals - it can be difficult to see who, if anyone, is truly benefiting from a highly promotional grocery market.
"I think it is inevitable that we'll see much more price and promotion this year, and it is in no retailer's interest," says Neil Saunders, managing director of analyst Conlumino.
"It will erode margins that are already under pressure. It will help to ease the impact of price inflation for consumers but they will have to be savvy.
Ultimately, consumers will be paying more though."
Saunders says that low-price competition has become a default option that "may be against many retailers' better judgement", and Bryan Roberts, retail insights director at Kantar Retail EMEA, believes much of such activity has become irrelevant. "Whatever Tesco does, everyone else follows suit so it doesn't matter where you buy any more. It's pointless," he explains. "It's a zero-win game. Everyone is holding a gun to everyone's head."
It is the branded suppliers, in the main, that are bearing the brunt, observes Roberts. Some categories such as margarine and shower gel are almost constantly on promotion, causing unstable swings in suppliers' market share and discouraging category innovation, according to Roberts. "Promotions are funded by the suppliers and they are getting cheesed off by the retailers' reliance on them. It isn't sustainable and they are encouraging retailers to look at other mechanics," says Roberts.
More intelligent offers
Several factors have resulted in a recent shift towards a more 'intelligent', targeted approach to promotions. Pleas from suppliers have played a role, as have the recent guidelines on tackling misleading promotional activity outlined by the Office of Fair Trading, which were agreed to in November by all the big grocers except Asda. There is also an element of growing consumer scepticism about deals.
"There is evidence of a more intelligent approach to pricing and promotions, although proof of good practice is patchy," says Howard Langer, head of pricing and promotions at ITIM Retail. So far, he maintains, this is coming through in straightforward pricing with round numbers being used more - so a £2 price tag will increasingly replace the £1.99 tag shoppers have become accustomed to.
He adds: "Many stores have reined back on deals and gone with clear, low, bold price pointing, but the unadulterated price point has won hands down. Walking down the aisles of Asda, you would be forgiven for thinking that the 'pence' part of pricing was outlawed."
Morrisons and Sainsbury's have also been working on making their pricing more transparent by clarifying unit prices, which makes it easier for consumers to compare retailers' prices and get better value. Working with consumer watchdog Which?, at present Sainsbury's is piloting clear unit pricing, which involves providing price per litre or per kilo in stores and online, making comparisons easier. Morrisons will roll out the same approach by the end of the year.
Locking in loyalty
More personalised, loyalty-focused promotions are also starting to emerge, says Saunders. "We are seeing a subtle shift from the very blunt campaigns to more targeted activity, such as if you do three shopping trips over a certain level, they send you money-off vouchers," he points out. "A move away from multi-buys to straight discounting is much more helpful - it offers a genuine saving for consumers."
This loyalty-driven approach is at the centre of Sainsbury's price and promotions strategy, says Mike Coupe, the supermarket's group commercial director, as is its Live Well For Less umbrella campaign. He says: "We will continue to take an intelligent, targeted approach to promotions, harnessing the power of Nectar data. This data gives us a real advantage over many of our competitors as it means we can reward our customers with promotions on the products they already buy."
Ultimately, says Roberts, customers want simplicity when it comes to shopping and that is why German discounter Aldi's Everyday Low Price strategy is proving popular with UK consumers.
The supermarket claims that it grew its AB shoppers by 18% over Christmas and, according to Nielsen data in January, it now accounts for 5% of the UK market.
"Aldi is an example of a very one dimensional retailer," says Saunders. "It stocks fewer products lines, maybe one or two in each category compared with, say, six or seven at Tesco, so it is able to invest more in keeping the price down and it can do it without obliterating its margin. It is a real advert for keeping things simple."
Other ways to add value
As the big UK supermarkets continue to operate in a highly competitive market, promotional activity will remain the weapon of choice in 2013. But offering value to consumers means more than just offering the lowest price, making it wise to consider shifting the marketing focus to other aspects of a retailer's offer.
Scott Logie, strategic marketing director at marketing consultancy St Ives Group, says its own research has found that convenience and location also play a key role in people's motivations for choosing specific supermarkets. He says: "What is clear is that loyalty is at an all-time low - even before the horse meat scandal - with people moving between stores more than ever, over four on average in a single month, and six if you are under 30 years old."
Coupe agrees that promotions alone will not create growth in a challenging market. He explains: "As well as promotions, we are focusing on sticking to our values such as our commitments to Fairtrade and responsible sourcing, something we know has actually grown in importance to customers despite the tough economic climate. Customer service is also vital, which is why we are continuing to invest in training our colleagues."
Tesco has also learnt that if the quality of stores begins to decline, so do profits, says Roberts. "It is persisting with price and it is a driver," he acknowledges. "But Tesco proves that service and quality are just as important." For this reason, he believes, Morrisons' present ad campaign focuses on product quality and provenance, while Asda is promoting improving quality alongside its roll backs.
It will take a brave retailer to break rank and be the first to step away from promotions, admits Roberts, and no one is expecting that to happen any time soon. However, consumers are becoming choosier about which business gets their hard-earned cash - with low prices across the board almost guaranteed, convenience, service and choice will become ever more important.