Domino's Pizza was a new entrant in the biggest 50 retailers by online traffic listing this weekend, charting at number 34 in IMRG's quarterly ranking.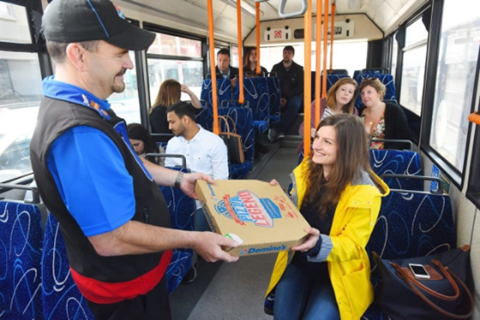 The takeaway giant might not be considered a traditional retailer by some on the high street, but there's much to learn from the success of its digital strategy over the last few years.
Retail veteran David Wild took the helm at the UK subsidiary of Domino's in April 2014, having previously headed Halfords and worked in senior roles at Walmart and Tesco.
After taking over the role he wrote for Retail Week about how successful Domino's was becoming at "navigating a transition in the relationship with its customers".
So just how is Domino's navigating the online challenge faced by all in retail?
A quick look at its customer-facing digital presence reveals much about its continued success. Here are five lessons retailers can learn from Domino's.
Innovative customer touchpoints
As consumers move away from physical stores to online ordering, retailers are searching for new ways to interact with them. Domino's is no different. Its constantly innovating, trying everything from launching a cheesy chat-up lines website to delivering pizzas to bus stops in Blackpool.
While having a pizza delivered to the number 22 might not appeal to everyone, Domino's knows its primary customer and isn't afraid to tap into their youthful, laddish mentality.
Of course, the lesson is not to emulate that spirit but to be inventive. While the opportunity for face-to-face interaction with customers may be shrinking, tech opens new doors.
Making managing expectations fun
Domino's tracker app allows customers to see every stage of the Domino's process: from an order being accepted, to being put in the oven, boxed up and sent out for delivery.
It's yet another customer touchpoint and allows customers to know in real time how long they have to wait until their pizza is delivered and stops Domino's staff receiving nagging calls from irate customers.
While retailers may not have the same sense of urgency on orders, keeping consumers in the loop as much as possible is crucial, especially when delivery is a key part of the proposition.
Ease of ordering
Domino's Zero Click delivery app automatically places a customer's default order, unless the user instructs it to do otherwise within 30 seconds.
While many of the grocers allow customers to easily buy regularly-ordered items, Domino's has gone one step further by automating the process entirely.
It's a simple idea that fits well into the mindset of many consumers choosing to order takeaway. Taking any remaining effort out of the equation works particularly well when customers opt for a product because they are tired or rundown.
Ease of ordering will always maximise online checkouts but it is the fact that minimising effort is a key part of the Domino's proposition that is especially interesting.
Zeitgeist piggybacking
Taking customer touchpoints one step further, Domino's zeitgeist piggybacking doesn't stop at Euro 2016-themed tweets, although there were plenty of Pepperooney and Hammy Kane references during the tournament.
Instead, it goes leftfield. Earlier this year, Puddlewatch fever captivated the nation's youth. The puddle, located in Drummond, near Newcastle, was broadcast on live-streaming app Periscope and half a million tuned in to watch the people of Drummond attempt to traverse it on a particularly dreary January day.
Domino's got in on the action by ordering three pepperoni pizzas to the puddle and handing out free slices to the crowd which had begun to assemble.
Strength of brand
The points above either improve Domino's customer proposition or elevate its marketing strategy. But every strategy is built around Domino's brand values: convenient, youthful, spontaneous and occasionally outlandish. And it's a match that retailers can learn much from.