Nothing can prepare a business for sudden flood damage, but there are ways to cut losses before and after a crisis hits.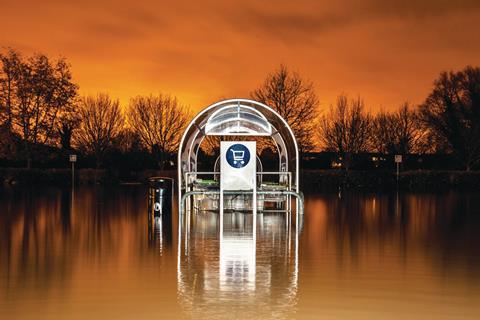 When Chris Elmes took over as store manager of Halfords' Staines branch in February, he had no idea what was around the corner. Two days later the Thames burst its banks and Staines was hit by the first of several waves of flooding. Homes were evacuated, streets were impassable and power cuts left buildings dark. At one point there were 410 tonnes of water passing through Staines every second, according to BBC reports.
Flooding in figures
60% of businesses will go bust within two years of flooding (Defra)
40% of businesses never open their doors again after an incident (Defra)
30% drop in shopper numbers in the Southwest at the height of the flooding (Springboard).
Elmes kept his store up and running, despite the blocked off roads and power cuts, even donating hi-vis jackets to help relief efforts.
He says: "Those customers that did make it into the store were extremely grateful for us being open because a high proportion were purchasing essentials such as torches, power packs and thermal blankets."
It was a dramatic start to his time managing the store, and a lesson in how quickly things can change.
He adds: "Due to the speed at which it occurred it was very hard to plan for."
Two months later, the flooding has mercifully subsided, for now, but as the waters drew back, they were replaced by a tough wave of reality. Thousands of homeowners and businesses are facing ruin.
If proof were needed how serious this next phase will be, research from the Environment Agency and the Department for Environment, Food and Rural Affairs (Defra) shows that 40% of all businesses never open their doors again after a major incident, and 60% of businesses will go bust within two years of flooding. Evidence of this came to light earlier this month when home furnishings retailer Paul Simon collapsed into administration after revenue was hit by shoppers unable to reach some stores because of the floods.
So as businesses start to pick up the pieces, lengthy insurance claims begin and the true cost of the flooding starts to become clear, many will start to look tentatively to the future with questions on their minds. Are they properly protected in this more volatile climate? Where do they stand on insurance? And what, if anything, can they do to mitigate danger in the future?
Trouble ahead
The first signs of danger came four months ago, when, just as most of the country was settling in for Christmas, for thousands of Britons a very bleak winter was unfolding. With twice the average rainfall for the time of the year coming down in December and violent storms exposing unprotected properties and inadequate flood defences, the situation was becoming alarming.
In Somerset, the Environment Agency's head of incident management, John Curtin, described "wave after wave" of storms with no end in sight, and as the rain kept falling the whole south of England was on alert.
Flooded houses grabbed the headlines, but in every affected town, businesses were being destroyed. With the flooding at its worst in the Southwest, later affecting the Home Counties, it was rural areas and small towns that bore the brunt of the crisis. But the impact on the wider economy, and to the infrastructure that serves all retailers, was tangible.
Forum of Private Business (FPB) policy adviser Fionnuala Horrocks-Burns says: "Many businesses had a devastating start to 2014 with flood water damaging properties and stock while saturated ground damaged transport links leaving many small shops without deliveries, staff and customers."
Retailers throughout the region were hit. Footfall counter Springboard recorded a drop of more than 30% in shopper numbers in the Southwest at the height of the disruption, a number of national retailers closed or partially closed stores including Halfords, Debenhams, Superdry and Cotswolds Outdoors, and online orders were log-jammed until the roads opened again.
Amid the activity and political wrangling that followed, there was a small boost for affected businesses, with the news that they would get a relief on business rates for three months, and a deferment of VAT, PAYE and corporation tax in the period.
But now that the immediate threat has passed, and the rates relief period is over, one of the key stress points is insurance. How the insurance on a property is paid can vary greatly from lease to lease, and tenants need to be wary.
The right terms
Crucially, when signing a lease, retailers need to ensure that the terms of who is ultimately responsible for paying insurance are clear. Landlords, keen to reduce any costs on their properties and pass as much of the burden on to tenants, will often try to avoid counting flooding as an 'insured risk', especially in high- risk areas.
Caroline Smith, partner and retail property expert at Shakespeares solicitors, says: "If not agreed as an insured risk, tenants must ensure that a clear definition of uninsured risks is included in their agreement. This must be a 'catch all clause' that covers damage to a property caused by risks not listed as insured.
"Failure to include flooding as either an insured or uninsured risk means that the costs of any damage would fall to the tenant."
Five years ago the law changed in this area, meaning that where the costs once automatically fell on the tenant, now discussion with a landlord almost invariably takes place and a compromise can be found.
It won't be much comfort to the retailers already affected but, with extreme weather conditions becoming the norm in the UK, it is a fact of life for retailers going forward.
Even if a landlord is dragging its feet over insurance, it's something all businesses need to get to grips with even if it means doing it themselves.
Kirwans commercial property solicitor Lisa Evans says: "Although it's of little use after the event, when choosing premises in an area with a high risk of flooding, it is vital to check that the appropriate level of insurance is in place. If the landlord doesn't have such cover in place, the retailer may be able to pay for an insurance upgrade."
But the fact is that in high-risk areas, insurance is always going to come at a premium, however it is arranged in the lease. For homeowners there is reform underway, in the form of Flood Re, a joint Government and insurance industry initiative that provides cover for areas in high risk of flooding. But there is no sign yet that this scheme, still in the development phase, is going to be extended to commercial properties.
BCSC head of research and education Davinder Jhamat says: "It's quite unfair that the scheme does not cover commercial property – there are so many businesses being impacted. They're not being covered and this needs to be explored."
For Halfords and Superdry, for example, the damage this time around was thankfully small. But it could be a different story next time. Between 1982 and 2000, London's Thames barrier was raised 41 times. Since 2000, it has gone up 100 times, 13 of which were in January this year alone. The climate of the UK is changing; retailers will have to as well.
Preparing for floods: advice to retailers
The unexpected severity of the storms over the winter meant that for many of the people affected it was the first time they had ever experienced flooding. The chaos caught many totally off guard, without a plan in place to deal with it. So the Forum for Private Business (FPB) has issued a set of guidance notes for businesses large and small to deal with crises of the future, with advice to have contingencies in place to cover a number of key areas quickly:
Identify the key people involved and what their role will be.
Establish proper methods for identifying and defining a crisis.
Ensure proper methods for involving management are in place.
Have proper lines of communication in place for when a crisis does occur.
Establish your proper mechanisms for reporting and test them.
Define what your process for decision-making will be in a crisis.
Have proper access to and clear definition of your equipment and facilities and what could serve as a crisis management centre.
Have clearly established levels of control and authority within a management team.
Establish guidelines for business continuity planning for during and after a crisis.