After Phones 4u's sudden collapse, what does the future hold for the highly competitive and rapidly changing mobile phone retail landscape?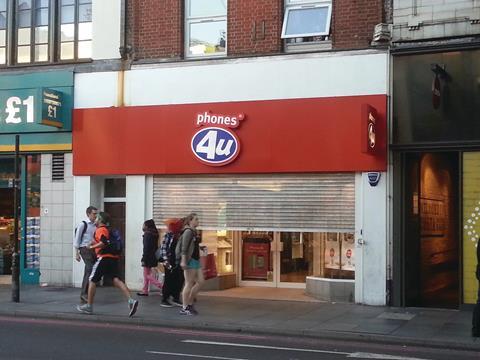 The overnight collapse of the once mighty Phones 4U last week was a messy affair as accusations over wrongdoing were let fly from all sides.
Observers are questioning how a retailer with a turnover of £1bn and profits of more than £100m could so suddenly disappear from the high street.
But the previously booming mobile phone market is showing signs of a slowdown (see box below) and at the same time the mechanics of the industry are shifting rapidly.
Mobile phone retailing, which made the fortunes of Phones 4u founder John Caudwell and Carphone Warehouse founder Sir Charles Dunstone, may no longer be the golden goose it once was.
Phones 4u's administration came after EE and Vodafone decided against renewing their contracts with the retailer, but a simple falling out with suppliers does not tell the full story.
Caudwell has accused the telecoms firms of colluding in Phones 4u's demise and is calling for an investigation into the matter.
The fact the two network operators have now snapped up almost 200 Phones 4u stores may only further fuel conspiracy theories.
The 140 stores Vodafone acquired came after the network operator revealed in April that it intended to increase its store estate by 150, so Phones 4u's administration seems to have allowed it to fast-track its store expansion plan.
Playing the blame game
There is not yet any sign of a government investigation, but the Department for Business, Innovation and Skills (BIS) has made a statement suggesting it is siding with the operators.
A BIS spokeswoman said: "Retail is a rapidly changing sector and this commercial decision reflects the ways in which network operators have been seeking to maximise their influence with customers."
Vodafone has hit back at Phones 4u management's handling of the situation and blamed the breakdown in negotiations on the retailer having "little commercial flexibility due to their debt repayment options".
A source close to EE says that when renegotiating its contract with EE, Phones 4u demanded double the amount of commission Carphone Warehouse was asking for. The retailer did not budge on its terms and this prompted EE to not renew its contract with Phones 4u, the source says.
Vodafone says it was told by Phones 4u management that the retailer "had a number of alternative strategies in place if we couldn't reach an agreement with them".
The role of the retailer's private equity owner BC Partners has also been questioned and even Caudwell has laid some of the blame at the firm's door.
Caudwell, who sold the retailer's parent company to Providence Equity Partners and Doughty Hanson & Co for £1.47bn in 2006, argues the retailer was left unable to defend itself properly after being laden with debt.
Last autumn Phones 4u borrowed £200m in order to pay BC Partners a special dividend, which allowed the private equity group to recoup its original investment plus a 30% return.
An alternative strategy
While rival Carphone Warehouse was proceeding with its merger with Dixons Retail to create a new business proposition around the connected world, Phones 4u's alternative strategies failed to materialise.
"The merger with Dixons is a move that put pressure on Phones 4u," says Kester Mann, principal analyst at mobile industry consultancy firm CCS Insight.
"It allowed Carphone Warehouse to capitalise on greater scale and to tap into the opportunity around the connected home."
Phones 4u was also impacted by factors outside its control that were bearing down on its suppliers.
The profit margins of the network operators are being squeezed by increased competition in the UK, as well as EU caps on the amount customers are charged for data roaming when abroad.
Increased fees for 2G and 3G licences and a new directive from the European Commission reducing the fees operators can charge for mobile termination rates are also forcing operators to seek other means of maintaining their bottom lines, according to Mann.
"Carphone's merger with Dixons is a move that put pressure on Phones 4u"

Kester Mann, CCS Insight
A consequence of that is telecoms companies seeking to cut out the middleman.
"We've seen for a while now operators focusing on direct sales and their own stores," says Mann. "The rationale is to reduce the commission and get closer to customers to create a buying experience that encourages loyalty and reduces churn."
Despite Phones 4u's collapse the Carphone Warehouse business model does not yet look broken because operators are still committed to working with retail partners in the near future.
A source said EE is definitely not leaving the indirect sales channel, while Vodafone has confirmed it will enhance its distribution partnership with Dixons Carphone from early next year.
Securing share
The sales boost Dixons Carphone is likely to receive from former Phones 4u customers has shored up its position in the market for now.
"Dixons Carphone has more influence in the market as it is not as one-dimensional as Phones 4u, has much higher footfall, and is an important player for sales of things like iPhones," says Conlumino managing director Neil Saunders.
"The telecoms operators are likely to see Dixons Carphone as a more important part of their strategy than they did Phones 4u."
The demise of Phones 4u could also bolster Dixons Carphone's partnership with technology and phone handset giant Samsung.
Before its collapse Phones 4u operated the Samsung Experience Store at Westfield Stratford City, leaving Samsung searching for a new retail partner to operate that flagship store.
Samsung could turn to Dixons Carphone, which already runs nine Samsung stores in the UK on behalf of the technology firm. Dixons Carphone is also Samsung's preferred retail partner across Europe and operates an additional 24 stores in six countries.
Saunders believes the collaborative business model could be one of the ways forward for mobile phone retailers and will win the support of operators because they "want to be involved in showcase-type stores as they are a very important purchasing route for many consumers".
"Operators are likely to see Dixons Carphone as a more important part of their strategy"

Neil Saunders, Conlumino
However, Saunders argues not all manufacturers would want their stores run by retailers and cites Apple as a case in point.
Acting as a white label service running the back-end retail operations for mobile manufacturers may appear an attractive proposition at present but relying on this as a regular stream of revenue is a risky tactic for retailers.
Mann believes the rise of online shopping has not had a significant impact on mobile phone retailing yet but it has the potential to disrupt the market.
"Despite the move to online we are still seeing a large number of retail outlets on the high street and that is increasing all the time," he says.
"In the short and medium term I think the challenges on the high street will remain."
Traditionally phones have been sold in a bricks-and-mortar environment because consumers want a hands-on experience when shopping for smartphones. However, Mann anticipates the market will change and there will be a shift towards selling the devices online.
Saturated market
Smartphone ownership is reaching saturation point and it is even predicted sales of mobile phones will drop this year. As consumers become more accustomed to smartphones, it can be expected that buying habits will change.
Dixons Carphone's decision to target the connected home and services around devices such as smart smoke alarms and watches appears increasingly savvy as mobile phones cease to be the cash cows they once were.
After outmanoeuvring Phones 4u in predicting the direction of the market, Dixons Carphone is well placed in the short term.
But the fast-moving nature of the technology market means it must not take its foot off the gas because the dangers of doing so are all the more apparent after Phones 4u's collapse.
Although it is focused on how internet-connected devices are shaping its product range, it must be wary of how online impacts its business model.
A shift to an online sales model would favour the mobile operators who want to pursue more direct channels.
Dixons Carphone will need to move quickly to build its business around the connected world if it is to reflect a changing landscape in which the network operators' priorities are shifting.
Caudwell argues the operators' behaviour has been "astonishingly ruthless" considering the amount of money they have made through Phones 4u throughout the years.
The onus is now on Dixons Carphone to future-proof its business to guard against any other hard-nosed decisions the operators may be forced to take to protect their bottom lines.
The UK mobile phone market in numbers
Five million fewer devices will be sold in 2014 than in 2013, according to mobile industry consultancy CCS Insight. It expects mobile phone sales will drop 11% to 27 million, while tablet sales will fall 14% to 12 million.
Smartphone penetration in Great Britain stood at 70% as of August 2014, according to figures from Kantar Worldpanel ComTech. Research also shows the percentage of first-time smartphone buyers in the country dropped to 29% for the year to August, down from 51% for the year ending August 2012.
Total UK telecoms revenues declined by 1.7% (£600m) in 2013 to £38.6bn, according to Ofcom's communications market report. Ofcom's figures also show the total number of active mobile subscriptions fell by 300,000, bringing the total to 83.1 million in 2013.