Sales have been growing at the jeweller's UK arm after a tough period.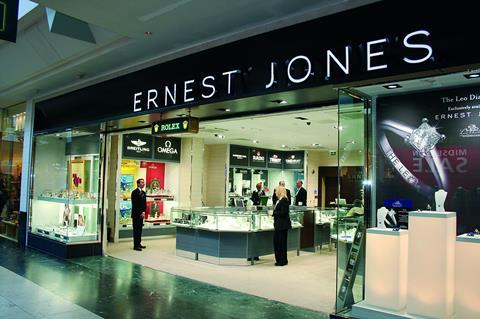 Signet, the world's largest jeweller, has regained a little sparkle in 2012 after halting a sales decline in the competitive UK market.
While the group's US business accounts for 81% of its sales, a strong performance by its UK business – particularly Ernest Jones – led to a 7.1% increase in like-for- like sales here over the second quarter to July 28.
The UK arm is the market leader in this country with about a 10% share.
Signet went through difficulties in the early 1990s. Today, the 522-strong UK business comprises two divisions – H Samuel and Ernest Jones, which also includes the 13-store contemporary jewellery chain Leslie Davis.
During the 1980s Signet, then known as Ratners, boomed, growing to 750 UK stores under a variety of fascias, and expanding into the US through the acquisition of Sterling and Kay Jewellers.
However, its success came crashing down when its then boss, Gerald Ratner, made derogatory comments about product quality, calling the jewellery "total crap".
The infamous faux pas, as well as the early 1990s recession on both sides of the Atlantic, caused profits to nosedive.
A period of financial restructuring and rebranding, which included scrapping the Ratner name in 1993, led to a slow recovery under new leadership. The retailer then performed well until the credit crunch hit.
In the UK, sales began to fall as panic about the economic climate began to mount, and the US was also severely affected.
Signet's management team was unable to head off the resulting sales impact, rapidly changing trading conditions.
Group like-for-likes in 2007/08 fell 0.7%, the first decline since 1992/93. UK like-for-like sales plummeted 16.1%.
Despite the severity of the impact, profitability was restored to the US business by 2009 thanks to a reduction of head office staff and slashing marketing spend and store operating costs. Signet has continued to increase sales and profitability since.
Like-for-like growth, however, was not restored in the UK until 2010/11.
In the UK, Ernest Jones – the smaller and more upmarket of the two key chains – has become the stronger performer. It has 200 stores compared with the mass-market H Samuel, which has about 340 shops. Ernest Jones accounted for 8.7% of group sales in 2011/12 and generated a 4.4% like-for-like climb in the second quarter of this year.
By contrast, H Samuel accounted for 10.4% of sales last year, while like-for-likes in the second quarter were flat.
Sales are highly seasonal at Signet, and the first two quarters usually contribute slightly more than 20% of sales. The third accounts for just under 20% and the all-important fourth generates about 40% of total sales.
It is estimated that bridal sales account for 20% to 25% of annual UK sales.
With Signet facing competition from an estimated 5,200 specialist stores and a range of non-specialist retailers in the UK, such as Argos, department stores and the internet, it continues to confront a tough market.
However, the UK business is also considered well placed to take advantage of any further consolidation. Signet was, for example, reported to be interested in a possible acquisition of Aurum's Mappin & Webb and Goldsmiths networks in 2011.
Signet is traditionally cautious and would carefully consider the opportunities and risks of any deals.
What makes it tick
Group sales $3.75bn (£2.31bn) in 2012
Stores UK 522; US 1,323
UK brands H Samuel, Ernest Jones, Leslie Davis
Key US brands Kay, Jared
Key people Group chief executive Michael W Barnes; chief financial officer Ronald Ristau; chief executive UK jewellery Rob Andersonp