Shop Direct has travelled a bumpy road to become a significant ecommerce business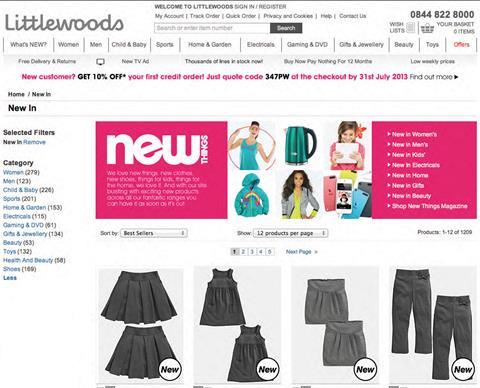 Former The Only Way is Essex star Mark Wright's signing as the new face of menswear for Littlewoods last week is indicative of parent company Shop Direct Group's transformation over the past decade from an underperforming catalogue group into a dynamic ecommerce business.
Shop Direct has suffered growing pains as it developed away from catalogue and mail-order shopping towards creating a portfolio of online-only brands with celebrity ambassadors including TV presenter Holly Willoughby.
However, the conversion has begun to take shape and 80% of its sales came from online in 2011/12 and 28% of those were from mobile devices. And the retailer has launched a number of innovative schemes, such as its Big Brother click-to-buy partnership.
It is a transformation that has taken more than a decade, starting in 2002 when entrepreneurs the Barclay brothers acquired the Littlewoods business for £750m - despite reports it was in poor shape - and quickly followed it up with the purchase of GUS Home Shopping, the mail-order business that owned Great Universal and Kays brands.
With the acquisition referred to the Competition Commission, the business was left in limbo and GUS Home Shopping was renamed as Shop Direct in the interim. Although the watchdog found in favour of the deal, the resulting merger of the businesses has been extended and complex.
The sale of the entire 300-store Littlewoods and Index estate in 2005 and subsequent appointment of Mark Newton-Jones, a former Next Directory executive who had joined to run Littlewoods' store portfolio, as chief executive of
the home shopping business in 2006 proved a turning point for the group.
Charged with integrating the operations and stabilising sales, Newton-Jones oversaw investment in product quality, range and presentation. He also focused on online growth and led some highly effective marketing campaigns.
Meanwhile, the group's smaller brands were scrapped and non-core extensions, such as Kays Lifestyle, were merged back into the main brand.
By the 2007/08 financial year, this led to a modest like-for-like growth of 0.4% after more than decade of sales decline. At the same time, it further reduced brands in search of customer differentiation. This led to the creation of Very, the rebranded Littlewoods Direct fashion offer, and the Marshall Ward business was rebranded Isme.
Woolworths was added to the portfolio in 2009 after Shop Direct snapped up the name and the Ladybird clothing brand following the iconic retailer's high-profile collapse the previous year.
Meanwhile, the retailer has fought to cut costs by creating a combined headquarters. In 2012, it also hived off its distribution business Yodel into a separate holding company.
Proving that the strategy is paying off, despite the group's continued lack of pre-tax profitability, Shop Direct halved its pre-tax losses in 2009/10 from £100m to £50m. The following year it changed its financial year to reflect its spring and autumn seasons and comparatives were further complicated by its adoption of new International Financial Reporting Standards. In the 2010/11 year, retail sales continued to fall although at a lower rate than in the previous year.
At the start of 2012, Newton-Jones revealed that he would step down in July 2013 allowing for an extended handover to Alex Baldock, former managing director of asset finance company Lombard, who was appointed to replace him.
Like-for-like sales edged up by 0.4% last year, despite a 2.3% decline in sales to £1.3bn overall in the home shopping division.
The group said retail sales were restricted due to tight management of its credit policy, but Very and Isme saw "robust" growth.
There is little doubt that Newton-Jones' legacy is the group's metamorphosis from staid catalogue business to a leading etail group.
However, Shop Direct remains a substantially loss-making business as he prepares to make his departure next month and it may take more than Willoughby and Wright's glamour to make profits sparkle.
Fact file
Formed 2006, following the merger of Littlewoods and GUS Home Shopping
Chief executive Alex Baldock
Brands Very, Littlewoods, Woolworths, Isme, K&Co, Brand Quarter
Sales 2011/12: £1.3bn