New fashion chiefs John Dixon and Belinda Earl will need to do more than stock more sleeved dresses.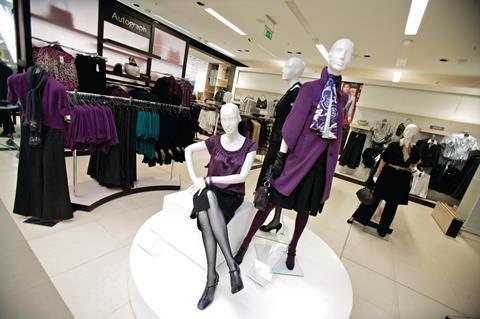 At Marks & Spencer's AGM last week, held the same day as a plunge in first-quarter clothing sales was revealed, one shareholder thought she had the answer to the retailer's fashion woes.
"Can we have more dresses with sleeves?" she asked, inspiring a round of supportive applause.
M&S had that morning already revealed a reshuffle of its senior general merchandise team, including the departure of longstanding clothing boss Kate Bostock this October, when she will be succeeded by John Dixon. He has won acclaim for his turnaround of the retailer's food business.
"I hope there's a new era in women's clothing and our feedback will be listened to," the shareholder said.
A new era is needed, following the 6.8% slide in UK general merchandise like-for-likes – mainly apparel – in the first quarter, and problems that have persisted over a longer period. Last year M&S's womenswear market share slipped from 10.9% to 10.4%, the annual report and accounts showed, equating to £100m of lost sales.
However, the issues which Dixon must confront are more deep-seated than the number of sleeved dresses, which in fact were up 20% last year, and range from buying and availability to branding and shopability.
At the heart is who Marks & Spencer is appealing to and whether the retailer has lost confidence in its ability to put together compelling collections.
The shareholder's question spotlighted the first factor, and Verdict lead analyst Maureen Hinton thinks a good point was made.
Hinton says: That [AGM] audience was probably very typical of its customer. The problem is that it has an old customer. The question showed two things: if they do have dresses with sleeves, they're difficult to find, and I don't think they understand the customer they've got and the customer they should be attracting."
The latest UK census, published this week, showed that in 2011 one in six people in England and Wales, or 16.4% of the population, was aged 65. It was the highest proportion ever recorded in the census.
An ageing population should be an opportunity for M&S, but the retailer's apparent lack of confidence is holding it back.
That uncertainty has been evident in the retailer's inability to stock some of its most popular lines in the quantity that shoppers would have bought.
Katie Smith of fashion data service Editd says: "They have product success stories, but aren't acting upon these successes in time to capitalise." She cites a £35 Per Una cardigan introduced on May 30 but which is now out of stock in seven of eight sizes, and observes: "Such a trans-seasonal and mid-range garment shouldn't be able to sell out – why was there little investment in it?
"Same again with the Indigo collection pure cotton plait knit cardigan, priced again at £35 and again out of stock in just over a month in six sizes. The product had 16 customer reviews online, a really simple metric for M&S to assess where they need to reorder." She concludes: "M&S, your £35 knitwear sells – order confidently."
Differentiating brands
So, although M&S has taken a hit on womenswear, there are plenty of signs that the retailer has not lost its touch when it comes to selecting looks that are in demand.
That brings up the question of the range of brands available and how fashions are shown off in stores.
Hinton thinks M&S needs to differentiate its brands, which she believes "are too confused". It is not a case that there are too many brands, she says, but "their personalities need to be stronger. "It may be that in the business they know what they are, but they're not communicating that to the customer," Hinton says.
In the case of Per Una, she says: "They found older [than originally anticipated] people were shopping it, which shows older people are shopping for a younger look, but it's now morphed into what the designers think that women aged 50 to 60 want, rather than what they actually want."
While M&S's shopper base may be older, is it targeting a new generation of customers sufficiently? It is not a case of chasing the youth market that more typically shops on Asos, but a slightly older group.
"They don't need to appeal to the really young shopper but they should be appealing to the 30-plus shopper, the young family shopper who's now shopping at the supermarket," says Hinton.
One of the planks of chief executive Marc Bolland's strategy has been to differentiate M&S's brands more. The basic ranges were renamed M&S Woman and M&S Man and his intention, he has said, has been to transform collections "from labels to brands". Last year the retailer ran its first sub-brand advertising campaign for Autograph and Limited Collection to further that aim.
At the same time, changes were made in shops to reflect the changes, better segment the offer and improve basics such as in-store navigability.
However, Lorna Hall, senior analyst at fashion intelligence specialist WGSN thinks the sheer extent of M&S's space is an issue as shopping habits change. "How do you segment that space?" she asks. "Unless you're a category-killer like Primark, what does all that space mean if you're not a full-line department store?"
She points out that while John Lewis has brought in new brands to refresh its in-store offer, that option is probably not open to M&S. "John Lewis has understood what a certain woman of a certain age wants to wear, but theirs is a very niche customer and M&S's isn't – M&S has always been much wider."
Price considerations
That breadth of appeal leads on to the question of pricing, particularly as M&S seeks to compete against value giant Primark which, in contrast, last week posted year-to-date sales growth of 16%.
While M&S has tried to ensure keen entry-point pricing – 'good' in its price architecture terminology – it acknowledged at the prelims in May that its offer at that price range had been "not strong enough". At the same time it has had problems encouraging shoppers to trade up to other ranges, often because they were among those affected by limited availability.
Investec analyst Bethany Hocking said in a note to investors last week: "It is management's view that promotions in certain lines – for example 20% off tops at Per Una – is better for brand equity than more widespread Sales.
"We would disagree with this view, as we feel that the near continuous offers in stores and particularly online is getting shoppers hooked on promotions, which is negative for the brand long term."
Editd's Smith looked at Marks & Spencer's clothing price distribution in the last quarter, and compared it with that of John Lewis and Debenhams. She says: "M&S are pricing erratically in comparison with their competitors.
"A normal pattern of pricing at a high-street retailer would see product spreading smoothly through price points, teasing a £20 customer into the £30 mix and giving the retailer the chance to tweak prices."
She says that the number of products would typically tail off at about £55 mark, "then return with a smattering of high-quality product lines at a higher price point, offering something aspirational".
But at M&S, she observes, pricing "leaps and peters off", with very little above £60. She concludes: "M&S could probably do with smoothing their structure and upping their premium line investments – not just any jumper, an M&S jumper."
Hall notes too that in a market polarising between price and other attributes, many contemporary womenswear retailers have opted to put up prices while still emphasising value.
Hocking is concerned about M&S's move towards good and better at the expense of best, and cautions: "M&S would like to have more better and best, and autumn/winter has been planned accordingly.
"Given the intention to move up the price architecture, the shift in quarter one is a concern. Furthermore, the increased promotional stance jars with a desire to move up the price points."
While M&S has traditionally been a wide church, the nature of competition is changing. M&S's traditional customers and those it should be targeting have a wide choice today, both on the high street and online.
Whether it is smaller outfits such as Wrap and Pure, home shopping specialists such as N Brown, or Banana Republic and Hobbs, competition is intense and the need for M&S to distinguish itself is all the greater, says Hinton.
Big responsibilities
So when Dixon and Earl take up their duties later in the year, they will have plenty on their plates. Although many observers welcome their likely new perspectives, there are concerns too.
Dixon is highly regarded for the improvements he made at the food division, where he addressed aspects such as availability, range and product innovation, as well as launching the hugely successful and much-mimicked Dine in for Two for £10 deal.
However, he has comparatively little knowledge of the fashion side of the business, which worries some observers. That is where Earl comes in. She will work solely on the clothing offer, unlike Bostock, who was also responsible for categories such as home and had wider business duties.
Bolland said last week that Earl would bring "unique insight" into British style, gleaned from her experience at Debenhams – where she rose to become chief executive – then at Jaeger and Aquascutum.
However, she will be working three only days a week and the importance of clothing to M&S means some are uneasy that it is not being attended to full-time. The problems that hit Jaeger and Aquascutum, although after her departure, also worry some. But Bolland argues three days is "an extremely long time" to focus on a single aspect of business and is confident that it will be sufficient.
Whatever the impact of the personnel changes at M&S's clothing business, they will not be evident until next year and, until then, the jury remains out.
Hinton says: "I can't imagine M&S getting the same sort of market share it used to have, but it can re-establish its credibility as long as it has someone [in charge of clothing] with a clear vision who can motivate the team."
Friends of Dixon would reply by saying that just a few years ago, people were writing off M&S's food operation.
With the spotlight once again on him, a second such stellar success could make him the strongest internal contender to eventually succeed Bolland.