The regular endorsement of one of the world's most famous women has helped keep British premium womenswear retailer LK Bennett in good shape.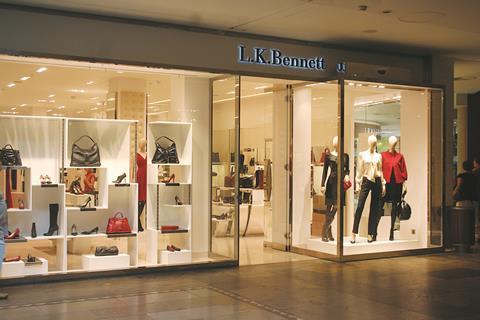 Earlier this month pictures of the Duchess of Cambridge flashed up on news and fashion sites across the globe at the Royal Family celebration of the 60th anniversary of Queen Elizabeth's coronation.
Once again, the Duchess was sporting LK Bennett's nude patent-leather platforms.
The attention seems to be going in LK Bennett's favour.
Last month the retailer reported pre-tax profits of £9.3m in the year to July 28, 2012, up from £5m the previous year.
Royal fans aside, LK Bennett's healthy figures are also down to favourable exchange rates as well as its focus on international expansion.
The retailer, which sells women's fashion, footwear, handbags and accessories, has expanded into the US, France, the Netherlands and Middle East in recent years. On top of its 61 UK shops, it operates 46 overseas outlets and there's plenty more on the agenda to keep the number growing.
Jim Sharp, a partner at Sirius Equity, one of LK Bennett's private equity backers, said in May that, while the retailer has no plans to expand its UK base, it does intend to increase its global presence, particularly in Asia and the US.
LK Bennett has taken a steady approach to crossing the pond. It started with the opening of four concessions in Bloomingdale's department stores in 2010, and followed up with seven standalone stores - including a New York flagship - and a dedicated US website.
The retailer intends to deepen its presence in the US with a further 10 stores in the next few years.
Against a difficult domestic market, which has caused many womenswear retailers to struggle, LK Bennett has managed to cut a strong niche, positioning itself somewhere between the high street and designer.
With its sophisticated products, it appeals to women aged 35 to 45 with high disposable income.
Cashing in on this, LK Bennett moved more upmarket in spring 13 with the launch of Black Ribbon, a luxury capsule collection consisting of products such as nappa leather leggings for £595 and a silk tank top for £195. The retailer
has come a long way since Linda Kristin Bennett founded it in 1990, when she bought a small store in Wimbledon using a £15,000 bank loan.
Fast-forward 18 years to 2008 and Bennett reportedly scooped £100m when she sold 70% of the business to private equity groups Phoenix Equity Partners and Sirius.
Since 2008, sales have leaped from £57.5m to £88.4m in 2012, although pre-tax profits decreased from £9.8m to £9.3m over the same period. Bennett, still a non-executive director, retains a 30% share of the business.
With the new owners on board, Robert Bensoussan, co-founder of Sirius and former chief executive of Jimmy Choo, took up the role of chairman and helped steer expansion overseas, finding new licensing opportunities and developing its product range.
In January 2009 he drafted in Margaret McDonald, the former European vice-president of Banana Republic, as chief executive. However, her tenure was short-lived and she left in April 2010. She is now managing director of occasionwear retailer Coast.
Bensoussan took over the chief executive's role on an interim basis, until Didier Drouet, the former boss of fashion house Emilio Pucci, took the reins in September 2012. In other internal changes, LK Bennett still appears to be seeking a creative director following the departure of Annick Gorman earlier this year.
With plans for further expansion overseas and no sign of the Duchess' love for the brand waning, the retailer looks likely to remain firmly in the fashion spotlight.
Shoe box
Founded 1990
Pre-tax profit £9.3m in the year to July 28, 2012
UK stores 61
Chairman Robert Bensoussan
Chief executive Didier Drouet