Maplin's, the electricals retailer, is on a mission to open more stores, entice female shoppers and invest in in-store technology.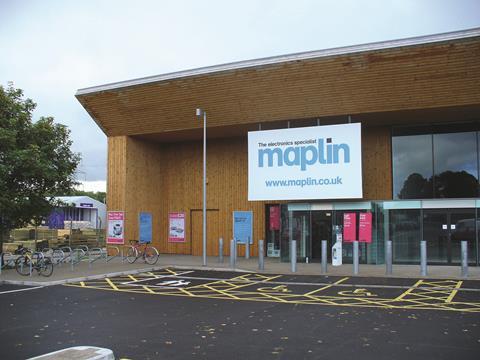 Maplin has set itself a challenging 2013. Along with its aim to attract more female customers - in May, Maplin chief executive John Cleland described the retailer as "a man cave at times" - it is also gunning for a larger store portfolio with 30 new shops due to open this year.
The 205-store retailer wants 300 shops by the end of 2015.
As part of a £40m investment plan the electronics retailer intends to become a "more sympathetic environment for female shoppers". In practice, this means the redevelopment of its store layout, including improved navigation, lighting and merchandising, with the roll-out due to be completed by August.
The overall renewal strategy is on track but is hurting Maplin's bottom line. Pre-tax profit at the Montagu Private Equity-owned retailer fell from £24.8m to £16.2m in the year to December 31, 2012. However, when unveiling the figures in May, Cleland said the retailer expects to increase profits this year.
And the Rotherham-based company, which started life in 1972 as a catalogue selling trade electronic equipment and components, remains in a strong position to do so. It continues to dominate its sector, particularly since the disappearance of rival Tandy. Retailers such as PC World are not seen as specialist enough to be classed as direct competition, according to Retail Week Knowledge Bank.
As well as a focus on the UK, the retailer is eyeing new markets and has pinpointed territories including South Africa, Australia, Pakistan and the UAE in which it may open stores. It will not be the first overseas expansion for Maplin.
The retailer, which sells products including computer parts, portable devices, components and speakers, previously had a store in Romania and supplied product in Australia but exited both operations.
Like most retailers, Maplin, which has a network of stores from Yeovil to Inverness and Belfast, is also focusing on its digital offer, particularly after a slip in ecommerce sales between 2008 and 2011, when online revenue declined from £16m to £13.6m. It was a worrying slide considering most retailers were enjoying growth in the channel.
So why did online sales fall? Etailers such as Amazon increased their electronics businesses and grabbed a slice of Maplin's share of the market.
Management blamed lower consumer confidence as a result of the weaker economy as a contributing factor.
A third factor could have been the rapid expansion of the physical store network, leading many customers who might have bought online instead to choose to buy from a shop, according to Retail Week Knowledge Bank.
Maplin's ecommerce sales returned to growth in 2012 and the business continues to invest in the channel.
Its multichannel offer has become as slick as some of the most innovative retailers, and Maplin offers click-and-collect and 90-minute delivery slots through fulfilment service Shutl.
It is also rolling out in-store computer terminals enabling customers to make online purchases through its stores.
Maplin plans too to redesign its website and extend its range from 15,000 to 30,000 products.
In recent years Maplin has experienced changes at management level. Former Somerfield managing director Cleland joined as chief executive in early 2012.
At the same time new roles were created including retail director and commercial director. Cleland's appointment reunited him with John Lovering, former Somerfield chairman, who became Maplin chairman in 2011.
Both were hired to get the business firing on all cylinders so that it was in good shape for an eventual sale.
With a new £20m credit facility secured in late 2012 to accelerate its store opening programme, a new store format and development of its multichannel capabilities, Maplin looks well placed to take advantage of its niche credentials.
Power supply
Owner Montagu Private Equity
Chairman John Lovering
Chief executive John Cleland
Pre-tax profit 2012 £16.2m