The specialist wine retailer Majestic Wine is thriving despite the depressed economy.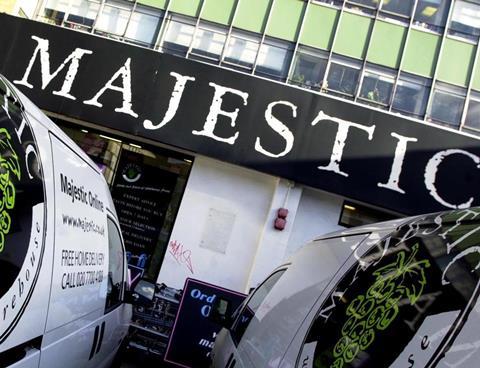 Majestic Wine has continued to thrive throughout the downturn, despite many of its specialist peers being run over roughshod by the supermarkets.
While many big name retail specialists have fallen victim to the recession, including Game and Clinton Cards, Majestic has defied the depressed economy by providing customers with quality wines and by emphasising excellent customer service.
Pre-tax profit rose 14.5% to £23.2m in the 53 weeks to April 2, while group sales advanced 8.9% to £280.3m. Like-for-like sales climbed 2.6%.
Operating margin strengthened to 8.4% in the year – the highest it has been over the past decade.
The retailer has successfully exploited consumer trends when it comes to buying wines. Its recent TV advertising campaign – the retailer's first – highlighted how knowledgeable its staff are, but was careful to point out they are also friendly and unpretentious.
The advert was a clever acknowledgement of the desires of Magestic's customers, who demand good service but don't want to be patronised. It also chimed well with the trend among retailers to become more accessible and connect emotionally with their customers.
The business was founded in 1981 by Giles Clarke, who pioneered the sale of wines by the case with a wholesale licence, selling from outlets such as former cinemas or car showrooms. By the end of the 1980s, the retailer had 30 branches and by the middle of 2012 this had grown to 183 stores.
Steve Lewis has been the chief executive since 2008, replacing Tim How who retired after 19 years in the role. Lewis is also a long-standing Majestic stalwart – he joined the business as a graduate trainee in 1985 and worked his way up to the top.
Lewis spoke earlier this year of his plans to continue the strong emphasis on the quality of store staff. He wants to recruit "the sons and daughters of our customers", as Magestic aims to hire young and intelligent staff who its shoppers can relate to.
It says a lot about the retailer's middle class target market that more than half of its stores are in London and the Southeast.
But this might not be the case for long – Majestic has big ambitions and plans to expand further across the UK and into France.
As well as targeting more stores, the retailer has sought to widen its customer base. A defining moment came three years ago. Until 2009, Majestic customers had to buy at least 12 bottles of wine at a time, with the resulting economies of scale helping to keep prices down.
However, Majestic reduced the minimum figure to six bottles in a bid to pull in more customers, and in 2012 it extended the offer to its online customers. The change is expected to widen its customer demographic so much that Majestic has raised its long-term target of 250 stores in the UK to 330.
But while wide appeal is crucial, so is ensuring Majestic maintains its position as an authority on wine. Over recent years, the retailer has introduced a range of fine wines – classified as those costing £20 or more – to ensure all parts of the market are catered for, and sales of the higher end products accounted for 6.2% of the total in 2011/12, an increase of 0.2% on the year before.
This bid to strengthen its fine wine offer was underpinned in March 2009 by Majestic's purchase of Lay & Wheeler, a wine specialist with particular authority in wines from Bordeaux and Burgundy.
Majestic has also successfully capitalised on cash-strapped shoppers eschewing restaurants in favour of home entertainment.
By offering customers good value, products and service, Majestic has ensured it stands apart from the grocers and its expansion plans mean it's likely to become a more common sight on the high street.
Its focus on service, investment in new stores, growth of its estate and its strong range and links to suppliers mean it has managed to side step the grocers' juggernaut.
Majestic Wine
Chairman Phil Wrigley
Chief executive Steve Lewis
Finance director Nigel Alldritt
Largest shareholder Rock Nominees with 12.58% ownership
Sales Rose 8.9% to £280.3m in the year to April 2012
Pre-tax profits Rose 14.5% to £23.2m in the 53 weeks to April 2