Morrisons is the laggard of the big four grocers. Can a tie-up with etailer Ocado give it a much-needed fillip?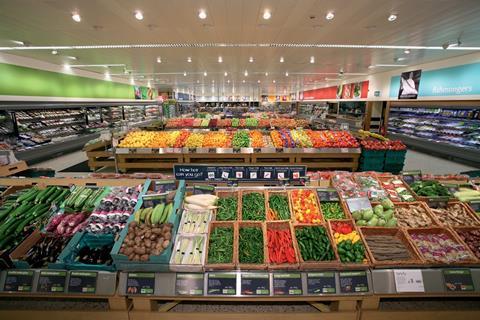 When Morrisons chief executive Dalton Philips confirmed the grocer's step into online grocery last week, he firmly asserted that "the green light is on". But if the traffic lights have given the go-ahead on the basic decision to launch online after two years of deliberation, the details of how the offer will be structured remain very much on amber.
"We have a concrete plan in place," assured Philips, who intends to keep his cards close to his chest as the City, media and Morrisons' competitors attempt to second-guess his strategy.
The Irishman has been clear that Morrisons will only launch food online if it can do so profitably, so there will have been some wry smiles in the City when it emerged last week that the grocer is in talks with food etailer Ocado about licensing its technology.
Since floating on the stock exchange in 2010, Ocado is yet to make a full-year pre-tax profit. It hopes to eventually prove its model by simultaneously generating profit and investing in scale.
The details of discussions between the two are not yet known. However, Philips has been keen to stress that Morrisons' online grocery launch, due at the end of the financial year in January 2014, is not dependent on the talks. In fact, talks are in the early stages and could come to nothing, the retailer has cautioned. However, the discussions are serious enough, at least at this stage, to warrant a statement by Ocado to shareholders that Morrisons is interested in licensing "certain of Ocado's existing and future intellectual property and operating knowledge for the purposes of Morrison [Group] commencing an online grocery business".
It added that the negotiations do not involve Morrisons acquiring a stake in Ocado, either in part or in whole. It
has also been suggested that Morrisons may look to rent space in Ocado's new distribution centre in Dordon, Warwickshire.
But with speculation rife that the move could lead to a full takeover, Retail Week asks: Could a marriage truly work, and is Ocado the answer to Morrisons' prayers?
Opposites attract
On the surface, a harmonious union appears unlikely. Upmarket Ocado prides itself on offering its largely southern customer base a personalised, to-your-door service featuring posh nosh alongside value own-label at a pinpointed time for each of its 130,995 orders per week, worth an average £117.99 a time. Morrisons attracts 11.4 million customers a week to its 490 supermarkets, enticing its largely northern customer base with bargains to ease the pain of the worst recession in living memory.
However, both have a focus on quality fresh food, and the horse meat scandal has left those grocers untainted by the issue - including Morrisons and Ocado - favoured by consumers. According to Philips, consumers are "seriously angry" about the crisis.
Moreover, Morrisons could offer Ocado a route to market it cannot ignore - a physical presence. Ocado chief executive Tim Steiner has always made it clear he believes click-and-collect is a service shoppers pick because they have been consistently let down by rivals' costly, unreliable delivery options. However, with a raft of retailers from Asda to John Lewis extolling the virtues - and impressive growth - of the click-and-collect business model, could shoppers soon be picking up their Ocado orders in Morrisons?
For Ocado - a business that has been under constant pressure to create further streams of revenue and profit - a potential deal appears enticing. Shares broke above its 180p IPO level for the first time since its float when news of the potential tie-up broke last week, and a respite from City pressure over its future may be welcome.
Steiner has regularly received visitors at Ocado's distribution centre in Hatfield over the past decade and has discussed licensing the company's software overseas before.
Ocado chief financial officer Duncan Tatton-Brown told Retail Week: "The UK is one of the most developed online markets in the world and we have one of the leading businesses. We have had, and continue to have, interest from retailers around the world."
Ocado has insisted that its contract with Waitrose - which involves the etailer selling the grocer's products, and has a break clause in 2017 - will be "unaffected" by any potential agreement with Morrisons.
Shore Capital analyst Clive Black warns that Ocado "simply cannot function without Waitrose," and that "anything that potentially jeopardises that relationship to the point of encouraging an early termination would be cataclysmic for the specialist online retailer".
As Ocado aims to build brand awareness, any blurring of its position in the market could confuse shoppers.
For Morrisons, a deal with Ocado offers both benefits and drawbacks. The Bradford-based grocer would be able to use Ocado's technology, which offers industry-leading methods of creating efficiency in building customer orders, if it opens online-only 'dark stores' in Yorkshire and Greater London, which have been mooted.
Or, if Morrisons opts for a pick-from-store model, it may be able to supplement this with deliveries from Ocado's Dordon warehouse. Philips has also stated that one of the reasons supermarkets are successful is that customers drive to them, rather than the other way round, so click-and-collect is likely to feature in any venture.
Testing the waters
Philips will be under pressure to prove that investment in an Ocado deal - which would likely come out of a £150m pot put aside for multichannel investment this year - is worth it. After taking a 10% stake in New York online grocer Fresh Direct for £32m in 2011 and buying Kiddicare for £70m the same year - partly to gain its technology platform - Morrisons is hoping that its investments and careful research in the online market will pay off. The retailer has also moved Kiddicare founder Scott Weavers-Wright to the position of chief architect for food technology, alongside online grocery managing director Simon Thompson. Former Ocado managing director Nigel Robertson has replaced Weavers-Wright as Kiddicare boss.
Verdict senior analyst Andrew Stevens says: "Morrisons has much to gain. Its 10% stake in Fresh Direct, an online pure-play grocer in the US, appears to have yielded little more than observations and research. As part of the deal, Morrisons did not acquire the rights to use any of Fresh Direct's IT platform or infrastructure, nor its intellectual property. While the ability to sit and watch an established and by all means accomplished retailer will have been valuable, Morrisons still has no tangible means by which to retail groceries online.
"Working in partnership with Ocado means Morrisons would benefit from its technology infrastructure and intellectual property, which would aid the retailer in catching up with its rivals," he concluded.
And catching up is something Morrisons needs to do. Each of its major competitors claim their online grocery offer is profitable, though none provide figures. Tesco, which has arguably led the way in developing apps, dark stores and click-and-collect operations, is targeting £5.5bn in online grocery revenue by 2017, at which point industry body IGD forecasts the online food market will be worth £11.1bn.
Sainsbury's and Asda have also built up online businesses fast-approaching an estimated £1bn, with the former using a pick-from-store model and the latter a combination of pick-from-store and home-shopping hubs.
Waitrose's burgeoning web offer is growing by 49% year on year, and the market is set to become further crowded when Iceland begins testing a relaunched online grocery offer next month.
Philips has said that Morrisons' digital grocery offer will be "distinctively Morrisons", and sources close to the project suggest the grocer will move its in-store Market Street fresh food proposition online.
A welcome distraction
While Morrisons did not plan to mention its talks with Ocado when unveiling its full-year results last week, the deflection from a downbeat set of trading numbers must surely have been welcomed. The grocer reported a 6.6%fall in pre-tax profits to £879m, while like-for-like sales slumped 4.1% in the fourth quarter. Full-year like-for-likes to February 3 fell 2.1%.
While trading since the year end may have picked up due to the horse meat scandal, according to Nielsen data, the full-year results appear worrying. Investec analyst Dave McCarthy believes Morrisons is suffering from a consumer shift away from its core channel - supermarkets.
"Morrisons is the first of the quoted retailers to admit that the consumer has changed fundamentally and that this change is permanent. Consumers want to shop online, in convenience stores and in discounters at an increasing rate. Consequently, sales in traditional stores are in decline," he said.
Morrisons is taking action to deal with these issues. Convenience managing director Gordon Mowat moved quickly to secure 62 former Blockbuster, Jessops and HMV sites this year and is building the retailer's convenience business to 100 stores by year end. Morrisons has also placed the focus of its advertising on its fresh food offer, hiring presenters Ant and Dec to front the campaign. Before, Philips concedes, "we were not communicating our points of difference effectively".
The grocer is also in the middle of rolling out its Fresh Format stores and will revamp a further 100 of its shops this year, meaning 40% of its estate will feature the new Fresh Format design. The stores are experiencing an increase in like-for-like sales of 4% to 6% against a control group. This comes despite criticism from the City and life president Sir Ken Morrison that the grocer has lost touch with its core customer.
Philips said a reduction in the amount spent on each Fresh Format store - down from £1.5m last year to £500,000 per store this year - reflects efficiencies in modifying the store design.
According to Philips: "Our Fresh Formats are bringing in new customers and higher-than-average spend. They do that because they do something distinctive in the market. The challenge now is to show that distinctiveness in our other stores."
Philips is battling today's intensely challenging trading climate while developing a model for the future. Free from some of his competitors' increasingly obsolete out-of-town superstores and ahead of fierce rival Asda in developing a convenience offer, his remains a fairly straightforward path.
How quickly he can move down that path could define whether his strategy to conquer the UK stands or falls.
Is A Morrisons and Ocado tie-up a good idea?
Although not an acquisition of Ocado, the discussions to "license certain of Ocado's existing and future intellectual property" suggest that Morrisons is fully aware that cracking online grocery by 2014 with 'homemade' tech is a bit of an ask.
Fast-tracking on the back of Ocado's expertise will be incredibly beneficial, although Morrisons has been at pains to point out that its entry into the online grocery market is not dependent on the outcome of Ocado discussions.
It sounds as though Morrisons has genuinely learned something from its investment in US business Fresh Direct, and the retailer sounds confident that it has sussed out a way to replicate its fantastic credentials in fresh and prepared foods in an online environment. Longer-term, this will surely involve a combination of store-picking, click-and-collect and bespoke warehouses/commissaries, but in the short term, speculation suggests a couple of 'dark stores' and perhaps some piggybacking on Ocado's two customer fulfilment centres.
Convenience stores are on track, boosted by recent property gains from non-food retailers, and will be supported by extra dedicated distribution space, perhaps confirming that the 'hub and spoke' model of supplying c-stores from supermarkets is not a sustainable solution.
The private-label overhaul is progressing well, with a resultant increase in participation, and the apparently positive results from the store refurbishment programme continue, although further tweaks to the nature of the roll-out seem likely in order to make it less costly and more effective.
Bryan Roberts, retail insights director, Kantar Retail