The latest initiative to help high streets is designed to make parking easier. But the Government's promise to make town centres more car-friendly has been met with scepticism.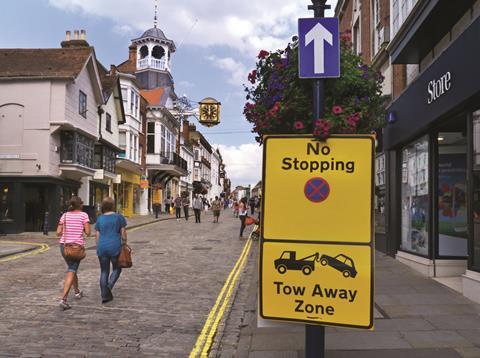 Car parking charges on high streets were a spiky subject long before reports on helping beleaguered town centres were inked. Factors such as rocketing numbers of parking meters and the apparently liberal writing of tickets have earned the ire of motorists nationwide, pushing them out of urban hubs and into out-of-town retail parks and malls.
Last month the Government threw its weight behind the argument that punitive and restrictive parking was strangling commerce on the high street.
It said that it will reveal new parking regulations, including scrapping so-called CCTV 'spy cars', as it attempts to support local shops by making them more accessible.
Eric Pickles, secretary of state for the Department for Communities and Local Government, and Patrick McLoughlin, secretary of state for the Department for Transport, are working together to create new parking regulations. The initiative will provide more parking spaces and open up data on parking so the public can compare charges. The Government says more details will be published "in due course".As part of this initiative, there will also be proposals for consultation on a range of parking-related issues. They include: updating parking enforcement guidance to support local shops; tackling wrongly issued fines; stopping 'unacceptable' parking fine collection practices; reviewing unnecessary yellow lines; clamping down on anti-social driving and encouraging social responsibility; and spreading best practice on supporting town centres and tackling illegal parking.
The Government is also promising to carry out analysis on the impact of different transport policies on town centre vitality. Unveiling the initiative, Pickles said: "Excessive parking charges and unfair parking fines undermine local high streets and shopping parades. We want to rein in over-zealous parking enforcement, so it focuses on supporting high streets and motorists, not raising money."
Not the biggest issue
But not everyone is in agreement that car parking is to blame for stifling local trade. High street champion Bill Grimsey retorts that this is no more than a "box of tricks marked 'diversionary tactics'".
Instead, he describes car parking as "the new smokescreen". He maintains: "It's certainly a populist move. Everyone hates parking fines. But it's still fiddling in the margins. The biggest issue facing the high street right now, as everyone in retail knows, is business rates. Government is squeezing the high street like a boa constrictor to the point where it's taxing people out of business."
The view that car parking fees are at the heart of high street woes was also refuted by a report into car parking in town centres and high streets published in January. Re-think! Parking on the High Street was produced by the Association of Town & City Management (ATCM), the British Parking Association (BPA), Springboard Research and Parking Data & Research International.
The report used data on footfall, spend and shopping centre quality to group 90 locations and assess their relationships to the quantity of spaces and the cost of parking for the first two hours. The authors claimed the results showed there's no clear link between car parking charges (set by parking owners/operators) and the amenities on offer in a location, and some mid-range and smaller centres charged more than what is consistent with the national average.
It also found that such locations suffered a higher than average decline in footfall for 2011.
The report said further research is needed. However, it also refuted concerns about parking charges stifling local trade, particularly the suspicion that funds might be being diverted away from car parks, not allowing for the necessary reinvestment to take place. It pointed out that it is unlawful for local authorities to generate income as an objective of parking management and that any surplus generated is ring-fenced by law, which also sets out how that surplus must be used.
Kelvin Reynolds, BPA director of policy and public affairs, adds: "This report shows the need for parking to be managed intelligently to work as intended, sometimes requiring effective management. All of this costs money and therefore we believe that so called 'free parking' is not viable. Good quality, well designed and properly maintained car parks can contribute significantly to the prosperity of Britain's towns and cities."
The ATCM has backed an initiative by US-based technology specialist MoLo. Called MoLo Rewards, it would allow retailers to reward their customers by making a small contribution to their parking charges. In the proposed system, points are collected via a mobile app from participating stores and can be redeemed by consumers at parking pay-points - for example, £10 worth of purchases might earn a parking fee discount of 50p.
Flexible payment
Some local authorities have also looked into flexible payment. City of Lincoln Council recently introduced a 25% discount on all parking tariffs on Mondays when using the PayByPhone system, while over the summer it earmarked two parking sites for a £2 all-day rate during July and August and has introduced a £2.50 flat fee for weekends across several car parks.
Rod Williamson, city services team leader at City of Lincoln Council, adds: "We understand parking is a really important factor people consider when coming into Lincoln, and having affordable spaces supports the city's businesses and economy."
There are similar pricing trials going on up and down the country, from Middlesbrough, which has made the first two hours free across all council-owned car parks, to Aylesbury Vale District Council, which from July began a six-month trial bringing parking for the first three hours down to 50p.
An alternative view is that it is not pricing but safety and amenities that need to be bolstered for car drivers. The BPA operates a Safer Parking Scheme, which awards recognition to car parks that have met a number of crime reduction targets.
High-tech solution
Some locations are investing in state-of-the-art technology in the belief that service and convenience are the key issues for car drivers.
Beneath the mixed use The Cube building in Birmingham is the UK's most high-tech car park - a fully automated, German-designed, car park located a five-minute walk from New Street railway station and the upcoming retail development there and adjacent to The Mailbox shopping development.
Once drivers have purchased a permit, they drive their vehicle into one of four transfer garages and get out. The car is then scanned and transported to the parking area using an automatic lift.
The car park system places the vehicle in an allocated, underground space, where it stays until the driver is ready to return. To pick up the car, a driver scans their pass at the transfer garage and the car is brought back up. The operator claims that from arriving at the car park to the return of a vehicle only takes two to three minutes.
Whether the Government's proposal to ease parking fees on high streets is ready for an equally seamless transition is questionable. While reducing fees and fines will undoubtedly score points with frustrated motorists, high street advocates such as Grimsey clearly feel that, rather than a bold boost for local retail, it is a misdirected attempt to ignore the bigger issue of business rates.