Travel retail has undergone a renaissance over the past few years that has turned airports and stations into shopping destinations. Retail Week charts how it happened.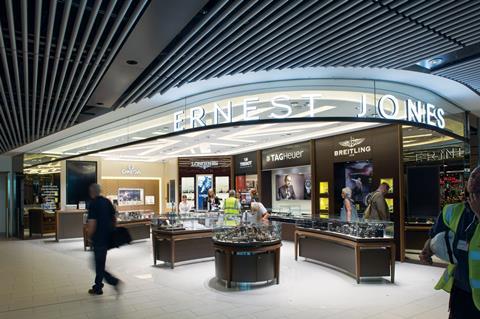 Clinical, over-priced, and soulless are all words that tend to crop up when shoppers are quizzed on airport or railway station retail. The lack of natural light, the crowds and the overbearing environment sometimes combine to make travel hubs an uninspiring place to be.
But over the past few years, things have started to change. A new breed of travel destination has started to appear and the overall environment has begun to improve.
Retailers increasingly realise the importance of engaging travel shoppers - and so do their travel hub landlords. Destinations ranging from Heathrow Terminal 5 to St Pancras International have shown how much of a difference a stimulating environment can make and this - along with several other trends - is helping travel retail to come into its own. And with 85% of visitors to Gatwick Airport buying something, it's worth making effort to woo travellers.
Paul Wheatley, global property director at cosmetics retailer Lush, says: "Given the increase in passenger numbers that we're seeing at stations and the increased dwell time due to the steady improvement in station facilities, [travel] is a primary focus for us."
"You've got a captive audience that does allow one to experiment a lot more"

Alex Avery, Pragma UK
Retailers such as WHSmith are using stations and other travel hubs in entirely new ways. The stationery retailer has been one of those leading the charge. Its growth in recent years has been driven by travel formats as high street sales slowed, and the retailer is pinning its hopes for future success on stores in stations and airports. In 2012, it started testing new travel formats, including a children's toy and book store Zoodle, to optimise the use of store space.
At Heathrow retail director Max Vialou-Clark says retailers can test new ideas on 82 different nationalities who are travelling through the airport at any one time.
He adds that while travel retail may previously have been seen as an afterthought by retailers, it is quickly becoming central to their strategies.
"We see more and more retailers using Heathrow as a test market before making a move into international markets," he says.
One retailer using airports to try new things is Dixons. It has used its shops at Gatwick and Heathrow to try out product innovations and store design ideas before rolling them out to other shops.
Dixons Travel director Jeremy Fennell says: "This is about showcasing technology in the new space, as well as more interactive displays, and displays of seasonal technologies."
He cites a recent example at Heathrow's Terminal 5 where Dixons featured a special product range for skiing holidays, such as action cameras, waterproof cameras and rugged cases for iPhones and iPads, which helped draw more people into the store.
Passenger data
It helps that airports are working hard to make retailers' lives easier. Most now gather and distribute passenger data, which tells retailers where shoppers have come from, where they're going, and how many shoppers to expect at a given time.
At Gatwick, efforts have been ploughed into making the travel experience better. Its South Terminal has been transformed in the past few years, and 22 stores were opened between July and December last year.
Gatwick says over 85% of its 36 million shoppers buy something while at the airport, and that 80% of its travellers fall into the ABC1 demographic. It expects passenger numbers to increase 6% next year, and head of retail Spencer Sheen says a strong retail offer is a big part of keeping them happy. "When you start looking at the constituent parts that make up the airport experience, retail and food and beverage are really important," he says.
Retail has typically been far down the list of management priorities for airports, but these days often has representation on the board, according to Alex Avery, divisional director for airports, travel and commercial spaces at consultancy Pragma UK.
"Especially with downward pressure on money that can be made from airlines, landing fees and so on, retail offers the biggest potential," he says.
As a result, the pressure is on to create something different from what is available on the high street. Retailers and airport owners are working harder than ever to entice shoppers with ever more innovative offerings.
Money-saving is no longer the prime motive for shopping in EU airports, following the abolition of duty-free sales within the bloc. Instead, innovation has become the order of the day, says Avery.
"You've got a captive audience that does allow one to experiment a lot more," he adds. "Hubs give more emphasis on programming and updating the offer - if it's the same old stock, people aren't going to be enticed, but if you get it right, it can lead to incredibly high sales densities."
Avery says more retailers now use major transport hubs to provide the "flagship brand component" with bigger floorspace and impressive fit-out and design, meaning that airports themselves "are becoming brands rather than just functional infrastructure transport hubs".
Personalisation
While rail and Tube locations can exploit regular commuters, airport retailers focus more on personalisation, tailoring their ranges to different sets of customers.
Among the emerging trends are the wider use of vending machines for chilled foods, as seen in the US, and shopping walls being used in South Korea and Japan, which enable customers to scan codes to buy their desired goods - Gatwick has already tested an interactive Tesco billboard that allows shoppers to order groceries using their mobile phones to be delivered in time for their return home.
Railway stations are also focusing much more on their retail proposition, with the result that there are many retailers who now take space in stations who previously wouldn't have.
Bookseller Foyles has recently opened its seventh store. It has two in train stations. Susan Sinclair, division manager for Foyles' stores at London Waterloo and St Pancras, says the two train stations provide two "quite different offerings", given the international passenger flow-through at St Pancras.
Peak shopping hours for Foyles were traditionally from 5pm to 7pm but this has now extended to 9pm as people shop for an hour or two after work. It means the retailer is mopping up customers who would otherwise opt for the convenience of online.
"It's good for us to be in the stations because we're getting more trade from people who would otherwise shop online," Sinclair says. "We can convert these customers to our offering."
The amount of time shoppers are happy to spend at stations has also increased - good news for retailers for whom dwell time is crucial. Lush has stores in stations such as Waterloo, and Wheatley says it is targeting the major London stations, but will consider other locations if passenger levels continue to climb.
"The significant difference is the time the customer has to spend with us," Wheatley adds. "Much as we'd like to be able to spend as long as is necessary with them, in a station you know that this is rarely possible despite the increased dwell times we're seeing.
"Being in a 270 sq ft store in Waterloo station at rush hour isn't the same as being in a 1,600 sq ft Spa store in Liverpool when you have all the time in the world. So the focus for the store teams is to be able to understand and adapt to that."
Increased footfall
Rail operator Network Rail says there has been a dramatic change in transport retail over the past decade. Its main task has been to devise ways of engaging shoppers without compromising their commute, leading to features such as balconies at Waterloo and King's Cross.
Network Rail manages 17 stations, including all the main London hubs with the exception of Marylebone.
Some of its London stations handle more than 100 million passengers a year and some regional stations have greater footfall than some large shopping centres, says Hamish Kiernan, Network Rail's retail operations and business development manager.
"More and more 'non-travelling' customers are visiting stations"

Hamish Kiernan, Network Rail
Its stations offer a longer trading day than high street stores and footfall is also growing year-on-year. In 2012 to 2013 alone, the number of people using stations across Britain increased by more than 82 million, a 3.3% rise compared with the previous year. Eight of the 10 busiest stations in Britain are in London - Birmingham New Street and Glasgow Central are the other two.
"The retail element of a station is considered further in advance in the development timeline now than it ever was, enabling us to tailor the retail footprint to how the station is used - for example, taking passenger flows into consideration when plotting the location of units," says Kiernan.
"More and more 'non-travelling' customers are visiting stations, and we see this change in behaviour as being directly correlated to the overall shopping experience providing a compelling draw," he adds.
Network Rail's stations typically focus on 'anchor brands' such as Boots and M&S Simply Food that trade well at virtually every station.
But the offer is expanding beyond this. Over the past five years Network Rail has introduced 48 brands, including Fat Face, Joy, Joules, Oliver Bonas, Hotel Chocolat, Links of London and Thomas Pink - "all of whom are providing customer choice and complementing each other and the overall mix in the right premium environments," says Kiernan.
Network Rail has begun working with delivery companies to send online orders to the most convenient stations for shoppers. Over the next five years it will be working hard on improving the offer at London Bridge, which is set to deliver 90,000 sq ft of new retail space by 2018.
Convenience hubs
Retailers have also become aware of the convenience factor at transport hubs. Several of them have launched click-and-collect services that allow consumers to pick up groceries at Tube stations.
Asda and Tesco are testing click-and-collect in station car parks. Waitrose has started to use chilled lockers at stations and Amazon is considering the use of lockers on the London Underground.
Andrew Yaxley, Tesco's managing director for London, says: "We are thinking outside of the traditional retail box, which includes growing click-and-collect and increasing our investment online."
Tesco has committed to six click-and-collect bases at Tube stations, but if the concept works it would move into other Tube stops and possibly other urban areas throughout the UK, Yaxley says.
"The growth in these newer channels does not mean the end for traditional stores," he says. "We know that many customers who shop online also shop at Express stores, buying their weekly shopping online and topping up in store across the week - stores and online really can and do work together."
Toby Paxton, a partner at Deloitte's retail practice, says multichannel shopping habits have helped transport hubs become a bigger part of retail. The online experience is changing the way the product gets delivered to the customer, leading to new overlaps between transport and retail, he says.
"We're seeing transport hubs as retail centres in their own right but with very targeted propositions," he observes. "Clearly the omnichannel customer is driving a whole set of different requirements on retailers around how customers receive the product."
As traveller numbers keep increasing and as retailers' formats and fulfilment methods become more flexible, travel's role in retail is likely to take off further still.