It's the most important time of the year, so how does one of the UK's busiest department stores manage the Christmas peak? Rebecca Thomson visits John Lewis' Oxford Street store to find out.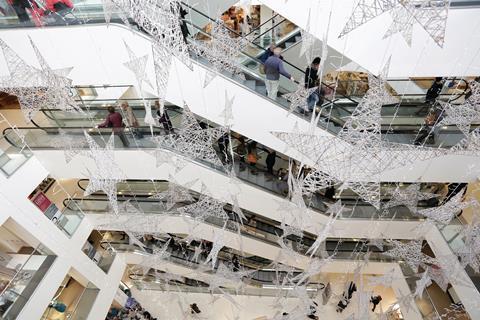 It's just before opening time on a Saturday morning at John Lewis' Oxford Street store and it feels like the calm before the storm. Staff make last-minute checks, decorations twinkle enticingly and the shelves are full as the shop gears up for a busy trading day in the run-up to Christmas.
Christmas is a critical time of year for nearly every retailer and managing the process is no mean feat. A massive 80% of John Lewis' profits are generated during the period according to buying and brand director Peter Ruis, who was speaking at The Drapers Fashion Summit. From getting stock levels right to making sure there are enough staff on hand, it's a delicate balancing act – one even the most experienced retailers need to constantly improve.
As the Oxford Street store general manager, Alison Gilbert, says: "We are fairly well oiled because we know what's coming up and when. But any manager will say that no day is the same because no one customer is the same. They all have different expectations. But that's what makes it fun."
Christmas all year round
The process of staging Christmas in a large department store is holistic – every part of the operation needs to work in conjunction with the others. In some areas of the business, planning for an upcoming Christmas period starts shortly after the last one finishes.
Jane Lambert, department manager for kidswear, says buyers begin making their choices early in the year – by January or February the majority of toys that will feature strongly at Christmas are decided. "In June, July and August we get products coming in. We're preparing for Christmas pretty much the whole year," Lambert says. The fashion buyers operate in a similar way and much of the decision making about Christmas product goes on in the first few months of the year.
It's the same story from a management point of view – Gilbert says the feedback process on the Christmas just gone is immediate. "Our Christmas starts at the end of the last one," she explains. "At the end of every Christmas we do a post-mortem. In August we advertise for Christmas staff and we start planning from there how many we are going to need."
Seasonal staff
The selection and training of Christmas staff is a core part of the operation, and maintaining service levels becomes more difficult. The Oxford Street store takes on 500 extra staff for Christmas, boosting the 2,200-strong team. On an average weekday there are between 350 and 400 staff on the shopfloor and 200 back-office staff – on the Saturday of Retail Week's visit there were 450 staff on the shopfloor.
Many of the Christmas temps are students and plenty are embarking on their first job. It's imperative they are told on their induction day to understand the importance of high standards of customer service, but there is also recognition among senior staff that facing the public does require confidence. Gilbert says: "The overall message is warm and friendly customer service, and doing that consistently. At first they might feel out of their depth because of confidence – we say just go for it and be natural." During our visit she addresses a room full of new recruits, telling them the important part of their job is feeling confident, engaging with shoppers and getting to know their departments quickly.
Department managers also have their work cut out to ensure new team members feel on top of things. Product knowledge is critical and the focus for Christmas staff is familiarising themselves with their department and the products. Gilbert says: "When you have so many new partners you've got to make sure that they know their departments. It's difficult in some ways but we have a fail-safe recruitment process. They have been screened and assessed – we take on partners because of their attitude and behaviours. If you've got that, you are more than halfway there."
Once staff start work, they have monthly meetings with their line managers to ensure everything is going smoothly. Managers try to deal with any issues that arise immediately, and the store also pays an external company to interview customers leaving the store about overall service levels.
Stock management
With 500 extra people on board the store is bursting at the seams, but staff count isn't the only thing that swells. Stock holding can quadruple in some areas, according to stock manager Emma Lahert, and overall the amount of stock held at the store approximately doubles. "At the moment we're holding 10 weeks' of stock," Lahert says.
Click-and-collect is also in high demand over Christmas – 25% of John Lewis' sales are online and click-and-collect accounts for 30% of this. The overall collection operation at Oxford Street is a slick one and it needs to be, with around 800 collections a day of some kind being processed.
Gilbert says making sure the right product is in the right place at the right time is one of the store's major challenges at Christmas. "Being able to accommodate the stock and get it out on the selling floor is crucial, or you miss sales opportunities," she says. "That's a challenge for us. If you don't get that right it is potentially damaging. You want [the stock] to be just in time."
A good replenishment system is crucial. Gilbert says the store has used an overnight replenishment system for the last five years, which helps because it enables the shop to get ahead of the game without staff being interrupted. Cathy Wiley, department manager for china and glass, says some gift stock can also need replenishing throughout the day. "The volume of stock we have coming through at this time of year is phenomenal," she says.
In the children's department some lines are already in high demand – one of the big toys this year is the Furby, an interactive toy pet that has made a triumphant return after its heyday in the 1990s. It's already sold out once at the Oxford Street store this Christmas. "We know a lot of Christmas stuff will sell out," says Lambert. "That's kind of the aim."
Overall, Gilbert expects technology products will be big news this Christmas, and the department was full of people on the day of our visit. Gadgets such as iPads and other tablets are forecast to sell well, and there is a similar trend in the children's department too where the shelves are piled high with technological toys.
Managing shopper volumes
While department managers are juggling quickly changing stock, all staff need to cope with the influx of shoppers. It might seem a small issue, but keeping the store clean becomes hard work; the sheer volume of people moving through it brings a significant amount of dirt. And high footfall creates other issues too. Staff must deal with high expectations and ever-changing demands, and Seb Blevings, selling operations manager for the home departments, says they also need to stay abreast of changes in shopper behaviour. "Customers are better informed than they've ever been," he says. "They come in having checked the website, or they come and research here before going home and buying. It's about the website working with the shop. People are thinking more carefully about how they spend – they come in having read reviews. They used to rely solely on the assistant in the shop."
Not only that, but people are asking more questions about after-sales services and are more thoughtful about where their money goes. Blevings says: "There's a lot more concern and questions about after-sales. One of the reasons we are doing well is that people trust us, especially on big purchases."
Keeping up with changing behaviour during such a busy period is difficult but vital – if shoppers aren't happy they won't return. The fact that such a high proportion of profits are made during Christmas gives a sense of the scale of the period for retailers.
For staff though, it's also an exciting time of year. As Lambert says: "Everything we plan for is happening in the next couple of weeks, which is so exciting." It might be a commercially crucial period, but for the people staffing the retail front line, it's often a fun one too.
Christmas at Oxford Street
500 Extra staff
100% Stock levels roughly double during the Christmas period
100% Footfall also doubles during the Christmas period
800 In-store collections a day
80% John Lewis profits generated during Christmas across the group
Christmas checklist
Visual merchandising John Lewis Oxford Street has three visual merchandise teams – one for windows, one internally and one flagship team that ensures consistency across the store. There are several themes across the shop this Christmas, including Winter Wonderland and Oriental. The windows undergo seven separate phases of decoration over the period – at present they are on phase two. Christmas decorations go up in November and the Christmas department opens in October.
Stock Getting products to the shelves just as the customer wants them is a challenge. Overnight replenishment helps, and a back-office staff team of 200 on a normal day means there are people on hand to replenish during the day. The amount of stock held approximately doubles.
Staff The store usually employs about 2,200 people and that swells by nearly a quarter as an extra 500 extra staff come on board at Christmas. Training them and ensuring they are capable of doing the job well is a big task.
Keep it fun The best way to ensure good service is to keep the staff happy. John Lewis runs various competitions and events for employees, staff areas are pleasant, and department managers strive to keep things enjoyable.
Year-round planning Some Christmas planning starts early in the year, as buyers choose certain lines. Recruitment for temps starts in August, and things really start to ramp up once October half-term is over. Much gift buying doesn't happen until late November and right through December, but some home departments have their peaks earlier as shoppers plan for family visits. Oxford Street stock manager Emma Lahert says: "If you didn't have the people in place and weren't prepared it would be a challenge but we invest the time early on. A lot of the managers are experienced and able to deal with the increase."