Showrooming is a hot topic for retailers but, as discussed at a Retail Week and Telefónica O2 roundtable, plenty can be done to tackle and even exploit the trend.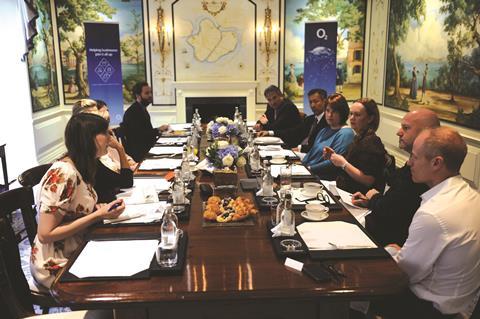 Showrooming is giving retailers cause for concern. Reports suggest that in the lead up to Christmas last year, a quarter of UK shoppers visited a store to browse products before using their mobile phone to compare prices on other sites. Of those, 40% of consumers went on to shop elsewhere, which equated to £500m of lost sales during the critical trading period.
So how can retailers tackle showrooming and even use it to their advantage? That was the hot topic discussed at a roundtable event sponsored by Telefónica O2 at the Savoy Hotel in London earlier this month.
Showrooming is high up many retailers' agendas, and Dixons has chosen to tackle it head on with an app launched last month that encourages shoppers to compare its prices with rivals'. As group chief executive Sebastian James said when the app made its debut: "It gives us total transparency. People are going to compare prices online anyway whether you help them or not."
Other retailers' strategies are more controversial, such as charging customers to browse online while in store. Those at the roundtable event believed that tactic to be shortsighted and against principles of good customer service.
Dyson managing director David Hollander said some retailers pass on the expense of providing online access in store to suppliers because of the role physical stores play in shoppers' buying decisions.
Hollander explained: "82% of our customers research online but an even bigger number do so in store. We need the in-store experience, so it is appropriate to reward those retailers that provide a service to shoppers that we benefit from."
Erasing showrooming desire
One key theme to emerge from the event is that it's important not to overthink the showrooming phenomenon, but to address it by getting the basics of multichannel retailing right. Quality customer service, a strong multichannel capability and a brand that consumers trust will significantly affect the desire to showroom.
In fact, Harvey Nichols group chief executive Joseph Wan said that, while the department store group is monitoring the showrooming trend, so far it has found that the reverse often occurs. "We are watching and seeing how people shop.
What I do know so far is that there are increasing numbers who go online and then come in store to buy."
That is perhaps primarily because shopping in bricks-and-mortar stores remains a leisure activity for consumers.
Hawes & Curtis head of ecommerce Antony Comyns called it the "biggest leisure activity" in the UK and said technology won't be the death of stores. He maintained: "It just won't happen because people love shopping - they love going into Jigsaw or Harrods or even New Look. It is a great experience for them."
Harrods.com editorial director Maria Milano said the retailer's customers shop with the brand in two different ways.
Some go in store for the experience, others go online to transact quickly from anywhere. She used Christmas as an example: "People come in store for the theatre and customer experience. Christmas online is more functional. It's about being able to shop 24/7 with ease at what is always a busy time of year."
Bryony Dent, who has a place on Telefónica O2's graduate scheme, provided an insight into the mindset of those showrooming, who are often younger shoppers. As a student she showroomed primarily to find the best price, but now does so for other reasons. "I often don't get the customer service in store I want so I end up going online," she said.
"Or I find I know more about what I want to buy than the staff in the shop."
Attendees agreed that showrooming often occurs when in-store service does not meet expectations. Caroline Gorski, managing partner of retail and leisure for Telefónica O2, said the business has been testing a concept store format that, rather than focusing primarily on device sales, displays less product and educates customers on how digital and mobile services could change their lives.
"One of the biggest things we did was take sales targets away to allow staff to have the time to have quality conversations with customers. As a result the whole customer experience improved," Gorski explained.
Stores versus showrooms
There is talk in the retail world about whether bricks-and-mortar stores could become literal showrooms, with transactions taking place purely online.
Though the O2 concept store embraces elements of a showroom as it moves attention away from sales, Wan warned that many retailers cannot afford to shift the focus too far from the final transaction.
"I do not believe that in the next 20 to 30 years a retail store like Harvey Nichols could just become a showroom without generating sales. The business model wouldn't work as you pay high rent, business rates and service charges.
It's not feasible."
The reason for the closure of shops on the high street has at times been laid at the door of online retail. Yet Jigsaw product director Barbara Horspool believed that, for some businesses, turning a store into a showroom could have a place on the high street. "A tiny high street store in a small town could be transformed to showroom a whole range online. Customers could click-and-collect, make their purchase, and have a cup of coffee while they're doing it. It could almost invent a different type of retailing on the high street."
But retailers have much to do if they want to maintain shoppers' love of the high street in years to come. Attendees stressed that the ease of online shopping needs to be replicated in bricks-and-mortar stores. Horspool said that people often go on their mobiles or buy online because they have less time to shop, and that the challenge is to refocus stores for time-poor customers. "People that shop online [want] their purchase in store to be much easier," she said.
Ted Baker wholesale director Ricky Green added that quality customer service must go beyond the store and the sale.
Retailers need to exploit the service opportunity after the sale should something go wrong. "The line of communication after the shopping experience has to be more fluid for the customer. We need to make it easy to re-engage with the brand afterwards," he said.
Dyson is an example of the power of strong customer service in fostering brand loyalty. Hollander explained that the brand's relationship with customers is about service because shoppers will often contact it directly with a technical problem. Dyson's repurchase rate is more than 90% for people who have used the brand's customer service.
Blossoming relationships
In addition to quality stores and service, the trust that shoppers have in a retail brand can also outweigh price. Aurora strategy director Anne Sinclair said that, despite technology allowing customers to easily research products and prices, brand reputation is still key. She observed: "Brand is most important - the loyalty and trust that you have with your customer. Customers can do the research but won't necessarily buy for price."
Gorski emphasised that retailers with a clearly defined brand and that truly understand their core customer are well placed to address showrooming. Owing to the endless choice presented to consumers today, shoppers rely on brand positioning to guide them where to shop. She explained: "The almost unlimited choice can be overwhelming.
Consumers can become more reliant on brand relationships, and the strength of that personal brand relationship allows businesses to maintain their value and proposition."
Ultimately, top-quality multichannel retail with a truly seamless customer experience will by default decrease retailers' concerns about the effect of showrooming.
Green pointed to a strong multichannel experience at Schuh. The store didn't have a product in the required colour, so the sales assistant ordered it online in store for delivery the next day, with free returns. "I thought 'what have I got to lose?' That to me is about fulfilling the customer experience."
Showrooming will continue to ring alarm bells for retailers but as multichannel shoppers' behaviour evolves so too will ways of tackling the trend.
For those retailers that can provide quality in-store service, strong customer communication and a top-notch multichannel capability, the challenge will be less daunting.
Taking on the trend
Charging customers for online access in store will not combat showrooming.
Consumers are increasingly researching online and coming in to store to buy.
Shopping in bricks-and-mortar stores is a leisure activity that is here to stay.
Consumers often showroom in store because the physical retail experience fails to meet service expectations.
Using a store as a showroom may have a place on the high street for businesses with small shops.
Stores need to provide the ease and speed of online shopping for time-poor customers.
Quality customer service must continue even after a sale.
Brand reputation is key for shoppers overwhelmed by choice.
Multichannel retail with a seamless customer experience can help to tackle showrooming.