It's been just over a year since the first 12 Portas Pilot towns were named, but has the project worked? Matthew Valentine assesses its progress.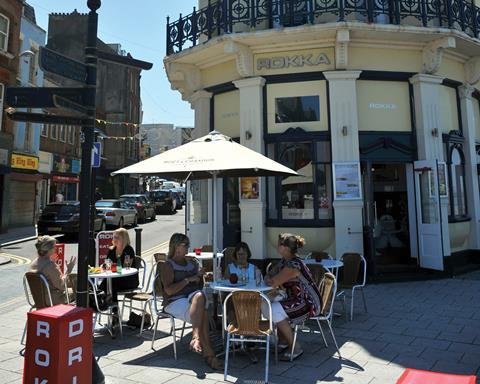 Revitalising some of Britain's most troubled high streets was never going to be easy. But when TV retail guru Mary Portas came up with 28 recommendations to tackle the problems in her Portas Review, published in December 2011, there was broad support for many of her plans.
Some of the ideas in the review were far reaching. But what grabbed public and Government imagination was a competition to nominate 12 Portas Pilot towns that would each benefit from a package of help including up to £100,000 in cash, plus advice from the Department for Communities and Local Government (DCLG) and Portas herself. The project encouraged the development of 'town teams' - another suggestion from the review - to run the bids and manage the money if successful.
Signs of progress
One year after the original pilot towns were named in May 2012, it is clear the project has not run entirely smoothly.
For a start, research from the Local Data Company found empty store numbers had increased in 10 of the 12 pilot towns. A TV programme Portas made about the project, meanwhile, caused controversy, particularly in Margate.
Most of the original town team has quit following disagreements over contracts with the production company in charge of the TV series and an apparent inference that help would not be forthcoming for retailers that did not take part in the programme.
Finally, figures from Freedom of Information (FOI) requests, meanwhile, showed that a relatively small proportion of the money awarded to pilot towns has been spent, and local authorities stand accused of slowing down the work of town teams by introducing layers of bureaucracy.
Portas herself concedes there have been challenges, but says the important thing is that towns are working on them.
"There is no simple solution to the crisis on our high streets, there are no quick fixes, but 400 towns are working on different plans to try to reinvigorate their high streets," she says.
And despite the problems, retailers remain positive. David Bryant, Specsavers store director for Margate and nearby Ramsgate, says the Specsavers branch on Margate high street suffered a drop in sales 18 months ago when the Ramsgate store opened. But since Margate was confirmed as a Portas Pilot town conditions there have improved, helped by better transport links and a growing cluster of independent retailers in the Old Town area close to the Turner Contemporary gallery.
In the month to mid-May, 2013 Bryant says sales at the Margate branch of Specsavers were up by 14% compared with the same period last year. "We are optimistic," he says, adding footfall has increased and the number of empty stores has fallen, despite some churn of established tenants.
At the lower end of the sloping high street things are also improving, helped by its proximity to the beach. "Most of those empty premises have got people in them now, it's gradually beginning to push up the high street. The increased footfall from that direction is going to be welcomed," says Bryant. "I think the larger chains may follow, and more importantly the existing ones are more likely to stay."
A major issue for the town previously was a drift of national retailers to the out-of-town Westwood Cross development, but there are hopes this might be plugged if the high street reinvigoration can continue.
For Boots the improvements piloted in the Portas Pilot towns are positive, but only one element of a cure for UK high streets. "Our view is that regeneration is a long-term project," says a spokeswoman. She adds that the real benefit of the Portas Review so far is the development of town teams and the renewed general focus on high streets.
For Boots the broader lessons are far more important than specific delivery in single locations. The spokeswoman says: "Our view is that the key is for policy makers to develop a medium to long-term response, which is recommended in the Portas Review." She adds the Government needs to look at issues such as reducing the cost of operating in the high street, increasing the attractiveness of investing in town centres and improving the management of town and city centres.
Marks & Spencer, meanwhile, says it continues to support the pilot town project. "We are naturally supportive of any initiative that supports the local communities in which we operate," says a spokesman. "We have a presence in the Portas Pilot towns and work closely with each town team to support any initiatives where appropriate."
Store managers from some M&S branches have provided specific help and advice to town teams.
Unspent funds
But the Portas Pilots face many critics. Independent retailer Paul Turner-Mitchell submitted FOI requests to find out how much of the pilot money had been spent, and found Margate had spent just £111 of its £100,000 by December 2012. Dartford meanwhile spent more than £1,600 on a Peppa Pig costume to draw families to the town. Turner-Mitchell maintains that the project has been divisive, and local bureaucracy has hampered efforts to revitalise streets.
Turner-Mitchell is also critical of the levels of support provided by Portas and the DCLG, and says the project draws attention away from serious problems facing retailers. "One of the key issues is business rates," he says. "The whole of the retail sector under the Retail Week Fair Rates for Retail campaign came together for the Budget, pressing the Chancellor to freeze business rates and saying how damaging they were. Did he listen? No."
Labour shadow minister for communities and local government Roberta Blackman-Woods is another critic. "The Portas Pilots have struggled to deliver the high street renaissance that the Government promised because they have not been given enough practical support from [secretary of state for communities and local government] Eric Pickles and his ministers to use the money awarded to them efficiently and effectively," she says. But Sara Scott, town team chair in Market Rasen, Lincolnshire, says the market town has benefited from its involvement as a pilot, and disagrees with figures from the Local Data Company showing an increase in vacant units there. "We've managed in 12 months to do some fairly fantastic stuff here. The high street was in decline and the money was much needed.
But over the course of that year we have managed to halve the vacancy rate on the high street," says Scott.
Valuable support
The monthly market in Market Rasen now attracts 60 to 70 stalls, as opposed to the two or three trading previously, and the town team has opened two community shops. And in defence of towns criticised for not spending their Portas money, Scott says it took five months to finalise a constitution and get a bank account in place after winning a pilot place. "We managed to do a lot of what we had talked about without spending a penny. We have spent about half of our cash and the rest of it is committed," she said.
Scott says the support from the DCLG and Portas herself is valuable and credits the hands-off approach taken by West Lindsey District Council for Market Rasen's performance. Although the council is accountable for the spending of the funds it does not sit on the town team and lets it make commercial decisions without interference. As a result of its achievements so far, Market Rasen has been identified as one of the most innovative high streets in the country and awarded a further £101,000 from the Future High Street-Fund.
The woman who started the project acknowledges it would never solve all of the problems. "There has been an enormous amount of activity over the past 12 months and I'm delighted by the community spirit that has been shown," says Portas.
"Let's celebrate their achievements so far and learn and share ideas. Real change will take time. What is important now is to keep the issue of our high streets on the public agenda and continue to encourage this sense of national civic pride that will keep our high streets alive."
The first anniversary of the Portas Pilots was never supposed to represent its completion - invigorating the UK's high streets is a long, tough job. But the project has nonetheless been dogged by time-consuming bickering. If the Portas Pilots are to succeed in the longer term, the focus must be trained on the towns, not the TV programmes.
Government high street initiatives
Since the pilot towns were announced, a second round identified a further dozen, along with another three high streets in London where projects are being funded by the Mayor of London's office. Funding has been provided for a town team's support package, administered by the Association of Town and City Management but involving more than 30 organisations. The package provides information and advice on issues including retail, tourism, parking, night time economies and public space design.
The Future High Street X-Fund has £1m to share between creative high street regeneration schemes, while the High Street Innovation Fund consists of a total of £10m for areas that suffered during the summer 2011 riots, or have very high empty shops rates.
The Future High Streets Forum brings together retail and property business leaders to drive forward new ideas and policies. Its co-chairs are housing and local growth minister Mark Prisk, and Alex Gourlay, chief executive of the health and beauty division of Alliance Boots.
Government response to Portas Review
The Portas Review made 28 suggestions, such as allowing local authorities to provide business rate concessions to new retailers, making it easier to change use classes of shops and stopping upward-only rent reviews.
The Department for Communities and Local Government (DCLG) says it accepted 27 of the 28 points - a call for every out-of-town retail development to require 'exceptional sign off' by the Secretary of State was not taken up because this can be demanded already in practice. "We have put town centres at the heart of our planning policy, and have made it clear that out-of-town locations should only be considered if there are no town centre locations available. We have cut the business rate burden for small businesses, with approximately 300,000 businesses expected to pay no rates," says a DCLG spokesperson.
"We have simplified planning, and have backed communities across the country with a multimillion-pound package of support enabling them to try new ideas that drive forward the local economy. Additionally the Future High Streets Forum brings together experts from across the industry to continue this work and help tackle the biggest challenges our town centres face."
Some in the industry disagree. Association of Convenience Stores chief executive James Lowman says: "The Government's response to the Portas Review contained some great best-practice ideas, but we now need to take the policy recommendations forward to make a real difference to high streets and local centres.
"Local authorities need more help to use the tools that are now available to them: creating strategic parking policies to drive footfall in centres; drawing up local plans to promote centres; and offering meaningful business rate relief for small retailers."