TJ Morris, which trades as Home Bargains, is making strides in the value sector.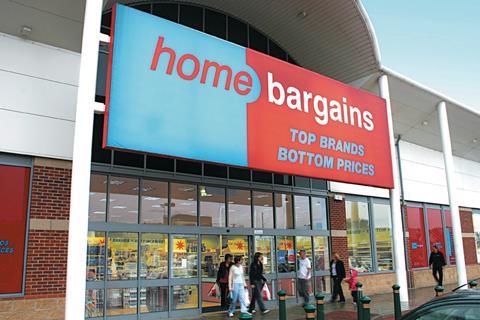 Value retailer TJ Morris, which trades under the Home Bargains fascia, may keep a lower profile than some value retailers but that looks likely to change as it rolls out stores across the country.
The variety store retailer has been impressing observers with rapid growth. It posted a 42% surge in pre-tax profit to £84.2m in the year to June 30 as it generated a 27% increase in turnover to £915m.
Although it competes in a market where some rivals' growth is slowing and competition for space is fierce, Home Bargains is expected to continue its strong performance as it bids to extend its presence in the south of England, while increasing the size of its stores.
In a Shore Capital note earlier this year, analyst Clive Black said he expects Home Bargains to hit £1bn turnover by 2014.
According to Black: "This is a business of considerable robustness. Far from mature, TJ Morris is a prized retail asset, and we suggest – alongside B&M Stores and Poundland – it to be one of the most high-quality businesses in the sub-sector." The family business was founded in 1976 by Tom Morris, who remains the sole owner. Brothers Ed and Joe joined the company as it grew, and Joe is now retail operations director.
From a base in Liverpool, the first raft of shops were predominantly opened in the Northwest, but with the store estate now at about 300, the retailer has expanded to Scotland, Northern Ireland and Wales as well as southern England.
The retailer plans to increase its store count to up to 500 across the country. Although previous expansion slowed, with only 25 of 50 planned stores opening in 2009/10, Home Bargains has put its foot on the gas, with 45 openings last year and 50 more expected in the current financial year.
Supporting Home Bargains' growth is its supply chain, which is seen as one of the retailer's core strengths. The distribution infrastructure has the capability to support a much larger network of stores, and the retailer recently ploughed £35m into the system, extending its 350,000 sq ft distribution centre.
It also aims to obtain planning permission for a 700,000 sq ft warehouse in Wiltshire, which would support store growth in the South.
The retailer's average store size is estimated to be 9,000 sq ft, but according to Retail Week Knowledge Bank it can comfortably trade from shops of 15,000 sq ft – its most recent openings have all been larger than 10,000 sq ft.
Home Bargains is also leading the way for value retailers online. Along with Wilkinson, it is only one of two retailers in the sector with a transactional website, and it offers click-and-collect. Rival Poundstretcher was forced to pull its site earlier this year, saying it wanted to focus on its stores.
Ecommerce has proved a big hurdle for most value retailers because of the high overheads compared with the low prices charged. For this reason, Home Bargains had initially focused on offering higher-value products but the range has gradually been pushed to include lower-priced items.
The Home Bargains website is not the retailer's first foray into the digital world. In the mid-1990s it trialled Halfpriceorless.com, selling value homewares, mother and baby products, food and drink, toys and consumer electricals. However, by 2009 it had closed.
Despite this, Home Bargains has been on a seemingly unstoppable growth trajectory that has accelerated in the economic downturn as Brits' appetite for value increased.
And with plenty of growth opportunities left as it looks to expand, the retailer will aim to feel as at home with bargain-hunters in the South as it is in the North.
Home truths
Owned by the Morris family
Managing director Tom Morris
Retail operations director Joe Morris
Pre-tax profit £84.2m in the year to June 30
Turnover £915m