Dixons group chief executive Sebastian James is leading the electricals retailer through some radical changes.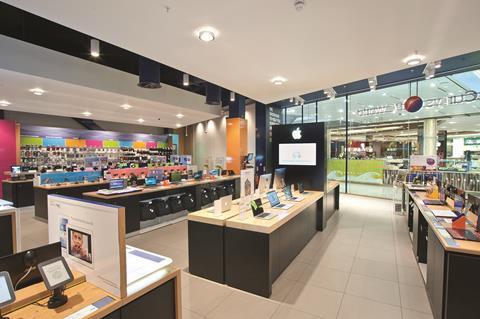 Few other big retailers have been as fundamentally affected by the advent of online retail as Dixons. For more than a decade the electricals specialist has been battling rapidly developing shopper expectations and etail rivals stealing share. The fierce rigours of the online battle and a weak market have proved too much for many of Dixons' store-based rivals, including Comet and Jessops, which both collapsed into administration in the past year.
Against this backdrop, Dixons has reinvented its operations and begun rebuilding profitability, strengthening its core UK business and scaling back unprofitable arms in France and southern Europe.
That the City responded positively to the retailer's full-year results last week - which included a pre-tax loss of £115.3m - is testament to the faith held in group chief executive Sebastian James' strategy to improve the retailer's position and make the most of its strengths.
The affable Dixons boss, who took the reins of the business when predecessor John Browett departed in April 2012 to run Apple Retail, is now leading the strategy to transform the retailer - a strategy he played a key part in developing in his former role of group operations director. Service and services are at the heart of his plan to drive forward the Currys and PC World businesses - offering a differential from low-cost online alternatives and luring shoppers with informed advice. The strategy has been supported by investments in staff training, the launch of the KnowHow service offer and an adjustment to the retailer's incentive scheme for staff, moving from commission-led to store turnover and service targets.
James says 73% of Dixons' customers are now very likely to recommend it to others. He hopes to increase that to 80%, with the intention of becoming "the best retailer on the planet". Dixons has been distancing itself from a reputation for poor customer service, which resulted in advocacy at just 43% in September 2010.
The tactic has also given Dixons a stronger proposition with which to engage suppliers. Online shopping is frequently driven by price in the electricals category, while in-store Dixons focuses on selling the new features of the latest models - an attractive characteristic for suppliers. The retailer has used in-store shop-in-shops including its Google and Bose areas to highlight manufacturers' wares attractively.
With this strategy firmly in place, UK and Ireland like-for-like sales rose 13% in the fourth quarter under the stewardship of UK and Ireland chief executive Katie Bickerstaffe.
"Our success has not been the result of short-term changes, but rather a fundamental shift in our trading philosophy over the last few years so that we are increasingly standing shoulder-to-shoulder with our customers in this difficult and uncertain world," James explains.
He believes that Dixons' strength is through its multichannel offer - he describes ecommerce director Jeremy Fennell as looking like the bemedalled figure of General Pinochet, given the number of awards Dixons has won - and shoppers typically interact with a store at some point in every purchase.
Conlumino retail consultant Liz Faulkner says: "Dixons has been proactive in its efforts to capitalise on consumers' shift online.
"To further combat the pure-plays, Dixons has undertaken initiatives to improve price perceptions and, while this is an ongoing fight, it is reassuring Dixons has acknowledged price as a fundamental for success in today's climate.
"Early and continual investment has borne a user-friendly website and, coupled with its large store portfolio supporting comprehensive fulfilment options, Dixons delivers a compelling multichannel offer."
James says that being able to match or be cheaper than Amazon on price has enabled him to propel the business forward. He believes tightening the price gap made the market less promotional, so shoppers are less likely
to hold out for deals when making large purchases.
He also believes customers often want to go and see the product in-store before buying it, which plays to Dixons' advantage. And, as the product is the same price whether in-store or online, he says "it doesn't matter to us where you buy it".
The Oxford graduate adds that Amazon's power in the market should not be overstated. "Across all products and all categories Amazon is only three-and-a-half times the size of Dixons and has a 5.5% market share in the UK after 15 years of aggressive investment." He adds that, while he does not believe the playing field slopes in favour of Amazon -which has had its tax arrangements questioned - action against the etail giant would not be unwelcome.
"If someone said they were going to soak Amazon with a tremendously large extra tax and not give it to me that's fine," he laughs.
Last man standing
But James is willing to admit that Dixons' rising sales and strengthened position in the UK is not simply down to his team's skills. "In the last four months of the year we benefited from Comet's demise," he says. "In the last quarter, about half our growth came from Comet." Moreover, after taking on Comet's white goods repair team, Dixons' restoration business has "taken off like a rocket," he adds.
Dixons is estimated to have picked up about 30% of Comet's custom and now holds a 21% share of the electricals market. Specialist retailers hold 41%, and Argos and the supermarkets' 22% between them, and Dixons is significantly ahead of pure-play etailers' 12% share. James says he believes that Dixons took "more than our fair share" of Comet's customers and it is significant that a service-led specialist is growing at the expense of mass market and pure-play retailers.
After what he described as "stonking" results, analyst Philip Dorgan at investment firm Panmure Gordon said: "The UK is clearly gaining share, has obvious margin opportunities and will continue to benefit from the demise of Comet, which could add £30m to EBIT in the current year."
Dixons has come a long way since embarking on its renewal and transformation plan in 2008. Browett's strategy followed a difficult period after Lord Kalms - who had been with the business since the 1940s - took a back seat in 2002, and the retirement of group chief executive John Clare in 2007.
While Comet at first stole a march in online and Dixons' specialist status became increasingly difficult to defend against the mighty supermarkets, Browett's plan to improve service and create two-in-one Currys and PC World stores is paying off. The retailer has also stripped £285m of costs from the business over the past five years as it closed high street stores and opened larger outlets.
However, James is determined that Dixons will not rest on its laurels. The retailer has kick-started a project to improve the customer journey in-store in its computing, laundry and camera departments. He unveiled plans for a revamp of the 3,200 sq ft store in Bluewater shopping centre, which features Apple-style 'play tables', a "seating and conversation area", stocks no white goods and has a design that can be quickly changed to be more flexible when new products arrive. The format, which will also be deployed at Aylesbury - a store in which Prime Minister David Cameron has been known to shop - is described by James as an "urban toy shop".
A European outlook
James has also set his sights on making the most of the benefits of being a group with a presence in 12 markets.
Dixons managers from the UK and its strongest-performing non-UK business in the Nordics are swapping roles in a knowledge-sharing initiative. As a result, dedicated store-greeters are likely to be introduced in the northern European business, while James said UK staff had learnt about the "simplicity and focus" of its sister business' internal processes.
"Previously we did not even begin to get the benefits of being part of a group," says James, who has also pushed the button on a roll-out of the KnowHow service cross the Nordics and Italy.
But if Dixons' European arm is doing well, the Mediterranean territories remain tough. Dixons' Southern European arm recorded a 4% fall in total sales and an 8% like-for-like decline, leading to an operating loss of £24m. Dixons' 32-store Turkish business, Electroworld, continues to lose money and James expects consolidation in a market that has a plethora of players. James says he is "mindful of the need to find a solution" to the business but is yet to decide on its future.
Elsewhere, the Greek economy continues to make life difficult, although a tie-up with Carrefour for a three-store concessions trial may prove of strategic interest to the group. In France, the Pixmania online business, described by independent retail analyst Nick Bubb as "wretched", continues to be the bane of the group, and losses racked up despite action last year from James.
But he says the retailer is poised to solve strategic problems, develop group benefits and begin looking at new opportunities. "We are just raising our eyes from the pile of stuff we had to do," he says.
For all James' quick-fire quips and gregarious nature, the direction of Dixons' performance and his willingness to act decisively show he is deadly serious.
Dixons in numbers
Total group sales Up 4% to £8.21bn
Group like-for-like sales Up 4%
UK like-for-like sales Up 7%
Group underlying pre-tax profit Up 15% to £94.5m
UK profits Up 39% to £113.3m
Total loss before tax £115.3m (2011/12 £118.8m) Full-year to April 30

Pixmania: Facing uncertainty after a 'rotten year'
Dixons' Pixmania business remains a problem as it targets profitability. The division recorded widened losses of £31.3m compared with a loss of £15.2m the prior year and a 24% plunge in like-for-like sales over the same period.
During the year, Dixons took full control of the struggling business and set about restructuring it. Initiatives included disposing of Pixmania's Swedish Webhallen business to Norwegian firm Komplett AS for £14m; closing 19 stores; exiting 12 countries and non-core categories and slashing overall staffing numbers in France and the Czech Republic from 1,400 to 798. The decisions led to the bulk of the £168.8m restructuring and impairment charges incurred by the retailer.
James said after a "rotten year" for Pixmania he has "taken a real chisel to that business to the core of what it does well". However, its future remains uncertain.
Scott Dacko, associate professor of marketing and strategic management at Warwick Business School, says: "Pixmania is giving its customers an amazing amount of value. There is a 24 hour-a-day ability to buy in five easy clicks any of almost a million products, including a wide selection of big brands offered at competitive prices.
"But when you have that along with a commitment to on-time delivery and you add in too a no-quibble money- back guarantee, it would be a sizeable challenge for any ecommerce firm offering the same benefits to effectively manage its costs to make a consistent profit - especially in marketplaces characterised in a number of countries by muted wage growth and even government austerity."