Retailers including Amazon, Ao.com, River Island, Currys PC World, Shop Direct and Debenhams have admitted Black Friday has caused disruption to delivery networks.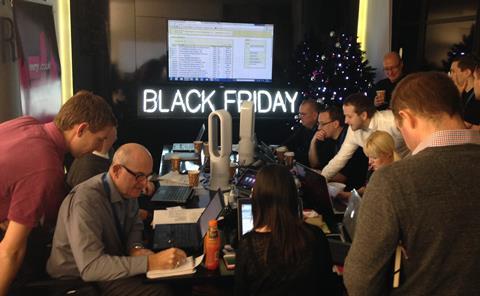 The surge in demand over Black Friday, which took place this year on November 28, has caused a bottleneck to delivery networks in the build-up to the key Christmas trading period.
Amazon has experienced issues fulfilling orders to customers who ordered via the Next day Amazon Prime delivery service due to the high volume of orders it received on Black Friday.
The online retail giant recorded 5.5m orders on Black Friday, an average of 64 items every second.
An Amazon spokeswoman said: "As a result of the unprecedented number of orders we received during Black Friday deals week, the delivery date we promised to some customers was a little longer than would normally have been expected. Normal service has now resumed."
Black Friday, which is heavily focused around the sale of electrical goods, put pressure on the delivery networks of rival electricals retailers.
Ao.com said its same-day delivery service and free next-day delivery was out of action because of the "increased demand over the Black Friday weekend".
Ao.com expects to return to a full delivery proposition in time for Christmas. Meanwhile, Currys PC World has postponed its next-day delivery on small-box items until tomorrow.
Last week Argos admitted it was forced to extend delivery time from four to seven days in order to rebuild stock levels after the Black Friday promotions.
Delivery problems have extended beyond electricals specialists and is also affecting fashion retailers and department stores.
Shop Direct's Very and Littlewoods brands apologised to customers on Twitter for delays to deliveries as a result of Black Friday.
A Shop Direct spokeswoman said the retailer had changed the delivery promise on the Thursday before Black Friday from 24 hours to 48 hours, and extended it to 72 hours the day following Black Friday after the huge demand.
It reduced the delivery window back to 48 hours on Sunday and expects to return to offering deliveries within 24 hours in "the next day or two".
Debenhams claims it has resolved the delivery problems created by the promotions it ran over the Black Friday weekend.
A Debenhams spokeswoman said: "A limited number of standard deliveries were impacted but normal service has resumed today. All of our other new delivery services – including next day to home and next day click-and-collect – have been unaffected and have been operating as usual throughout."
Meanwhile, River Island has been telling customers on Twitter that "couriers have had massive delays as a result of Black Friday".
News of the widespread disruption to delivery networks comes after it emerged Marks & Spencer had doubled the delivery period for online orders from five days to up to 10 days following four days of promotions over Black Friday.
Retail Week's secret shopper
Our secret shopper tested the various delivery options on offer at several major retailers, find out the results here.