Amazon is putting more pressure on grocers by launching its Pantry service in the UK, which offers Prime members home delivery on 4,000 products.
Members of Amazon's annual Prime delivery service, which also entitles them to free movie and TV show streaming, will be able to order an Amazon Pantry box for an additional fee of £2.99.
The products span categories including food and drink, cleaning, baby, pet, health and beauty products and includes brands such as Heinz, Huggies and Glenfiddich.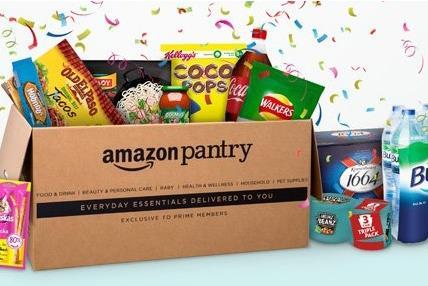 An Amazon Pantry box takes one-day to be delivered and any additional boxes in the same order will cost 99p to be delivered.
Pantry boxes carry up to 20kg and as items are added, the Amazon Pantry website shows how much space is left in the box. When an order exceeds the size of the current box, a new Pantry box will automatically begin.
The move comes shortly after Amazon started trialling delivery of a limited assortment of chilled grocery products to customers in London and Birmingham as part of its one-hour Prime Now delivery service.
Amazon UK pantry manager Helene Parthenay said: "Amazon Pantry has been designed to take the heavy lifting out of replenishing the often bulky basics and store cupboard essentials that people need every day.
"We're always looking to innovate on behalf of our customers and find ways to save them time and money. We think they will love the broad selection, quick delivery and low prices of Amazon Pantry."