Amazon has tripled the number of brands available through its 'dash button' initiative to speed up the ordering process for its customers.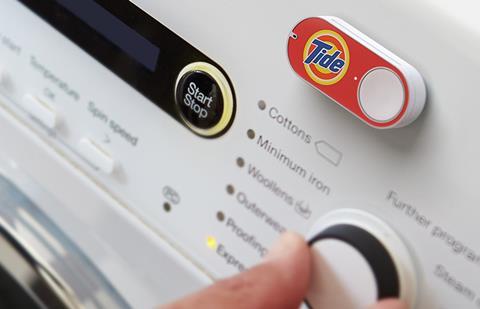 Prime shoppers can use the buttons to instantly reorder everyday products including snacks, vitamins, pet supplies, feminine care, batteries, and beverages.
Amazon said: "Prime members increasingly use dash buttons to stay supplied with everyday essentials", adding that dash button orders have grown by more than 75% in the last three months.
Amazon now has more than 100 dash buttons having added 78 new brands to those already available.
New brands available to purchase through the programme include Charmin, Doritos, Energizer, Honest Kids, L'Oreal Paris Revitalift and Vitamin Water.
Amazon launched its first tranche of dash buttons a year ago.
A report earlier this month by bank UBS's Evidence Lab estimated that Amazon pocketed around 25% of UK non-food growth on a gross merchandise volume (GMV) basis.
This figure included Amazon Marketplace sales, for which the retailer takes a cut of sales proceeds.
The etail titan's official filings in the US showed that it took 12% of all UK non-food sales growth last year.