Amazon's website has been bombarded with sarcastic reviews after it advertised ballpoint pens designed specifically for women.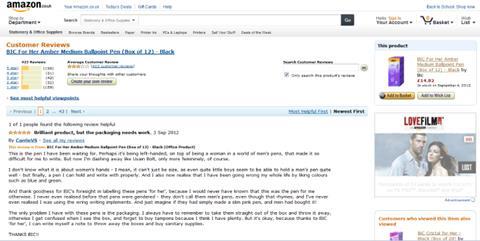 Witty shoppers took to the online giant's page for 'Bic for Her' products, which feature pink and purple colours and have "a thin barrel designed to fit a woman's hand", according to Amazon.
Reviewer Breemeup wrote: "Finally. For years I've had to rely on pencils or, at worst, a twig and some drops of my feminine blood to write down recipes (the only thing a lady should be writing ever)."
However, some were disappointed by the blue-ink pen. "You cannot make a blue pen for women and not add glitter to it. How else are we supposed to draw unicorns and stars? I am very disappointed," wrote BH Lieber.
It is also confusing for the male shopper. Bay Area Guy wrote: "My girlfriend had a pack of these laying out and I picked one out. Now I feel weird, deviant and ashamed. Does writing with a Bic for Her make me a cross-writer?"