The internet powerhouse Amazon is investing to fund its expansion into new categories.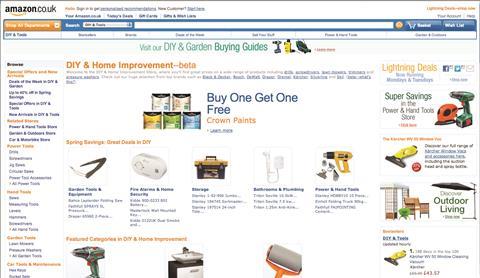 The world's largest internet retailer has had an impressive five years. In 2011 its sales reached $44.1bn (£27.47bn) – up from $10.72bn (£6.68bn) in 2006 – and its product and category innovation has been unrivalled.
Such innovation hasn't come cheap, and profits have taken a hit. Pre-tax profit fell 38% to $934m (£582m) as the etailer invested in range expansion, fulfilment infrastructure and its Kindle e-reader. Amazon doesn't reveal the UK operation's sales, but they are estimated to have been over £3bn in 2011.
The company is still a teenager. Founded in 1995 in the US, it entered the UK market in 1998. Historically a music, DVD and books retailer, such products now make up a diminishing proportion of its sales as it continues to expand into other categories. Amazon now sells everything from DIY products to consumer electronics and is ploughing its efforts into developing its grocery and fashion offer.
A hefty investment schedule is paying off. While part of its spend is accounted for by acquisitions – it bought film rental service Lovefilm, online book store The Book Depository and online fashion retailer Zappos in 2009 – most of its success has come from internal innovation.
The Kindle has helped transform the book market since the first version was introduced in 2007. By the time the fourth version was launched in the UK just before Christmas 2011, nearly 1 million titles were available on the device. The Kindle Fire tablet, meanwhile – which is half the price of an Apple iPad – was launched in the US in November 2011, although there is no date for a UK release yet.
International sales accounted for 44.5% of total group sales in 2011, with Germany, France, Japan, China and the UK all being key markets. While distribution issues have dogged the company's UK operations at times – in late 2004 it disappointed thousands of customers who didn't receive their Christmas orders – it has expanded quickly and opened a number of distribution centres. In 2011 it unveiled a plan to recruit 200 more staff at its UK headquarters in Slough.
Increasing third-party sales is a strategic aim at Amazon. They accounted for 31% of revenues in 2010 and are thought to have been in the same region in 2011. The etailer says it is largely neutral on whether sales are made on its own behalf or for third-party marketplace sellers – Amazon's profits and revenues are still boosted by third-party sales because of the commission it takes.
It's another reason for retailers to be aware of what the etailer is up to – the idea of Amazon becoming a conventional sales channel in its own right is not untenable.
Brian McBride headed Amazon's UK operations from 2006 to 2011, when he was replaced by Chris North. Doug Gurr, formerly executive development director at Asda, also joined in 2011 and is thought to be leading Amazon's developing grocery offer.
Amazon has so far shown little interest in opening stores, but has entered the physical world of retailing by launching collection lockers – thought to be a response to the click-and-collect services multi­channel retailers can provide through their store networks.
It has other initiatives to keep it busy as well – reports surfaced early in 2012 that it is considering launching a book publishing operation in the UK, and it is investing in its Spanish and Italian operations.
Amazon has always adopted a strategic silence as it creeps into new sectors, stealing market share before its competitors can notice. This is getting harder to do as it grows bigger, and as other retailers realise how great the threat can be.
It has extended its sports offer this year to capitalise on the Olympics, and will continue to extend its reach into other product sectors. Amazon's UK operation will emulate its US counterpart – in the coming years, there is likely to be continued development of an extensive online retail platform selling a wide range of products both on its own behalf and for third parties.
Online onslaught
Total sales 2011 $44.1bn (£27.47bn)
Pre-tax profit 2011 $934m (£582m)
Estimated UK sales 2011 £3.3bn
UK managing director Chris North
UK finance director Allister Byrne
UK strategy director Doug Gurr
Number of employees, worldwide 2011 3,023
Sales per employee 2011 £68,705