Womenswear group Alexon is to relaunch its Ann Harvey brand as it seeks to widen its appeal and target a younger market.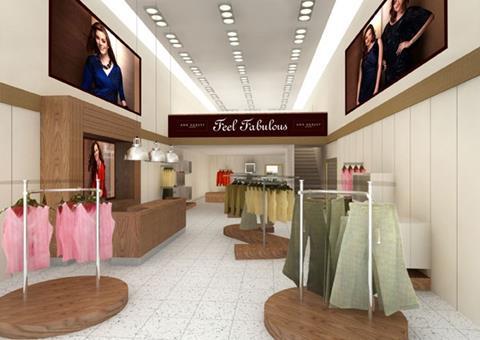 Alexon will reopen its Ann Harvey flagship store on London's Oxford Street on September 15. The retailer said it will continue to target the plus-size customer but hopes the more contemporary refit will appeal to a younger market, as well as the fashion-focused mature shopper.
The retailer has updated the Ann Harvey logo to use simple white writing on a chocolate brown background, rather than the previous gold on white logo. The store, designed by Anoonamoo, also has a softer dark chocolate brown and white colour scheme, and has larger changing rooms.
Alexon marketing director Fiona Wilson said: "Our new focus is: 'Forget your size, celebrate your shape', and we have chosen curvaceous, shapely furniture for the stores."
The move is part of chief executive Jane McNally's strategy to turn around the struggling group, which reported a like-for-like sales drop of 9.1% in the year to January 31. The figures included value fashion brand Bay Trading, which went into administration in April.
McNally said: "A lot of internet shopping goes on in the plus-size market because they are not usually offered a pleasant shopping experience. We want to create an experience that makes women walk past the store and wish they were larger so they could shop there."
The retailer will roll out the new shopfit if successful. It has already used some elements of the new design in its store in Meadowhall in Sheffield, due to reopen this week. At present, it has no plans to update its Dash and Kaliko stores.
Alexon will launch footwear and accessories ranges across its brands – Ann Harvey, Dash, Alex & Co, Minuet, Kaliko and Eastex – and will rebadge Alex & Co as Alexon.
It will also refit 42 House of Fraser concessions by the end of August for Kaliko, Minuet and Alex & Co, with the other brands to follow.