It's three months since the riots. Charlotte Hardie investigates how retailers have restored normality, and finds there's still much to do.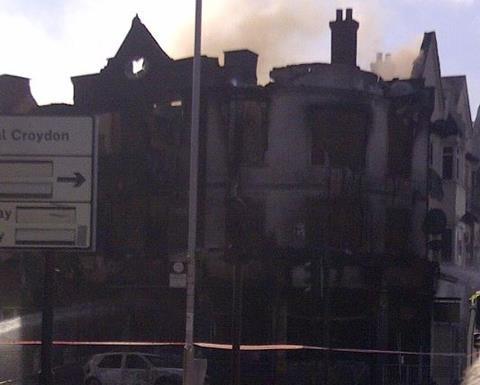 As Trevor Reeves watched his family-owned furniture business go up in flames during the riots in August, he felt nothing but despair.
One of the two Reeves stores in Croydon was razed to the ground. It has since cost £65,000 to demolish it, £50,000 for the new building planning stages, and £25,000 on making the other store fit for trade. "The amount of money involved is phenomenal. For someone with one match inside a store, it's meant an awful lot of hard work," says Reeves.
Across the country, the riot damage was enormous. Department for Business, Innovation and Skills (BIS) figures show that 1,422 London businesses (not just retailers) were affected, and a further 455 outside the capital. A BRC survey, which represented 27% of UK retail sales, has suggested that 11,000 staff were affected, and store groups lost more than 7,500 hours of trading. The reality, says the BRC, would have been considerably more.
So three months on, how have retailers affected by those extraordinary few days of mayhem reacted, and how are they managing to rebuild their businesses? Despite being disruptive, disheartening and expensive, recovery for the major retailers was far easier. These are businesses with economies of scale, contingency planning and huge workforces to soften the blow. Dixons says it was essentially back to normal in all but three or four stores by the following weekend and it had a Renewal and Transformation plan for the latter.
The clear-up
A Tesco spokesperson says staff worked around the clock to reopen stores – sometimes within hours. Some took a little longer. One of its Express stores in Merseyside took several weeks to reopen after all stock was taken and the store was set alight.
JD Sports' affected shops had all reopened by August 21, with only one still closed by September because of fire damage. And although the sports retailer revealed that looters had taken £700,000 of stock, it said this would not mar its full-year profits.
It's the smaller businesses, however, that have struggled far more. BIS figures suggest that as many as 40 businesses in London are still yet to open since the riots took place. As Retail Trust chief executive Nigel Rothband points out: "They're far more hand to mouth. They don't have the business continuity plans in place and they're less prepared for unforeseen circumstances. Many independents don't have the resources or the experience to deal with this."
For that reason, Retail Trust ran workshops in Tottenham and Croydon last month to help these independent businesses. "How are they adapting to change? How do they build business resilience? How do you assess and mitigate future risk? It's about the pragmatic, practical things," says Rothband. If successful, Retail Trust hopes to roll out the workshops UK-wide.
Rothband believes the major retailers have a role in helping restore local community spirit. "The local shop is the hub. To have your local community ransacking, that is bizarre. Retailers play an important role in reconnecting with their communities."
Restore confidence
Sainsbury's chief executive Justin King backs this up. In a column he wrote for Retail Week in September, he pointed out that after having dealt with the immediate aftermath, retailers' priority must now be "to help rebuild our high streets, and to work alongside others in the communities that were so badly damaged in order to restore confidence and a sense of pride in the places we live, work and trade". Sainsbury's is providing four of the UK's 20 'business connectors', run by Business in the Community. Former Sainsbury's store manager Kay Horne began working in Tottenham six weeks ago and will stay there for six months, aiming to improve communication between local retailers, charities, schools and police so that high streets are able to thrive.
"My aim is to break down the barriers between third sector, private and public local organisations so people can work together towards a common goal," she says. She is talking to businesses about how to apply for funds to get back on their feet after the riots, meeting charities and local police, and is producing a newsletter to keep everyone up to date.
With many stores in some of the UK's most deprived areas, Tesco recognised the importance of resuming normal business as quickly as possible. "It was important not only for our staff to have reassurance, but for the community to have some sense of normality," says its spokesman. On a wider community level, Tesco, like many other retailers, donated money to local independent traders in affected areas to help them rebuild their businesses. Dixons, meanwhile, launched a £50,000 reward fund and linked up with charity Crimestoppers to help find those who looted or damaged stores.
Community spirit
Despite the bleakness of the situation in August, Reeves has shown just how much Croydon's community spirit is alive and well and helping keep the business on track. It took only four days for it to get its other store up and running and to begin the business of trading from effectively half of its previous space.
"The store was in turmoil but there were so many people wanting to come in, it didn't make sense to shut the doors for two weeks and go on holiday," he says. Since then things have been reasonably positive for Reeves. "Because of the press coverage there has been an enormous amount of goodwill. Sales are a bit down, but they've held up well – in part because of an unexpected outpouring of emotion. We've got a certain amount of stability now. You'd expect 50% of sales to go with half the store gone, but it didn't."
Rebuilding the second store is set to take two years, and Reeves is doing so with the wider community in mind. His instinctive reaction was to get the new building up and running as soon as possible, but he has realised the importance of not rushing decisions. "The rebuild is more complex than we first thought," he says. "A simple rebuild would cost £1.5m to £2m, but that's no good for us. It was a 100-year-old building. There's an opportunity to do some regeneration here and make it better for everyone else in the local community."
The literal clean-up took place within hours and days, but for many independents the financial and psychological clean-up is far from complete. A healthy high street is critical to the success of all retailers – large or small – and the major retailers can all play a role in helping further nurture the community spirit that was so evident in the riot aftermath.
How the Government helped after the riots
In August, David Cameron revealed a series of measures to help riot-hit retailers. They include:
Business rates relief to those retailers affected
The potential to defer tax payments for those businesses that were badly damaged
A £20m high street support scheme to "help affected businesses get back up and running quickly"
In addition, London Mayor Boris Johnson set up a £50m fund to help the capital's high streets rebuild their businesses
Practical ways to protect your business
The riots have prompted many retailers to review their security procedures to prevent future potential thefts and damage should a similar situation arise again. There are many options available, and it can be difficult to choose the most effective measures in terms of security and cost.
DW-OZ Security managing director Daniel Warwick says one of the simplest steps is to remove goods from public view. "During the riots, some stores moved stock into storerooms. This meant sites were less likely to be targeted because potential looters knew they'd have to look for items, rather than just grab them and run." CCTV should also be fully utilised, so it's worth reviewing your current use of it. Are the cameras in prominent positions? Are there signs warning people they are on camera? "With CCTV playing a major part in securing convictions, this can also deter would-be looters," says Warwick.
Reinforced glass is another option. "Too many windows were easily smashed during the riots and reinforced glass will add extra protection to stores and their goods," says Warwick.
Alarmed response systems also act as a deterrent and can help secure a site and deter looters.