Well-known retail names are shrinking their store estates as fast as you can say CVA.
From department store group Debenhams to fashion specialists Arcadia and Monsoon Accessorize, retailers aim to prune their property portfolios – often through CVAs – as they reel from changes in shopper preferences and in the face of punishing costs.
But while long-established retailers are shutting stores, one person sees opportunity in them – Amazon founder Jeff Bezos.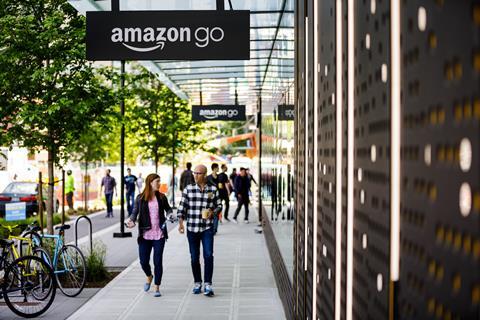 He already owns a lot, of course, following the audacious $13.7bn (£10.7bn) acquisition of specialist grocer Whole Foods Market in 2017. But he sees further scope for growth in bricks and clicks.
In his latest annual letter to shareholders, published earlier this month, Bezos made some striking statements.
He described Amazon as "a small player in global retail". Why? He wrote: "We represent a low single-digit percentage of the retail market, and there are much larger retailers in every country where we operate. And that's largely because nearly 90% of retail remains offline, in brick-and-mortar stores."
He was "excited about the future" of the fledgling Amazon Go convenience business – there are 10 stores in the US at present – but acknowledged that it was hard work to come up with a format that would "really delight customers" by getting rid of "the worst thing about physical retail: checkout lines".
The art of retail
Critics might gripe that creating a small convenience chain from scratch – even one that "required the efforts of hundreds of smart, dedicated computer scientists and engineers around the world" and the invention of new computer vision algorithms – represents the opportunity that a blank sheet provides compared to the challenges that many retailers must confront when running a vast legacy estate.
There's some truth in that, but the radical action that many retailers are taking has been precipitated in some cases by lack of alertness to what would really delight customers. There has been an absence of what former Tesco chief executive Sir Terry Leahy called 'paranoia', or the refusal to take success for granted as businesses grew.
A focus on costs should always be one of the factors front of mind for retailers, as for all businesses.
"It is incumbent upon retail leadership teams to hone fundamental shopper appeal"
But a lower cost base through, for instance, store closure programmes is not enough to ensure continued relevance to consumers – and that is the real art of retail: the ability to cater for and anticipate shopper needs and desires, and adapt as necessary.
As Bezos also observed in his shareholder letter, this time in reference to the Amazon Web Services division: "It's critical to ask customers what they want, listen carefully to their answers, and figure out a plan to provide it thoughtfully and quickly (speed matters in business!).
"No business could thrive without that kind of customer obsession. But it's also not enough. The biggest needle movers will be things that customers don't know to ask for. We must invent on their behalf. We have to tap into our own inner imagination about what's possible."
Old names outmanoeuvred
Some of the language might sound highfalutin, but Bezos is describing the foundation stone of retail, one that has been eroded at some of the retailers now in trouble.
As they go through insolvency and restructuring processes, it is incumbent upon retail leadership teams to focus all the more keenly on their customer propositions and hone fundamental shopper appeal.
It would be a sad irony if Bezos, who led the way in pioneering online retail, ended up outmanoeuvring more established names in what has been one of their greatest strengths and where they have traditionally been past masters – store networks.
Clicks may matter more than ever, but bricks still hold a vital place. If Bezos sees opportunity in shops, so should other retailers, as long their purpose is clear.
That clarity is evident at Primark's new Birmingham store, home to a variety of firsts. Boss Paul Marchant told Retail Week ahead of its opening: "The business is anchored on amazing fashion at amazing prices, but we don't believe that's enough. You need more than that. When it's raining on a Saturday morning and it's cold, give me a reason to jump out of bed and go shopping because it's easy to stay home, watch Netflix and stay cosy." Exactly.