Instagram has expanded the ad capabilities available to retailers on its social media platform, including a new 30-second video ad format.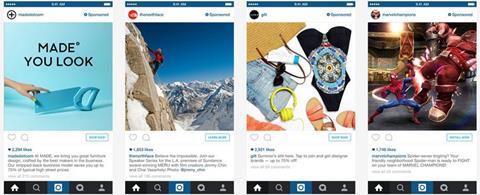 The photo and video sharing app first introduced ad capabilities in 2014 and is now offering a variety of new formats that will allow retailers to run full campaigns through the platform starting from this month.
Instagram claims it has established itself as a profitable marketing platform for retailers – furniture retailer Made.com yielded a 10% order value increase on its benchmark after advertising via the app.
Instagram will be launching advertising capabilities in 30 new countries this month including Spain, India and South Korea, using the ad infrastructure from owner Facebook.
Ad updates on the platform will include landscape photo and video capabilities, as well as increasing the length of videos to 30 seconds.
The app will also offer delivery and optimisation tools designed to maximise the effectiveness of advertising campaigns across both Instagram and Facebook.