Retail Week's latest report reveals how retailers and brands can stand to benefit from the raft of incredible tech solutions on the market across stores, ecommerce, supply chains, marketing, data, personalisation and more.
With fallout from the pandemic continuing to be felt – even as the UK's vaccine rollout powers on – retailers are seeking out new ideas and solutions that can help them survive and compete.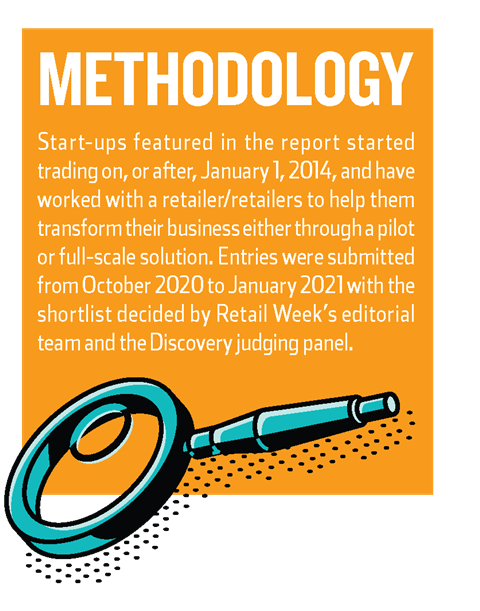 Retail Week's annual Discovery report has rounded up the top 40 global tech start-ups accelerating retail innovation to do the hard work for them.
Below are five start-ups featured in the report that are enabling retailers worldwide, including Tesco, Holland & Barrett, Carrefour and Auchan, to enhance their stores to meet consumer demand and become more efficient.
View the full report here to uncover other innovative store solutions alongside game-changing start-ups helping retailers to optimise supply chains, drive greater personalisation, improve employee engagement and much more.
1. Edgify
A top pick among this year's Discovery judges, Edgify is enabling retailers to offer faster, more accurate and contactless checkouts in store.
Founded by Ofri Ben-Porat and Nadav Israel, Edgify uses tech that can be implemented throughout retail stores in any checkout-scanning device or weighing scale to identify fresh produce with zero human input on the retailer's side.
This makes it easier to manage inventory while offering customers a faster, more efficient checkout process.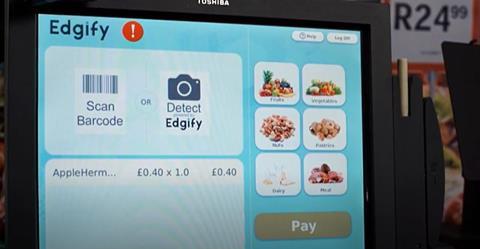 Edgify then shares the acquired knowledge or model across a network of point-of-sale machines. This reduces the risks, costs and time associated with transferring sensitive data to or from an external server.
London-based Edgify also plays into the trend for consumers to self-serve at the checkout, rather than having to interact with staff, as evidenced by the growth in use of smart and mobile-based scanning in grocery stores during the pandemic.
Several retailers across Europe are trialling Edgify's technology, including major UK grocers.
2. Mercaux
Launched by Olga Kotsur and Alex Petrov, Mercaux has been trading since 2015 and connects retailers' stores to the digital world with its software.
Sitting on staff handheld devices or accessed by customers on self-serve screens, the tech enables businesses to cross-sell, check inventory and take mobile payments in store.
During the pandemic, the London-based business launched new modules in keeping with Covid-related restrictions.
For instance, Holland & Barrett implemented Queue Scenario, which allows customers to browse for products and add them to their basket while waiting in a queue outside a store. The basket was then transferred via the Mercaux app to in-store staff to complete the order for shoppers safely and efficiently.
3. Simbe Robotics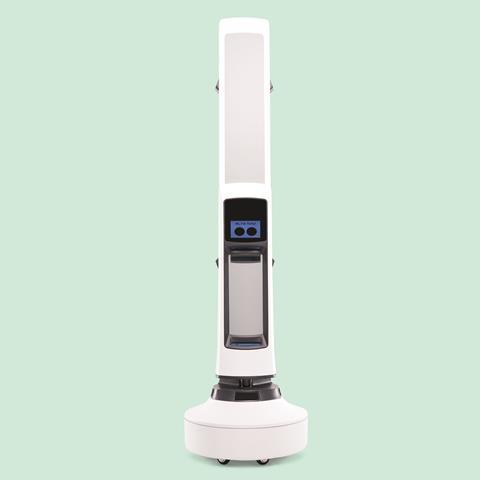 US-based start-up Simbe Robotics has developed an inventory robot, Tally, which helps retail teams generate real-time data on product availability, placement performance and pricing by operating at the shelf-edge in stores.
Created by Brad Bogolea, Mirza Shah and Jeff Gee, Tally combines RFID, 2D and 3D sensors, as well as machine-learning algorithms, to help retailers capture ecommerce-level insights in a store environment that can be used to action business decisions.
Having been traded since October 2014, more than 100 Tally robots have been deployed so far across six countries. Simbe has recently expanded to 12 Carrefour UAE stores, where it helps the retailer monitor all-important inventory availability.
4. Tokinomo
Working directly with FMCG brands, Romanian start-up Tokinomo aims to foster more creative and tech-enabled in-store marketing experiences.
Launched in January 2018 by Ionut Vlad and Laurentiu Cluve, the business has created in-store, interactive, robotic displays for shelf ad campaigns that use sensor technology and a combination of sound, movement and light to make products move – or even dance – to attract consumer attention.
This year, Tokinomo teamed up with FMCG supplier Henkel to deliver a three-week campaign for its laundry detergent brand in 20 Auchan stores across France, which resulted in a sales uplift of 159%.
And in 2020 it teamed up with Carlsberg on an innovative Tesco in-store campaign to promote Somersby watermelon cider.
5. Trigo
Another start-up empowering retailers to provide frictionless, contactless shopping experiences in store is Israeli start-up Trigo.
Founded by Michael and Daniel Gabay, Trigo offers computer-vision-powered technology that supports checkout-free retail experiences, converting existing stores so customers can simply enter, select the items they want, pay on their device and leave the store.
Its tech can also be used to provide user-journey analysis, which in turn helps retailers make operational decisions. Retailers can use this data to understand when they should limit the number of shoppers in store and allocate more resources for rush hours, for instance.
Currently operating a trial at a Tesco Express convenience store at Tesco HQ, Trigo wants to introduce its technology to more of the UK's largest retailers across the country. Other supermarket chains are investigating the viability of using this type of technology, too.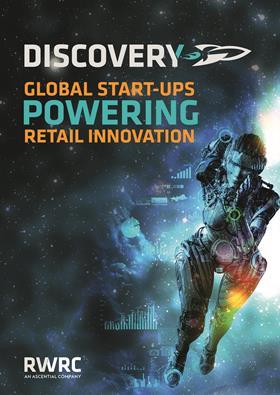 Be the disruptor, not the disrupted.
Download the Discovery report for free here to meet the top 40 start-ups from across the world and identify partners for future success.