Online tailor A Suit That Fits has extended its crowdfunding campaign by two weeks after exceeding its initial £500,000 target on September 3.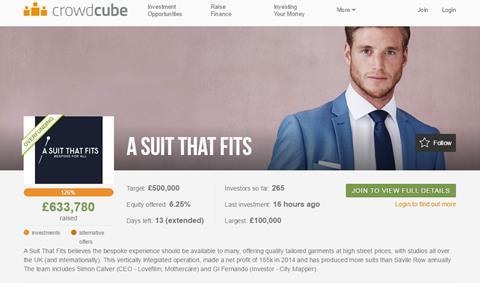 At the time of writing, A Suit That Fits had raised £630,000 from 265 investors on Crowd Cube and hopes to raise as much as £1m in order to accelerate the scaling of the business.
The retailer is raising the funding in order to support a new model that includes 'fit experts' around the country.
Previously the business model was based on an ecommerce model combined with face-to-face service through a small number of bricks-and-mortar 'studios'.
A Suit That Fits sources its suits from Nepal and targets customers who want more than an off-the-peg suit, but can not afford a Savile Row suit.
However, the retailer is now seeking to have fitters throughout the country by signing up 300 'fit experts' by 2020.
The fit experts will receive two week's training from A Suit That Fits and the etailer will provide them leads for customers in the local area based on information collected on its website.
A Suit That Fits founder David Hathiramani hopes to create an Uber-like service in the future, which will allow customers to rate fit experts.
Former Mothercare boss Simon Calver acts as a non-exec for A Suit That Fits alongside Gi Fernando, who has also invested in City Mapper.
A Suit That Fits has aggressive growth plans and is targeting a turnover of £32m by 2020. Last year it had a turnover of £2.6m and turned a profit of £187,000.