From diversifying supply bases to onshoring production, Retail Week's Supply Chain 2022 report explores how retailers can mitigate the impact of Brexit and the pandemic on retail operations as the supply chain crisis rumbles on.
Almost half (48%) of UK businesses have made changes to their supply chains since Brexit, shifting to use more UK suppliers, while 35% have increased the diversity of their suppliers, research from consumer data specialist Statista finds.
These are two ways retailers are advised to future proof global trade against the current crisis in Supply Chain 2022, the annual report from Retail Week that examines how to forge smoother, more efficient and more robust supply chains.
Diversify your supplier base
Consider using more UK suppliers and non-EU suppliers
Look to onshore production and manufacturing where possible
Regularly track tariff and duty legislation
Improved supply chain visibility using data is also advised to navigate challenges.
Mark Holmes, senior adviser for supply chain at InterSystems, an expert partner on the report alongside Bis Henderson Consulting, GreyOrange and Snowflake, comments: "The only way to get out of firefighting mode is to really accelerate digital transformation and improve supply chain visibility.
"Putting data at the heart of supply chain resilience allows a company to orchestrate for disruption and the constraints of supply and demand."
Card Factory: Strengthening supply chain via onshoring
It is not just Brexit making retailers change their supply chain planning.
Card Factory relies on a wide range of products supplied from East Asia, particularly China. It said in its annual financial report that increasing political tension between the East and West and the potential for increasing tariffs on imports could cause disruptions going into 2022.
As a result, the greetings card retailer is accelerating its onshoring process.
"In the medium term the business is proposing to onshore a larger proportion of card production to its Printcraft business in the UK, with investment in technology to facilitate this," a spokesperson for the retailer said.
"Buyers are also actively reviewing alternative supply sources and the applicable tariffs and duties to seek to maintain value and quality of supply to maintain our competitive range proposition."
In the aftermath of Brexit and in light of continuing uncertainty around international relations, such proactive supply chain management is encouraged across retail within the report.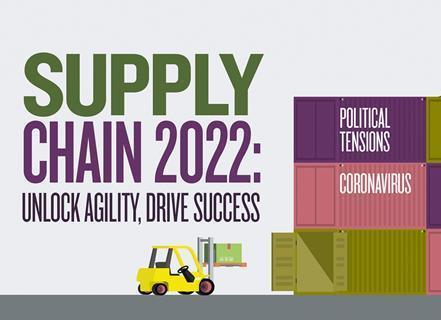 Retail Week's Supply Chain 2022 report provides the blueprint for retailers looking to sustain growth and achieve success in new ways.
Alongside finding out how to future proof against the global backdrop, access the report here today to:
Finesse the first mile and navigate the warehouse space race
Understand how to win the final mile – and whether rapid delivery is the be-all and end-all
Learn how to adopt sustainability into all aspects of your operations
Discover the role of strategic alliances in making retail supply chains more resilient

Bis Henderson Consulting, GreyOrange, Intersystems and Snowflake are partners on Retail Week's Supply Chain 2022 report