PAID FOR POST
The Hermes Supply Chain Blog on Retail Week
New printing technology is revolutionising how consumers send and receive parcels, finds Hermes head of product Candice Ohandjanian.
I have always been interested by astronomy and outer space, so I will be paying special interest later this month when a 3D printer will be blasted up to the six-man crew currently onboard the International Space Station.
3D printers are fascinating pieces of kit, and by placing one on the Space Station it will save the need for NASA to send up individual parts from Earth, which obviously is a very expensive process.
Along with drones, direct delivery to your car and individual parcel lockers outside your home, 3D printers have also been cited as a potential way to 'receive' your online purchases in the years to come. Essentially, a consumer would buy a product online and then wait for their 3D printer to manufacture it.
"3D printers have also been cited as a potential way to 'receive' your online purchases in the years to come"

Candice Ohandjanian, Hermes
While we are waiting for that ground-breaking functionality to be developed, myHermes has also been investing in new printing technology.
We are now trialing a new in-store printing solution that provides added convenience to customers wishing to send parcels.
We are testing the innovative equipment across a number of myHermes ParcelShops to help those people who don't have access to a printer at home.
Greater choice and convenience
Customers booking delivery through the myHermes website are required to print off and attach the necessary label to the parcel before dropping it off at one of the 4,500 myHermes ParcelShops within the UK.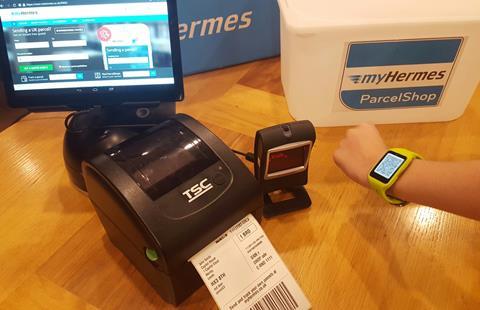 Following suggestions from several customers, we have now decided to trial a new scanning and printing system at more than 30 outlets across Leeds that allows them to print their labels in-store.
Consumers can book and pay using a mobile device and then upon receiving an email to confirm the booking, they will also be sent an attachment containing a QR code.
Customers can then use their smart devices to scan the QR code in-store and the accompanying printer will distribute their label.
We have installed this solution at some of our busiest myHermes ParcelShops in the city of Leeds, with a view of a nationwide rollout later this year.
Whereas smartphones and tablets continue to grow in popularity, there are still a large proportion of people who do not have access to a printer. Therefore, we wanted to find a solution that was both accessible and easy to use.
While our new printing equipment doesn't quite compare to the technology that is being blasted up to the International Space Station on March 23, we know that it will deliver added choice and convenience to the growing number of consumers utilising our ParcelShop network every day.
Candice Ohandjanian is head of product at Hermes