Chief executive Dave Forsey gives Gemma Goldfingle the inside perspective on Sports Direct and takes her on a tour of its Shirebrook nerve centre.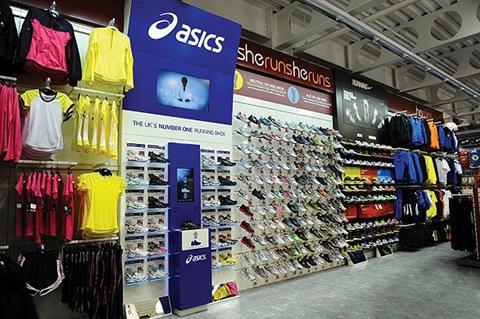 Sports Direct has been one of the retail success stories of the past decade, scoring time and again against rival JJB. Despite its high-profile financial success, the sports group, founded by controversial billionaire Mike Ashley, has kept a low press profile.
But the retailer, which is on track to hit EBITDA of £205m this year and has big international ambitions, broke with tradition to invite Retail Week behind the scenes at its Shirebrook nerve centre.
The sports giant has also proved its City critics wrong after its controversial float in 2007. Shares more than halved in just a few months after the float and analysts were frustrated by the firm's reluctance to engage with the City.
The uber-efficient distribution centre and HQ in Derbyshire is as central to Sports Direct's success as its unbeatable ability to keep prices low, and chief executive Dave Forsey believes it shows the retailer at its best.
"We've been a bit cautious about speaking about us as a business," he says. "We don't want to reveal our Coca-Cola ingredients. But when people come here, they say, 'My God, I didn't think you were anything like this as a retailer. I didn't believe you were this sophisticated.'"
A pair of Sports Direct's own Karrimor boots should be donned to trek the entire length and breadth of the premises - the centre, in a former pit village, measures 600,000 sq ft. Every Sports Direct product - be it a £3 T-shirt or a £150 pair of trainers - makes its way to the retailer's 393 UK stores from here and more than 50 lorries leave the base each night.
Forsey, who started with the business when Ashley had only one shop, spearheaded the move to Shirebrook in his previous role of operations director. When Sports Direct acquired Shirebrook in 2004, the retailer was already struggling logistically as it outgrew its original Dunstable base. The Midlands centre gave the retailer the capacity to expand at the rate it has. In 2004, Sports Direct's sales totalled £571.8m. In its last financial year - ending April 2010 - it racked up sales of £1.45bn.
Forsey says: "It must be one of the biggest DCs in the UK. I think only Tesco has a bigger one. The logistics have to be spot on to cope with the volume.
"We had the luxury of being able to build what we wanted to. We thought of all the things that annoyed us over the past 10 to 15 years and designed them out. Trucks used to move stock can be powered anywhere at the aisle, so you don't have to interrupt a shift to charge it."
The focus on efficiency is evident right down to the pre-pricing of Sale stock piled high in the DC. "It's not going to get more valuable, so we might as well label it now," explains Forsey.
Departure from discounting
In fact, despite its reputation for piling high and selling cheap, Sports Direct is moving away from its discount culture to focus on seasonal Sales instead.
Forsey says: "We were clearing stock constantly - we had racks like TK Maxx, trying to clear [products].
It was pretty unsightly. We're pulling back and are moving to two big Sales a year like Next. The stores will look sharper and cleaner."
As Sports Direct prepares for more growth, Forsey believes it is far more advanced than its troubled rival, JJB. "We've outperformed them in practically every aspect of the business for 10 to 15 years," he says. "Some of the things they've been doing are behind retail trends. In terms of availability, range, operational standards and property, we're ahead of them."
Despite the vastness of the distribution centre, Sports Direct is close to outgrowing it. Forsey says that it will be extended in about two years.
The retailer plans to open 15 to 20 UK stores this year and expects that trend to continue.
He says: "Next, New Look and Peacocks all have over 500 stores, so why wouldn't we? That's around the ideal portfolio size. But the quality of stores is more important than quantity, which is why we've said 15 to 20 a year."
The retailer, which has rebranded the majority of its stores to SportsDirect.com, also expects its online operations to continue growing. Online currently accounts for 6% of sales - compared with 3% at JJB - but the retailer sees the figure growing to 10% in the next few years, and Forsey says 20% of sales being eventually generated by online seems "eminently achievable".
International focus
Forsey and Sports Direct are clearly not short of ambition. Although the UK business continues to grow, it is on
an international scale that they see the big opportunity. Forsey forecasts that the retailer will be battling for international dominance with French sports retail group Decathlon, which, according to Planet Retail, generated global sales of $9bn (£5.55bn) in its most recent financial year.
He says: "If you take a five- to 10-year view, it will be us and Decathlon. We've got stores opening in France in the next month - we're going up against them in their own backyard."
Europe is the retailer's primary focus as it plans to open stores in all eurozone countries - it currently operates in eight - over the next five years. Forsey says he plans to re-enter China, where Decathlon also operates, over that period.
Sports Direct originally detailed plans to enter China in 2008 in partnership with Chinese sportswear retailer ITAT. Stores within stores were planned, but the deal stalled when ITAT was acquired by one of its largest suppliers and Sports Direct had to write off £3.6m of stock that had been manufactured and supplied to the region. Forsey says he aims to find a different Chinese partner within the next five years.
Revamping Sports Direct's store image - criticised as dowdy by some - is core to Forsey's UK strategy and the retailer is currently investing in a store facelift. The blueprint for the revamp is the store situated at its Shirebrook headquarters.
The big difference at the Shirebrook store is the lack of clutter. It appears the famous 'pile it high, sell 'em cheap' strategy may no longer be the preferred option. Elements from tests are being rolled out and Forsey says: "The new stores have lower densities. It's sharper and the footwear and specialist areas - outdoor, football and running - will be the focus."
Footwear, Sports Direct's big footfall driver, is by the store entrance and is clearly segmented by Sports Direct's own-brands and other brands. A huge Nike wall - which Forsey boasts is the largest in Europe - showcasing hundreds of the brand's trainers, takes up one side of the store.
Upping standards
Forsey insists that Sports Direct has been improving standards and its stores have become more of a shopping destination over the past couple of years, but often the sheer volume of traffic in-stores can obscure this.
He says: "It's similar to Primark. If you go into Primark on Saturday afternoon, it's not going to look great, but on Monday morning, from a retail ops point of view, it's pretty sharp."
The store makeover plans come as Forsey bids to make Sports Direct a place for shoppers looking for specialist products, and not just those after a bargain. That will be worrying for JJB, which has clung on to its differentiated position as a specialist sports retailer for its survival.
Sports Direct is especially keen to develop its more specialist credentials with the 2012 Olympics on the horizon. Forsey says: "The Olympics were announced in 2005. It's no coincidence that we've reinvigorated specialist areas since then - categories that get good audience figures and the media will pick up on."
The retailer has partnered with small specialist sports retailers such as running store Sweatshop to benefit from their knowledge, and has taken small equity stakes in them in return. A similar deal with a cycling specialist is being pursued at present.
The retailer's profits soared during the last big sports tournament - last year's World Cup - so hopes are high for 2012. Forsey says: "We made £15m to £20m EBITDA during the World Cup. If England had got to the final we could have added 50% to that."
So, as far as growth at Sports Direct goes, Forsey will be rooting for a GB medals bonanza during the Olympics.
NIKE ACADEMY SPECIALIST STAFF TRAINING
Sports Direct is investing in staff training to make sure its workforce is equipped with specialist knowledge about the products it sells. The retailer opened a Nike Academy training facility on site, adjacent to the Shirebrook store, to teach staff about the brand's product.
Staff are taught by trainers, or 'Ekins' – so-called because they know Nike backwards – about new products and sports physiology. They study, partly remotely via a dedicated software system and partly at the Shirebrook facility, to achieve graduate status. Once staff members graduate, the onus is on them to train at least three colleagues in-store. Since opening in August last year, Sports Direct has trained 600 of its staff at the Nike Academy.
As well as improving product knowledge in-store, the training also engages staff and improves retention rates, according to Forsey.
The academy is also a vehicle for Sports Direct to engage with Nike and demonstrates how it is building its specialist sports retailing credentials. Big brands such as Nike and Adidas account for about half of the retailer's sales, while the other half comes from its own brands such as Dunlop Slazenger, Everlast and Karrimor.
Sports Direct's prowess in developing successful own-brands has been important in enabling it to keep prices low. The retailer has 18 own-brands and is continually looking to bolster its portfolio.
Forsey says: "We're always looking at acquisitions to strengthen our retail offers. Our retail division has to believe it's a category which is adding to the mix. There needs to be a gap in our offer. We don't need another boxing brand. Golf is maybe an area we would look to acquire. We have Dunlop, but it would be nice to have some more options there."