Unpredictable weather is adding risk for supply chain heads. Jon Severs finds out how retailers are responding to unexpected weather conditions and the methods they are using to forecast demand.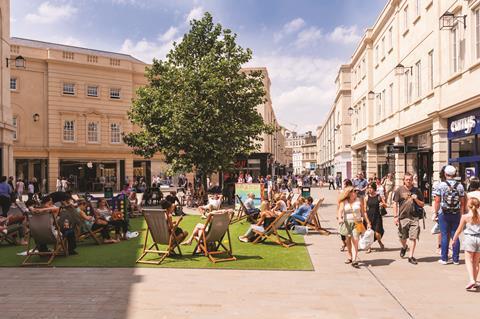 From fashion to DIY, retailers need to remain agile to respond to the unpredictable UK weather - ensuring that umbrellas are available when it is raining and outdoor furniture is in stock when the sun is out.
As Ian Michaelwaite, director at UK weather forecasting company Netweather, says: "The UK's geography makes forecasting the weather incredibly tricky. On a Monday you could have a 100% chance of thunderstorms forecast for Saturday, but by Thursday that chance would have disintegrated to almost nothing."
For retailers such unpredictability is a big problem, made worse because the extremes of weather and the blurring of the seasons are becoming more pronounced and more regular. Inevitably, retailers get caught out.
Early 2013 was a prime example. Greggs and Debenhams issued profit warnings while H&M and John Lewis reported drops in sales. All of them said adverse weather in the first three months of the year was a key factor in their performances.
What made the situation worse was that the retailers hadn't expected it. At the time Debenhams chief executive Michael Sharp said: "Snow in late January meant we did not achieve the profit outcome we had expected."
Clearly, things need to change so that expectations are closer to reality not only to adjust stock levels and distribution to fit reductions in demand, but to capitalise on extreme weather by upping stock levels to meet unexpected increases in demand.
The good news is that some retailers are making progress in this area. Sainsbury's is a prime example. Supplied with information by the Met Office, Sainsbury's is able to take a long view months ahead, and can update a forecast every morning, afternoon and evening five days in advance of a particular date. It can then adjust stock and in-store merchandising within 24 hours of a weather incident being predicted.
"We can use our within-a-day capability to prepare and react to the latest weather position," explains Stephen Hayward, Sainsbury's senior supply chain manager.
Hayward says forecasting is becoming a key part of the supply chain: "To react, we work very closely with our suppliers and between us ensure we have robust weather plans and processes to manage the changes in weather when they occur. This means we are able to react very quickly without holding significant amounts of safety stock in our depots and stores," he observes.
Tesco also boasts a system that updates weather information three times per day. The grocer says this information "is then reflected in store within 24 to 48 hours". It adds that stock can be "reallocated to different parts of the country, depending on the local weather, and buffer stocks can be released to reach demand".
Reactive approach
The redistribution of stock to areas where it is needed is a key development in reacting to weather. Craig Sears-Black, UK managing director of supply chain solutions company Manhattan Associates, says it is surprising how many retailers do not have the kind of system in place to allow them to see where stock is coming from at all times, or the capabilities to move supply routes entirely. He says that to be truly reactive, retailers need such visibility to consolidate stock from different channels.
"Retailers need the ability to orchestrate their stock so it can move across channels and get where it is needed," Sears-Black says. "If it is unexpectedly hot in one area of the country then fulfilling that demand becomes easier if
you can access stock where that weather is not occurring from other stores or from an ecommerce warehouse. The key to being flexible is having full visibility of where all your stock is at any time."
This could be particularly useful for retailers with bulky stock that has a long shelf life. DIY retailers are a good example. Michaelwaite explains: "Retailers with this type of stock find it more difficult to react to the weather. They tend to have centralised warehouses and so they have less ability to react."
B&Q certainly works on a longer lead time than grocery retailers. In terms of planning for weather, a spokesperson for the DIY retailer says it generally plans for a "fairly optimistic, normal, average season", but then adjusts stock levels and PoS plans according to a 10-to-14-day weather forecast - compared with a 24-hour forecast used by the supermarkets.
Homebase relies on past data as much as future forecasts. The retailer's trading director for garden and seasonal, Matthew Compton, says: "Because predicting the weather beyond a week is difficult to do, we look back at trends and averages over the past five years to give us the best model for the coming season, which helps us plan the right products for our customers when they want them."
Slimane Allab, vice-president for solutions consulting at supply chain software firm JDA, believes that this overlaying of historical data onto forecasts is crucial. He argues that retailers should closely analyse previous incidents of extreme weather, and data should be used to stock the correct level of "emergency product" in anticipation of future unexpected events.
However, according to Compton, pre-stocking items may not be necessary. Instead, he believes a close relationship with suppliers is needed. "We have contingency plans in place to react to extreme weather. To be able to react quickly it's important to have great buyers that know their products, and have close working partnerships with our suppliers," he says.
"We have worked with some of our plant suppliers for over 20 years to match plant growth with the prevailing conditions and bring products to our customers at the right time and in the very best condition."
What's clear is that retailers need to make forecasting a crucial part of their stocking decisions. But that alone is not enough. Historical data, supply chain visibility, supplier relationships and stock transparency all have vital parts to play. Get every element right and there is still no guarantee that retailers can react to whatever nature throws at them - but they can be sure of having the best chance of success.
Limiting the damage caused by excess stock
British weather is notoriously unpredictable, which means the conditions retailers expect and prepare for may never occur - leaving them with excess stock. But that's not necessarily a bad thing, believes Phil Hackney, logistics director of Pets at Home. "You have to accept that you're going to have a surplus of extreme weather stock most years, but this is a good thing as it means normal trading has continued and therefore you can afford to cover the cost of the stock you haven't had to use," he says.
However, limiting vulnerability is possible. "Focus on a limited number of core weather lines and secure these well, rather than trying to adjust your entire range for an extreme weather event," he says.
Historical data can be useful as it contextualises forecasts and highlights how forecasting is by no means the only consideration when it comes to dealing with the UK's increasingly extreme and unpredictable weather.
It's not just when extreme weather never arrives that this excess stock issue can arise. As Netweather director Ian Michaelwaite points out, minor errors in temperature predictions can have a big impact on whether retailers have the right stock and stock levels: "For example, ice cream sales creep up when temperatures go above 18°C but above 22°C to 23°C they stagnate and purchases shift to ice pops and ice products. This can catch people out."