The Original Factory Shop has agreed a £35m banking facility to support expansion as it seeks to move beyond being a "well-kept secret".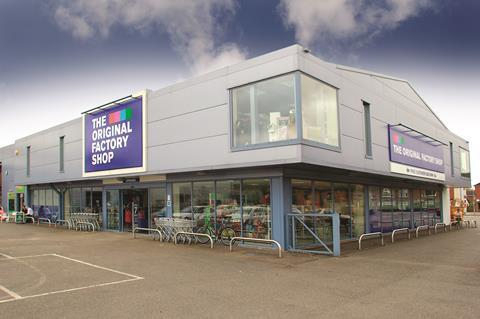 Discount department store The Original Factory Shop has agreed a £35m banking facility as it outlines plans to triple its store estate and raise its profile.
The Original Factory Shop chief executive Tony Page said the financing deal is a vote of confidence in the business' strategic growth plan and believes there is space in the market for an additional 400 stores on top of the 203 stores it already operates. The retailer is planning to open 15 new stores a year in the short term.
At present stores, which average 7000 sq ft, are typically located in smaller towns and Page believes this contributes to the retailer being a "well-kept secret" and lower profile than other retailers with a store network of similar sizes.
New format stores
The Original Factory Shop is also experimenting with new formats as part of its growth plan including opening shops on retail parks in bigger towns and a small format store.
The retailer is trialling a store on a retail park in Aylesbury that is also introducing a range of more upmarket brands including Tommy Hilfiger and Armani.
It has traditionally sold T-shirts for as little as £4 but is now hoping to ramp up its fashion credentials as it seeks to distance itself further from general merchandise discount retailers.
To support the fashion push it appointed TJX Europe's former vice president and European buying director Dean Argent as commercial director in November.
The three smaller format stores of 3,000 sq ft that are being trialled in locations including Haslemere focus on health and beauty products.
Page said the small stores have shown a "good return that is above expectations".
The banking facility has been provided by Barclays and Allied Irish Bank, which have contributed £21m and £14m respectively.