Asics' flagship New York store combines store design standards with an unexpected prop to associate the retailer with the Big Apple.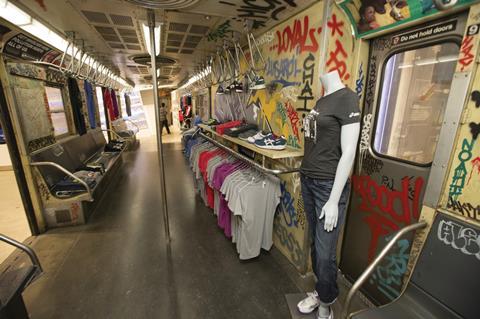 Japanese sports brand Asics has opened a 4,000 sq ft store just a couple of blocks from New York's Times Square that incorporates everything that runners have come to expect of a destination catering for those wishing to pound pavements. That means gait analysis machines, foot shape analysis and mannequins posed mid-stride.
There is also a full-size Subway car.
It is unexpected and is in fact a retired MTA Subway car from the city's A Line. It was built in 1961 and following 32 years in service beneath New York's streets, the car spent a decade in Hollywood, serving as a set for films including Godzilla and Die Hard.
Now it has pride of place in the Asics flagship (this is New York's second Asics store) and as well as serving as a display vehicle for stock, it is destined to be the focal point for in-store promotions and activities.
This prop is about putting a store at ease with its location. A Big Apple icon finds a new lease of life.