In-store bakeries have been around as long as supermarkets themselves, but they are undergoing a transition. John Ryan reports.
In grocery circles these days, the word 'fresh' is something of a touchstone. If a grocer does not have a compelling fresh offer, its management is not considered to be doing what it should; it hasn't 'listened' closely enough to its customers. For most people, the term tends to carry connotations of fruit and veg and an ever-widening selection of produce within this category.
For supermarkets, however, the definition of the term is shifting – and now it includes bakery products. Practically, this means bread that is baked in-store and is therefore fresh (even if the dough has been produced elsewhere).
"Bread used to be a core category and the reason you put it at the back of the store was to draw people through from the front"

Bill Cumming, Twelve Studio
According to Bill Cumming, owner at design consultancy Twelve Studio, the move is indicative of our changing attitudes towards bread. "Bread used to be a core category and the reason you put it at the back of the store was to draw people through the store from the front of the shop." He says the Chorleywood bread process, the 1960s method by which most fast-rise brown and white bread was mass-produced, is in decline as we opt to buy artisan bread, perceived as being healthier. This has caused both the position and status of in-store bakeries to alter, and this process remains a work in progress.
Cumming notes that 'fresh' baked bread is all about perception. While there are in-store bakeries where products are produced from scratch, others bake pre-leavened dough. Overall, what matters is that something should be 'just out of the oven'. Bread, Cumming says, is a product that tends not to be bought online, owing to the idea of fresh, and is therefore closely allied to the notion of convenience. In big or small stores, however, grocers are looking at how they sell bread and related products – and the results are closer to traditional bakeries than might once have been the case.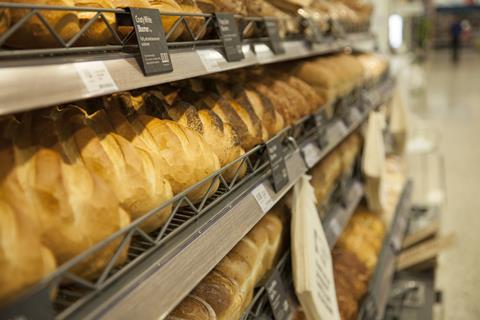 Britain's largest retailer has dabbled with a few different things when it comes to bakery. 'The Bakery Project' was created for Tesco by Daniel Bear, founder of the Euphorium bakery, which Tesco subsequently acquired. It is good and, as the name would imply, concerned with the business of baking – but it is located in fewer than 50 stores.
Now the grocer is trialling a new bakery area that has the potential to be rolled out across a much larger part of the Tesco estate, with eight stores now up and running from which the retailer will assess the initiative's prospects. The first two were in Maldon, Essex, and Millbrook, Southampton. Simon Threadkell, brand marketing director (brand design and format development), says the brief when creating them was "an end-to-end review of baking, what we sell, how we sell and where we sell". He adds: "We've made significant [in-store] changes over the past few years, but bakery felt a little out of kilter."
"We've made significant [in-store] changes over the past few years, but bakery felt a little out of kilter"

Simon Threadkell, Tesco
The space devoted to bakery products is indeed at the back of the shop in Southampton and Maldon. And the first thing to notice is that the design is less about the usual wood cladding and rather more concerned with dark tiling, an ability to see the bakery at work and lower equipment heights for the mid-shop. This is not a haven for white sliced. In the Southampton store, the area that fronts the baking ovens is solely for bread – cakes, croissants and suchlike have been placed in front of this, spilling into one of the aisles. A bread-tasting table and user-friendly signs above the products complete the picture.
As well as looking good, however, the real point about this bakery is that it is both modular and flexible. "We're not very interested in creating one-off areas," says Threadkell, adding that what has been done here is "economically sensible". Providing things go to plan, therefore, expect more of the same across a broad swathe of medium and larger-sized Tesco stores in the near future.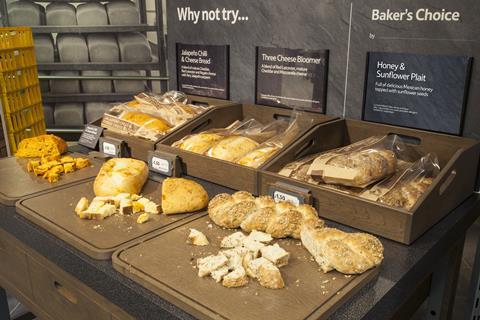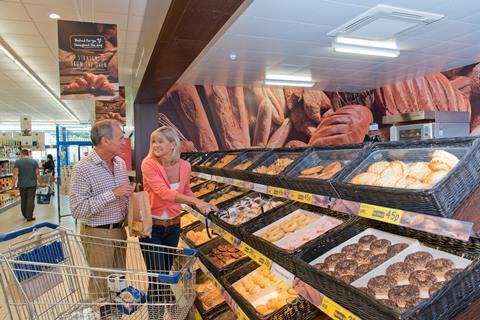 The 'Lidl of the future' in Tooting, London, is intended to be a slice of how things will look not too far from now, and the in-store bakery is no different in this respect. The bread is baked on the premises, and in this the Tooting bakery is no different from any other at the grocer.
What is different is the department's appearance, consisting of a dark brown-coloured surround for the baked products, pendant lights and an altogether darker behind-the-shelves space where the ovens are located.
A critic might say this is something of a cosmetic makeover when set against what was there before – the tiered displays with wicker baskets are still there. In this case, however, it is the product that does almost all the talking, rather than the mood graphics showing baguettes and similar. Lidl's bakery may not actually be the most futuristic, but it does show off bakery products to advantage and is certainly one of the highlights of the store.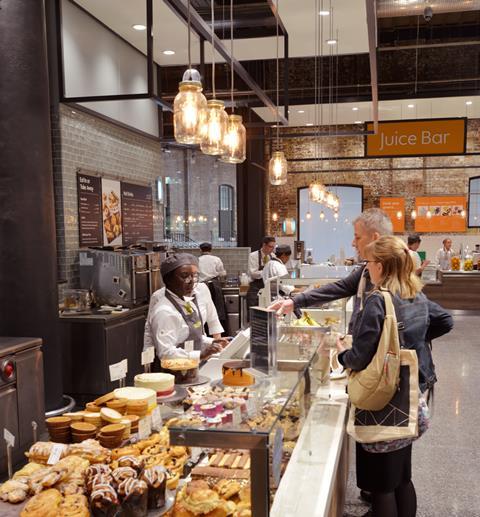 The Waitrose take on bakery is actually somewhat different to many of the die-hard purveyors of bake-in-store products. There are certainly ovens and there will usually be one on the floor, ensuring a freshly baked aroma fills the surrounding area.
These bakeries are different, however, insofar as they act as 'pause points' in a Waitrose store: places where consumers can stop and have a coffee – and maybe a cake – as part of a shopping journey. In many branches there are now seating areas placed adjacent to the bakery to encourage this kind of behaviour, which does make it different from many rivals. The department's position in Waitrose stores varies, with some being quite close to the entrance – a layout that makes it similar to many German supermarkets.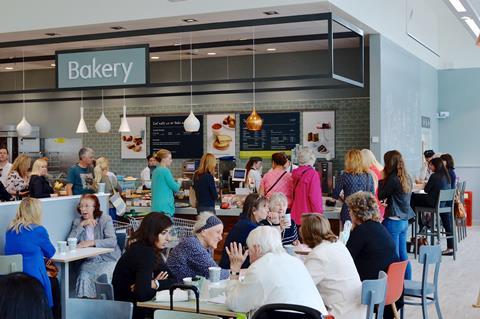 "At its best, if you can get the smell and presentation right, bakery is one of the great categories – if you can bring it to life"

Anthony Wysome, Waitrose
And shoppers can, of course, buy bread there, a lot of which falls into the "artisan" category. Waitrose works closely with many artisan bakers and buys in their products.
All of which perhaps bears out what Anthony Wysome, head of store development, says about bakery as a category: "At its best, if you can get the smell and presentation right, this is one of the great categories – if you can bring it to life."
Stores of the future are notoriously prone to becoming things of the past in fairly short order. However, 2015's Alperton, London, store from Sainsbury's provides more than a hint of how things might be in the near future and continues to look good.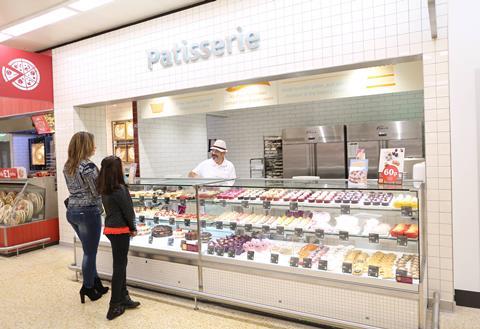 The bakery is a clean, white-tiled affair and, yes, there are the usual wicker baskets on tiered displays. But the framed graphics above the product displays have something of a Women's Institute needlepoint competition vibe about them and are a mild slice of yesteryear.
This is an appeal to the nostalgic in all of us, referencing a time when technology did not loom quite so large, and life and bakeries were altogether more straightforward, simple affairs.
Sainsbury's bakeries are make-and-bake areas, and most of what is on display started life in the store as flour, yeast and water before becoming artisan-like items appealing to the gourmand in all of us. Whether the shopper actually cares whether products are wholly made in-store or not is a moot point, but it does add a touch of authenticity to the department.