Primark's straightforward store design and willingness to experiment with digital elements mark it out as leader of the value fashion pack.
In case you've missed it or had a Rip Van Winkle-style sleep for the last decade, Primark is flavour of the month for a whole tranche of shoppers.
"Primark has a sensitivity to its surroundings that aids in the business of bedding down a new store"

John Ryan
This is where canny consumers go to get their fashion at a price that means they can come back time after time. And if something doesn't look too good, well there's always next time.
Loyalty and enthusiasm like this are not easily won, and there is a whole lot more to it than low price – although this clearly matters.
In spite of the queues and the occasional housekeeping issues (which vary from location to location), this is a retailer whose stores actually look pretty interesting, and one that is not afraid to keep trying something new.
Creating an enjoyable experience
Whether it's Madrid or Manchester, the two largest outposts in the Primark estate, walk into one of these emporiums and the initial reaction, other than seeing a lot of merchandise, is that there is something different to look at.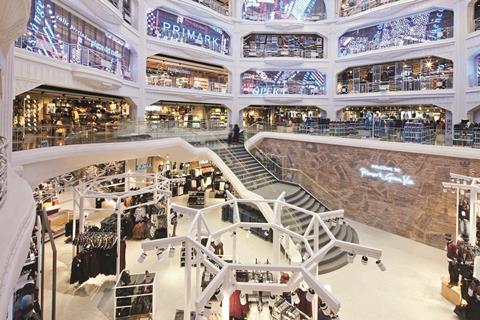 This is deliberate and, as things stand, there is not really any such thing as a standard Primark roll-out, other than at a pretty basic level.
This is retailer that has realised that it doesn't matter if the offer is low price, what is important is that customers should feel welcome, and equally that there should be some kind of enjoyment about shopping.
Primark has a sensitivity to its surroundings that aids in the business of bedding down a new store, whether it's the quasi-industrial look of the Dusseldorf branch or the metropolitan feel of the Tottenham Court Road store (currently the subject of a massive expansion).
Democratic offer
All of which means there is a democracy about what is being done and whether you've got a lot of money or a relatively modest amount, the chances are good that you'll feel at home in a Primark.
Underpinning this is straightforward store design and increasingly a willingness to do new things with digital and to push barriers in a manner that many in the mid-market might prove less willing to attempt.
The rewards for this approach are obvious. Primark has become the go-to affordable fashion retailer, the place where all can feel comfortable in contemporary and appropriate surroundings.
There really is a whole lot more to being a good value retailer than having low-price goods.