Retail footfall increased in April as shoppers hit stores to spend ahead of Easter Sunday.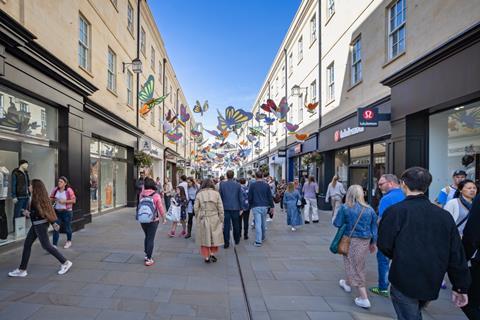 Footfall rose by 7.2% compared with March, when a 2.8% drop month on month was recorded.
Good Friday and Easter Saturday saw a 14.2% jump in footfall week on week, but this fell by 10.2% the following week due to Easter Sunday and Easter Monday.
Footfall in April increased by 4.7% year on year compared with 0.7% in March.
High street footfall was 4.6% higher than in March 2022, while shopping centre footfall saw an increase of 6.6% and retail parks an increase of 2.9%.
The overall gap in footfall from pre-pandemic levels in 2019 narrowed to -12% in April, up from -14.9% in March.
Springboard predicted in March that footfall would increase in April as shoppers were expected to spend at Easter. It now forecasts that the three bank holidays in May will also bring a boost for retailers.
Springboard insights director Diane Wehrle said: "MRI Springboard's commentary in March highlighting the fact that shoppers had deferred trips until Easter was proven true, with a 7.2% rise in footfall from March to April, which more than offset the drop of 2.8% from February to March.
"The week of Good Friday and Easter Saturday occurred in the first week of the month, with footfall rising in that week by 14.2% from the week before, helped by the warm and sunny weather.
"At the same time, however, an increase in the vacancy rate to 11% in April from 10.2% in January demonstrates that high streets remain challenged by tight trading conditions, which has resulted in the closure of some businesses.
"The hope is that the three bank holidays in May – one of which surrounds the once-in-a-lifetime event of the King's coronation – will deliver a further fillip to retail destinations and stores."