PAID FOR POST
More voices from the retail industry
As consumers pay more and more attention to sustainability, responsibility and health, they are placing considerable focus on retailer and supplier accountability as well as their own. RELEX Solutions' Svante Göthe discusses how food waste, and its associated environmental impacts, become a higher priority every year and why the effort to combat waste needs everyone's active engagement
Every year, around a third of the food produced globally is wasted or lost, translating to more than £166bn, and 13% of that comes from retail.
Waste and loss account for more than £19bn in the UK, according to the Waste and Resources Action Programme (WRAP).
The same research reveals that 3% of food waste in the UK is attributed to retail. While UK retailers are making strides to improve, there is a lot of work to do.
Fighting food waste
Global warming is a critical problem for our generation and reducing food waste is essential in mitigating carbon emissions and conserving natural resources.
Food waste and loss account for between 8% and 10% of global greenhouse gas emissions.
In the UK, WRAP estimates that food waste is associated with 36 million tonnes of greenhouse gas emissions annually.
Further, in many regions of the world, around a quarter of agricultural water is used on food that is ultimately wasted. By preventing food waste, we are also helping to conserve water.
Improving environmental impact
Retailers are turning to technology to help combat environmental problems.
Advanced forecasting and automated replenishment are essential tools for helping retailers and suppliers reduce food spoilage levels.
In our experience, we have seen retailers achieve up to 40% reductions through end-to-end supply chain optimisation.
The benefits of an advanced supply chain not only significantly add to retailers' profitability but are also a valuable contribution to efforts to cut their carbon footprint.
Driving change
In recent conversations with grocery customers, four told me they each saved up to 302,000kg of CO2-equivalents annually by optimising their supply chains.
If we scale these results to our entire grocery customer base, we can extrapolate that we are helping food retailers and distributors remove more than 29 million kg of CO2-equivalents per year.
To put the scale of this impact into perspective: it would take 1.2 million trees to sequester this amount of CO2 in a year.
As replenishment processes become more efficient, retailers and suppliers will be able to streamline deliveries and reduce CO2 emissions from the transportation of goods.
It is not only up to the companies that directly manage food, but up to everyone that touches the retail industry – in fact, all industries – to do their part.
For more information about how we are working with our customers to meet their waste reduction goals and our focus on sustainability and responsibility, please read our Sustainability Report 2022.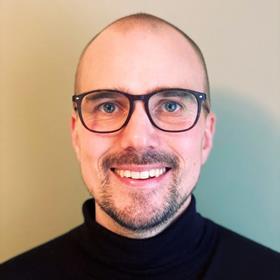 Svante Göthe is head of sustainability at RELEX Solutions
Svante has over 12 years of experience working with numerous retailers to optimise their supply chains. As head of sustainability at RELEX Solutions, his primary focus is finding new ways to increase their positive environmental impact and drive sustainable business practices now and in the future.

RELEX Solutions is dedicated to helping retail businesses become more competitive through accurate forecasting and replenishment, profitable use of retail space, impactful pricing and promotions, and optimised workforce planning. We bring data science to the art of retailing through our industry expertise, leading-edge AI, in-memory data processing and computational power.