The ongoing Extinction Rebellion climate change protests in London have cost the city's retailers £12m over the last two days, according to the New West End Company.
Chair Sir Peter Rogers has written to London mayor Sadiq Khan today. He said retailers in the West End are "deeply concerned by the continued disruption being caused" by the protests.
Rogers said the protests have cost West End retailers £12m in sales since they started on Monday. He added that combined with already "poor high street trading conditions, excessive rate rises, Brexit uncertainty and the late opening of the Elizabeth Line", the situation required the mayor to "take control".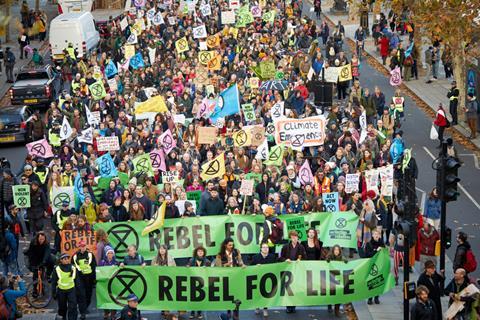 "While we fully support the right to peaceful protest, we do not believe that it is acceptable to block, for such a long period of time, some of London's busiest streets," Tyrrell said.
"We ask, as a matter of urgency, that you take control of the situation, provide means for people to protest peacefully and supervised in the many open spaces in London and allow companies and employees to go about their lawful business without threat.
"The jobs and livelihoods of thousands of Londoners are at risk."
The New West End Company chair also called on Khan to explain "what long-term measures are being put in place to protect" the West End and Oxford Circus specifically from more frequent protests.
The protests, organised by the activist group Extinction Rebellion, are aimed at "shutting down" the capital. Campaigners have been camping on Waterloo Bridge, Parliament Square and at Oxford Circus – and today began targeting rail services in London.
Khan said: "Targeting public transport in this way would only damage the cause of all of us who want to tackle climate change, as well as risking Londoners' safety, and I'd implore anyone considering doing so to think again."
So far 290 protestors have been arrested in London with a further 29 arrests being made in Edinburgh, the BBC has reported.