Notonthehighstreet's new chief executive Claire Davenport may be travelling from Oxford to Richmond, south-west London, for her new role, but in her spare time she is attempting a rather more ambitious commute.
The Cambridge graduate has pledged to run the 6,267-mile distance from Aberdeen to Vietnam's Ho Chi Minh City in 500-mile-per-year increments.
It's a target that Davenport, now 46, says she is on track to complete by her 57th year, and an example of the type of long-term vision and ambition which has characterised her career to date.
A Daventry native, Davenport's first job was as a lifeguard at her local swimming pool but at 21 she landed her first full-time gig as an analyst for investment bank Goldman Sachs.
"Notonthehighstreet doesn't need a retailer in charge, it needs someone with digital expertise, which she will be great at"

Victoria Nightingale, Barracuda Search
Since then Davenport has held senior roles at a variety of organisations spanning scale and sectors, from vice-president of investment banking across media and broadcasting at JP Morgan to deputy head of strategy at Ofcom, chief of staff at Skype to general manager at VoucherCodes and, most recently, as the UK boss of grocery subscription service HelloFresh.
Clarity Search partner Jo Renea says Davenport has "built a real sweet spot and expertise around technology" over the course of her career to date, and her experience across "a mix of businesses from blue-chip to mid-size and start-up" means she is well-placed to take up the helm at online marketplace Notonthehighstreet.
Barracuda Search partner Victoria Nightingale concurs. "Notonthehighstreet doesn't need a retailer in charge, it needs someone with digital expertise, which she will be great at," she says.
Unlocking potential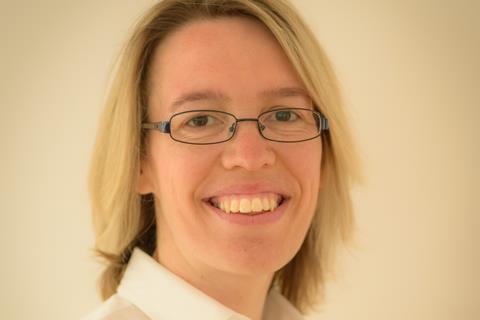 Davenport, who is a keen crafter herself and bought her own lucky necklace from Notonthehighstreet (NOTHS), says working at the company is perfect for her skillset.
"I get a huge buzz out of growing online businesses, particularly those that, one way or another, the internet makes possible for the first time, disrupting traditional ways of doing things.
"What [founders] Holly Tucker and Sophie Cornish set up is a great example, allowing makers and artisans from around the country to display their treasures to everyone – and giving consumers the chance to discover unique products and support these small businesses," she says.
"I believe Notonthehighstreet has a lot more potential to unlock, building on its original premise and the great work that Barrie [Seidenberg] has started with the team to modernise the tech and create a first-class customer and partner experience."
Davenport is taking over from NOTHS boss Seidenberg, who is stepping down to focus on her health after being diagnosed with brain cancer earlier this year.
Chair Darren Shapland says: "Barrie has worked closely with the Notonthehighstreet team to ensure that there is a smooth transition and we are pleased to have appointed Claire Davenport to take the business on to the next stage of its growth."
Nightingale believes that an appointment of Davenport's calibre could indicate that Notonthehighstreet is gearing up for a possible sale or float.
"I would hazard a guess that she is an incredibly solid person to have leading the business if Notonthehighstreet wanted to go for a sale or up investment. She is a pretty big hitter to bring in if you wanted a new international backer or to expand into a different market."
Renea observes: "Whatever the business decides to do next, she is very well placed to deliver because of the breadth of her experience and specifically financial background."
Leadership style
Davenport also has experience of connecting entrepreneurs to a wider community. She is the 'resident expert' at Oxford University's Foundry tech accelerator and established a networking group for senior women in technology called WITs END.
"She is a truly inspiring executive and leader, and what distinguished her is her leadership style," says Renea, who has known her for some years.
"She is high-energy, passionate and genuine about creating the right culture, building leadership teams and talent. She has invested a lot of time in this over the course of her career, both in her own jobs and beyond, so she is authentic and genuine in that respect."
Davenport's career and passions are varied, but she believes the biggest lesson she will take into her new role at Notonthehighstreet comes from HelloFresh.
"What I really learned at HelloFresh was the importance of a brand that really means something and being true to that"

Claire Davenport, Notonthehighstreet
"I've always been an advocate of listening to your customers – on both sides of the marketplace – as well as looking at the data to improve your proposition, which was something which was reinforced by my experience at HelloFresh.
"However, what I really learned at HelloFresh was the importance of a brand that really means something and being true to that," she says.
Davenport's appointment follows Notonthehighstreet coming back into the black with operating EBITDA of £1.7m in its most recent annual results, posted last August – up from a loss of £2.8m the previous year. The online marketplace posted its return to profitability despite sales sliding 10% to £36.6m in the period.
As she assumes her new role, Davenport looks well positioned to take Notonthehighstreet to new business milestones as well as clock them up personally.