The retailer's board has appointed Ashley to replace Forsey
Forsey will "facilitate a smooth handover" of his role to Ashley
Forsey will step down after 32 years at Sports Direct
Sports Direct chief executive Dave Forsey has quit and the retailer's founder Mike Ashley has taken on the role "with immediate effect".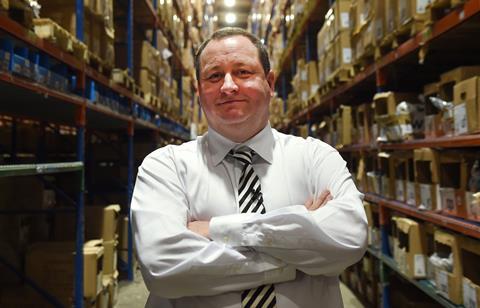 The embattled firm has also announced Forsey, who has been with the business for 32 years, will step down as a director.
Sports Direct said Forsey "has agreed to facilitate a smooth handover of his responsibilities" to Ashley, who will "continue to be supported by the existing executive management team".
Ashley said: "I feel like I have lost my right arm, but I do hope to have the opportunity to work with Dave again in the future."
The controversial retailer has been under intense scrutiny from MPs, media and unions over its treatment of staff and corporate governance.
Sports Direct, which this week said it will launch an independent review of its working practices and governance, has promoted Karen Byers to global head of operations and Sean Nevitt to global head of commercial with immediate effect.
Forsey began his career at Sports Direct in 1999 as the UK operations director and has been chief executive since 2007.
He said: "I have given my entire working life to the company and in return the company has given me amazing opportunities and experiences."
Chairman Keith Hellawell, who faced shareholder mutiny over his re-election at Sports Direct's open day earlier this month, said: "I would like to thank Dave for his significant contribution…during a period of significant growth and change for the company."
Sports Direct threw open the doors to its Shirebrook warehouse earlier this month in an effort to be more transparent following a report on its working conditions by its legal advisers RPC.
Want stories like this in your inbox?
Sign up to the Retail Week daily emails and get the biggest retail headlines each morning. Manage your newsletter preferences here: retail-week.com/newsletters