The electricals sector has faced tough challenges amid the cost-of-living crisis, high inflation and a poor macroeconomic environment since Covid-19 but for Marks Electrical, the past few years have meant revenue growth and soaring sales.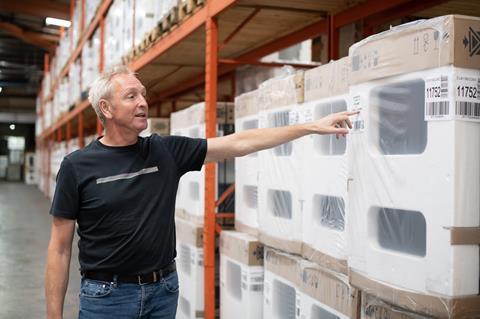 Chief executive Mark Smithson founded the company in 1987 in Leicester but the retailer flew under the radar and was described as the "UK's best-kept secret" as recently as 2021.
Now it is climbing the ranks as one of the UK's top electrical retailers and recorded a 21.5% rise in sales to £97.8m in the second half of the year to March 31.
Smithson believes this momentum can continue into 2024, as the company drives toward revenue growth every day.
"We're pushing all the time as the market is huge and worth £8bn, so there is loads for us to do," Smithson tells Retail Week.
"We do well because we get stuck in and don't look at the market stats. We don't blame the economy for not performing well. We work hard and get our prices and our service right, then we can't go wrong."
Strong business model
Smithson attributes Marks Electrical's latest results to its "strong business model", which has helped enhance margin.
Its base in Leicester is well-positioned to serve the length and breadth of the country and everyone works from that one site, including IT, accounts, sales, services and logistics.
"With everything under one roof, we haven't got different satellite distribution centres, which are costly to run, so our overheads are lower than the competition," Smithson says.
"We can make a profit in a very difficult sector and when you look at the competition, they're all struggling to make money."
Over the Christmas trading period, rivals Currys and AO underperformed as customers scaled back purchases as the cost-of-living crisis deepened, while Marks Electrical's sales surged by 33.4%.
But things are looking up for the electricals sector – AO recently increased profit guidance for 2023 – and Smithson says his company has seen more demand for white goods.
"We see distress purchases so if a customer's washing machine or fridge breaks down, they will buy a new one because they need it.
"All the way through Covid we were allowed to continue trading because it was a necessity. The demand will always be there," he explains.
New investments
Maintaining and building on its success comes with new strategies and in August last year, Marks Electrical launched an integrated gas, electric and TV installation service nationwide.
"We ditched the existing companies that we're working with and launched it ourselves," Smithson says.
"The manufacturers have really supported this and funded the installation so customers can have it for free.
"This gives us an edge over the competition and having this within our business is a massive reason why customers buy from us."
The company has seen 80% growth in bookings year on year and further growth is expected in 2024 as it continues to develop.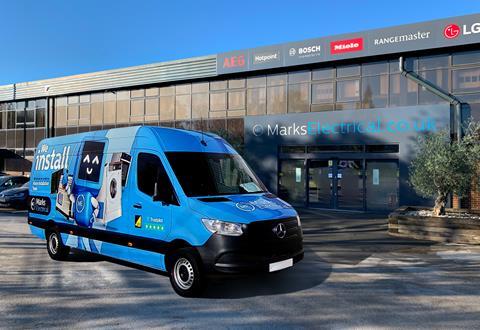 It's not just new services that Smithson and the team are investing in. After being called a "best-kept secret", they knew the business had to adapt.
Social media is one of the channels the company uses to advertise but this was neglected for years as Smithson confesses he doesn't personally like it.
He adds: "I think not liking social media rubbed off on the rest of the crew. We tend to focus on Google for brand awareness but we realised social media is key to brand building.
"We've done quite a push for our own advertising as we have posters all across the London tube network as our growth is mainly centred around London and the South, which is great for average order value.
"In the last six months, we have focused on working with a social media agency to use TikTok and Facebook to plant the seeds in customers' minds so that when they think about buying a washing machine, they will subconsciously think of Marks Electrical."
Continuing success
To keep gaining momentum in the market, Smithson says more space in the warehouse, new vehicles, training staff and wage increases are vital.
He goes on to say that marketing spend will always be around 5% of revenue, so as revenue grows, more money will be spent on advertising and he hopes to keep up this cycle.
In terms of peak seasons such as Christmas and Black Friday, Smithson says he doesn't focus on specific dates and instead focuses on achieving growth every day.
He says: "I think Black Friday is the busiest period but it's all about trying to beat that during the course of the year.
"Of course, in summer you see peak refrigeration sales and we did see a rise in TV sales over the Easter bank holiday but if an important appliance breaks, you're not going to wait to replace it.
"It's all about making every day busy, being honest with the pricing and keeping the business very simple."
Don't miss the best of the week – sign up to receive the Editor's Choice every Friday