Supporting colleagues through difficult times and protecting customers from the full shock of rising costs is vital to building and retaining loyalty, says BRC chief executive Helen Dickinson.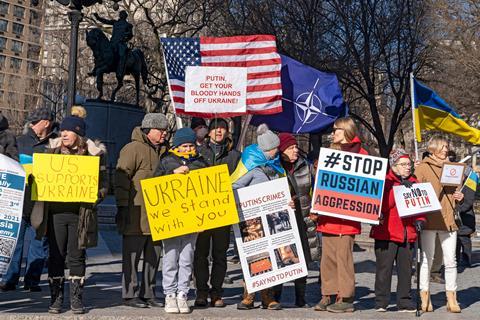 We were all shocked by the news in late February that Russia had invaded Ukraine. Over a month on, our screens remain filled with the devastating realities of the conflict.
Like many, my heart goes out to the millions of people being forced to flee their country, to the millions more still suffering in Ukraine and to those around the world who have loved ones there.
Naturally, people's first thoughts are to their own. Retailers responded similarly, engaging in the Herculean task of supporting colleagues and their families abroad.
At home too, colleagues have needed reassurance and, in many cases, financial and wider support.
Many have friends or family who are directly impacted by the conflict. HR teams across the industry have been busy assessing the impact and implementing necessary support.
The BRC has tracked more than £20m (and rising) in retail humanitarian donations from our members to the people of Ukraine
An external focus quickly followed and the industry response was heartening. The BRC has tracked more than £20m (and rising) in retail humanitarian donations from our members to the people of Ukraine. That is before the huge volume of donations-in-kind such as nappies, beds, clothing, food parcels and more, sent to refugee outposts in both Ukraine and neighbouring countries.
As British households open their homes and their hearts to Ukrainian refugees, retailers are also looking to provide much-needed stability and security to as many people as possible.
Many have committed to offering jobs to those who have arrived here, in roles ranging from in-store to manufacturing and logistics operations.
Cost-of-living impact
Public attention has since widened to the economic and cost-of-living impact of the conflict. Even before the war began, the Bank of England was predicting inflation to peak at 7% in 2022, owing in part to the massive cost pressures working their way through the supply chain.
Commodity prices were already rising – shipping and transport costs soared over the past 24 months, labour costs were ever-increasing and oil prices were approaching $100 a barrel even before Russia's invasion.
The Bank of England now expects inflation to hit 8% in the spring before reaching new highs as 2022 wears on. I still think it is underestimating the impacts of what we are seeing.
Either way, the conflict and the resulting sanctions on Russia are impacting the global supply of oil and natural gas, wheat, sunflower oil and more. This continues to push up costs throughout supply chains, and the cost of logistics impacts every single movement a good makes on its way to our homes.
Energy prices are perhaps the biggest concern for consumers. Despite the energy price cap reaching a record high in October 2021, it rose 54% this month, and a similar increase is expected later this year.
This is hammering households and hurting businesses. Government support for households – from the fuel duty cut, to changes in National Insurance Contribution (NIC) thresholds – have done little to mitigate the government's own NIC rate hikes, let alone the massive rise in the cost of living.
Retailers have done their best to help struggling households, keeping down the price of essentials the best they can. Many have expanded their value or entry-level ranges and they have continued to find cost savings where possible.
This has been partially successful. Our own Shop Price Index, which measures the costs of essential food and other goods, has shown consistently lower inflation than the broader ONS Consumer Price Index basket.
At the start of 2022, staff vacancies in retail rose to over 100,000 for the first time since 2017. Retention is now business-critical and retailers will reap the rewards of the support they show their people.
Doing the right thing has never been more important. Whether it's supporting colleagues during these difficult times or protecting customers from the full shock of rising costs, building and retaining loyalty is vital.
While the world around changes, some things never do.

Helen Dickinson is chief executive of the British Retail Consortium.