A visit to the freshly minted Amazon 4-Star emporium in New York's SoHo on Saturday was instructive.
As the name suggests, everything on display has at least four stars out of a possible five from reviews by shoppers using Amazon's website.
So it is the retail buyer's dream: a shop filled with bestsellers.
The store has tech, such as digital shelf-edge signs that give two prices – one for the regular customer who walks in off the street and a lower price for Amazon Prime members.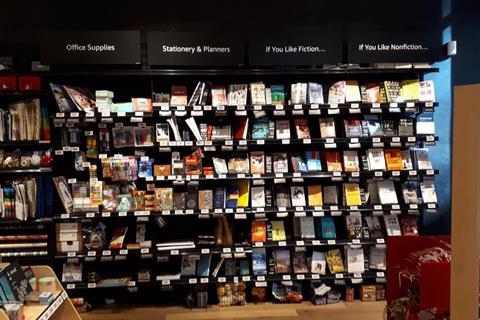 For those wishing to do so, there is the Amazon app can be used as a payment method when you get to the checkout.
But for all this, it is a very conventional store in terms of what has been done and, while it may be filled with things that people want, its appearance is not engaging.
Looking, for example, at product adjacencies, kitchen 'tools' and 'gifts' are just a table away from 'devices and electronics', which in turn are next to 'toys, kids and baby'.
Little attempt has been made to smooth the transition from one category to the next.
Then there's the shopkeeping. Take the book section, for example, and what is apparent is that the tomes, all of which are forward facing, are in some disarray. All the neatness that you wouldd expect of a branch of, say, Waterstones is lacking.
This is a store that, were it not for the word Amazon on outside, might well come in for criticism.
"If there is a characteristic that defines Amazon, it has to be its ability to learn quickly"
In fairness, if you are a Prime subscriber the prices are good and probably cheaper than those to be found elsewhere in Lower Manhattan. But there is no escaping the fact the shop is a bit scruffy and temporary looking.
There is also the matter of four stars. Buying the same product that everybody else has given the thumbs-up to is fine in principle, but it means the idea of browsing a range of almost anything you might care to mention is signally absent; there is no depth.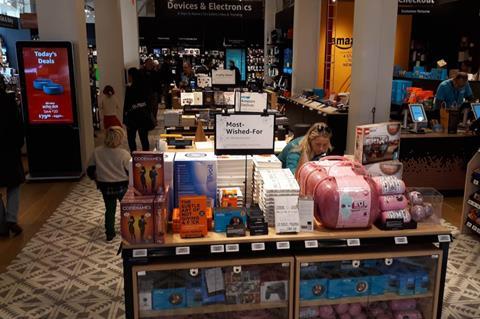 Technology has been used to define the stock that is on show and as a grab-and-go store it works. But anything more than that and it comes up short.
The truth is that Amazon 4-Star is a concept that has some way to go, which may be mildly reassuring to those who make their living from the high street.
But if there is a characteristic that defines Amazon, it has to be its ability to learn quickly.
Amazon 4-Star is a work in progress and when that progress has been made – and it will be – it seems likely it will be as much a threat in the physical world as it is online.